Working from home?
Don't forget about the most important equipment in your arsenal
Click here to know more
Dark mode was first introduced on Twitter's Android app way back in 2016. Now, following reports of Twitter testing a new dark mode named "Lights out" on its Android app, the social media company has started rolling it out on the Android app. It was first introduced on the iOS app in March. Twitter VP of Design and Research revealed that the Lights out mode would be unveiled for Android sometime by mid-September, but it was only available for the alpha version of the app till now.
The new Twitter Dark Mode for Android contains a third element under the display head. It lets users pick the dark mode appearance between two options - Dim and Lights out. 'Dim' refers to Twitter's existing dark mode in the stable app, whereas the 'Lights out' mode is new. Lights out mode lets users switch the interface to a true-black tone. It is said to help curb power consumption on phones with OLED displays. You can see the difference between Dim and Lights out mode below.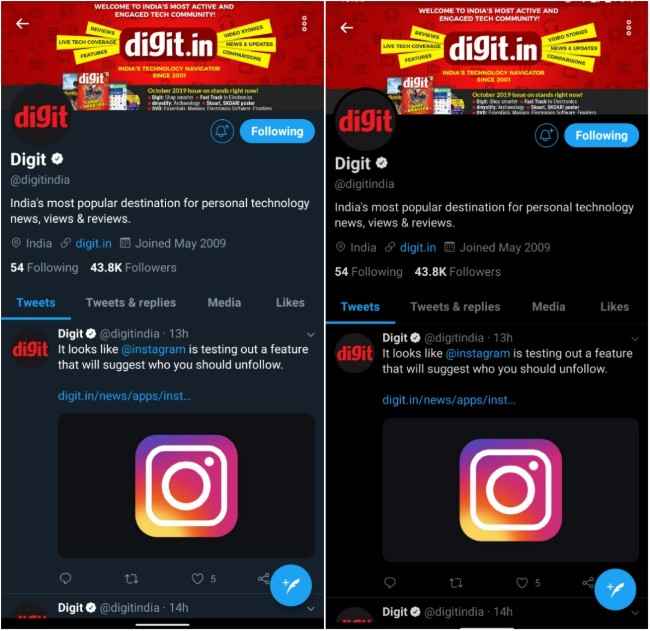 The OLED-friendly Lights out dark mode for Twitter's Android app is rolling out to users with the latest version of the app, which is 8.18.0. One can quickly toggle on/off the dark mode on Twitter by tapping on the light bulb icon at the bottom of the slide-out menu. It can be accessed from the home screen by swiping right or tapping on one's profile picture.
Many replies to Twitter's official announcement indicate that Lights Out hasn't reached most Android phones yet. However, for those of you who have received the new Lights Out mode, you can enable it by heading over to the Settings and privacy > Display and sound menu. There is a new sub-menu called "Dark mode appearance," which contains two options - Dim and Lights out. If you need to enable the true-black tone mode, select Lights out.