The Number Scanner integration lets users quickly scan any phone number from hoardings, business cards and also pay anyone using the Truecaller Pay feature. The other feature adds important numbers for quick access.
Truecaller is a well known app that started out as a humble caller ID app. Now it's aiming to expand its features by introducing new functions in its app. Truecaller has introduced a Number Scanning feature and added many Essential Numbers which are toll free.
The two new functions will be available via Truecaller 8.45 version, which is rolling out to users this week. The first one is a Number Scanning function, which as the name suggests, is a feature that lets users scan and search a number directly from their phone's camera, eliminating the need to manually enter a phone number into the app. The Number Scanning function can be directly used to scan phone numbers from business cards, street signs, billboards or virtually anywhere by a using a phone camera. Users can bring up the scan function by tapping the hamburger icon within the app. The side menu slides out and displays a small window at the top which scans the phone numbers. Truecaller then automatically detects the phone number within the frame and the feature also allows users to make payments directly via the scan and pay function through Truecaller Pay.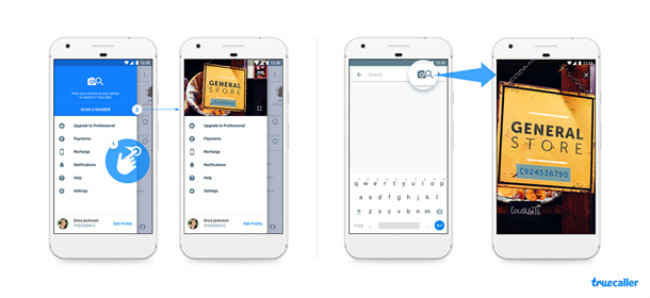 The second feature adds some Essential Numbers which are toll free and work offline. The feature integrates numbers from various categories such as Banks, Couriers, Airlines, emergency services and more. The feature also includes 'Bank Balance Check' numbers which allow users to check their bank balance from their respective bank. The Essential Numbers are located in the search bar within the Truecaller app. The Fast Track numbers will only be available in India for now.
Truecaller app's core function is to search a phone number against the Truecaller database and return info such as an associated name, email or more. On Android, the caller ID app is currently on its 8th version. It added a plethora of new features such as True Messages which filtered spam SMS, Flash messaging and the Truecaller Pay feature which allows its users to send or receive money securely over their mobile phone using the UPI facility.
Tags:
Truecaller
UPI payments
Truecaller for android
Truecaller essential numbers
truecaller scan and pay
truepay
truecaller scanning function