Intex, a consumer electronics manufacturer, has launched its own mobile wallet, the Intex MyWallet, on Android with a focus on enabling digital payments in both B2C and Retail-assisted transactions. This app will be preloaded on Intex smartphones shortly, although it is available for free to all Android users regardless of the make of the phone.
The app works on the Tata mRupee platform, with which it partnered last year. Its main features include:
Send / Receive Payment
Online Recharge and Utility Bill Payment
Add Money to your Intex MyWallet
Pay for Travel
Shop Online & More
Coupon, Offer & Deals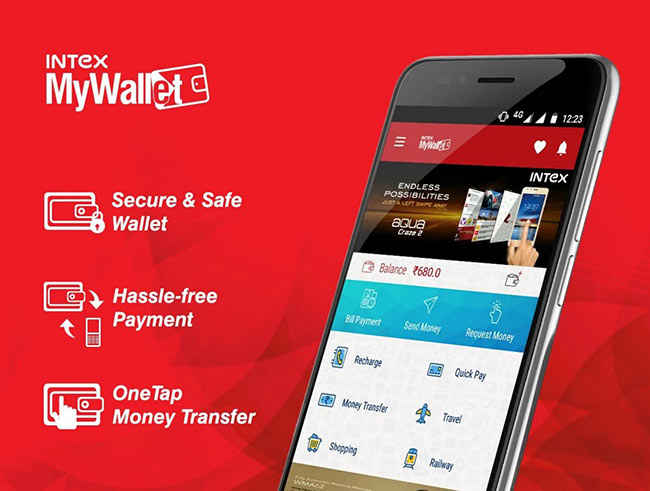 On the other side of the ecosystem, Intex will be building a retailer portal, where retailers will get the opportunity to provide retail-assisted services to customers, in return attracting larger spends from the wallet towards the particular retailer.
Commenting on the expansion, Mr. Vineet Singh, Head – VAS, Intex Technologies said, "At Intex, we are constantly innovating our products and services. Digital Ecosystem has been at the forefront and we have now created a one stop solution experience for users looking for both utility and entertainment needs. Our mobile payment ecosystem is one of our core digital drivers and with this expansion our m-wallet services are now available to all android users on Google Play Store, making day-to-day transactional needs easy. We will continue to innovate and keep integrating various digital services into our devices and commit to enhancing Intex mobile user experience at competitive pricing in future as well."
The app itself offers a pretty standard set of wallet functionalities, as mentioned above. The railway and travel features that the app offers require you to log in to your IRCTC account to proceed further. You can also use the app to pay merchants directly, from a list of payment merchants that Intex has onboarded. Intex aims to increase its merchant base, especially in the utility and entertainment area. It also allows you to process payments for certain online merchants like bookmyshow in the entertainment space, ebay in the ecommerce space, many major utility providers, and even some charitable institutions.
The interesting aspect of this announcement is that Intex, which is essentially a hardware manufacturer, is now getting into the digital payments space. This goes on to show that the push from the government towards digital payments and a digital economy has encouraged a lot of companies to jump into the fray, and cater to an increasingly 'digital-aware' customer base. Although, it would be great if developers, rather than building endless 'me-too' apps, would go out and make something that is actually new and transforming.
For more technology news, product reviews, sci-tech features and updates, keep reading Digit.in or head to our Google News page.