Google has rolled out an update to its Search app for Android (for versions 4.1 and higher) that brings in various new features such as support for movie passes from Fandango, rating from Rotten Tomatoes. It also introduced the Google Now widget, which can be used on the homescreen or lockscreen.
Interestingly, a recent leak on the Google support page, taken down shortly, had hinted at a widget which looked very minimalist in its appearance and clubbed together relevant cards. It had references to the Nexus 4, Nexus 10 and Galaxy Nexus. Read more about the Google Now slip up here.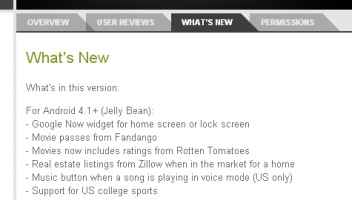 The Search app update brings real estate listings from Zillow when in the market for a home, a music button when a song is playing in voice mode (US only) and support for US college sports. Users can download the updated Search app from the Google Play store. You can read more about the update here.