Google has added app listings to its Google search for Android in a new update. Now, users can search for information not only on the web but also within apps on Google Play as well as third party apps.
Google states in a blog post that the app listings will show up directly in Chrome and Android browsers and users don't even require the Google search app. There are two types of app listings that will appear in search results.
The 'Open in App' feature takes you to relevant apps that are already on your phone. For this type of app listing, users have to be signed in to your Google Account so Google Search can know which apps you already have installed. The "Open in app" feature is currently supports just 13 apps for now.
Google Play buttons will take you to relevant apps from the Google Play store clubbed together under the apps section. Users can touch the price button and download the app from the Play store.
Google adds that the new features are still in early stage of development and once you download one of these apps, "it may take a day or two for the Open in app button to appear in your search results." Finding apps in search results is currently limited to only Android 2.3 users in the US for now. Google claims, "Google Search can make your life a little easier by fetching the answer you need for you — whether it's on the web, or buried in an app."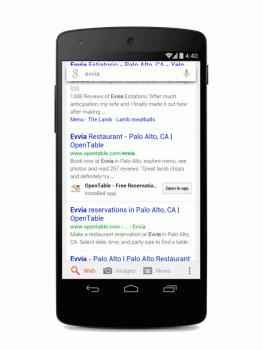 Source: Google