Google has released a new update for its search app for Android that lets you use voice commands to activate camera and click pictures. Google has stated in a blog post that the camera will be activated in the user's preferred mode also.
Android users will just need to tap on the microphone icon on the Search app, or say 'Ok Google' to launch the default camera app with voice commands like 'take a picture' for launching the camera app in camera mode, and 'record a video' for opening the app in video mode. You don't have to use the recommended phrases, for example, even "open camera" will also work.
Google announced on its Google page yesterday, "Now with the Google Search App on Android, you can just tap the microphone or say "OK Google", then "take a photo" or "take a video."

Another feature announced is 'listen to TV' that works like Shazam. "If you happen to miss the name of one of the songs while watching, just tap the mic in your #GoogleSearch app (or say "OK Google") and say "listen to TV". You'll find out the title, artist and other cover versions," Google notes. The update has been launched in US only for now.
Google 3.0 update also gives SwiftKey-like abilities to the stock Android Keyboard. The keyboard app will keep track of your typing habits, lingo, preferred words, etc. and offer personalized suggestions accordingly. Google has set the feature on by default, but users can change it in the Google Keyboard settings menu.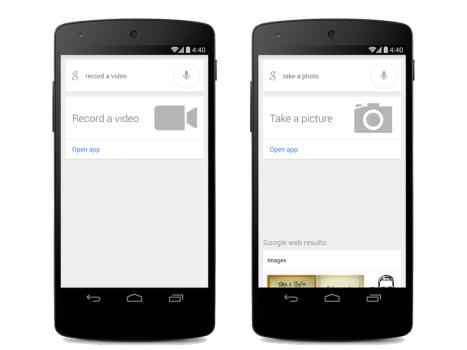 Source: ZdNet