#IBMCodePatterns, a developer's best friend.
#IBMCodePatterns provide complete solutions to problems that developers face every day. They leverage multiple technologies, products, or services to solve issues across multiple industries.
Click here to know more
Advertisements
Google seems to be testing a new feature called 'Explore' on Chrome for Android devices, reports Android Police. When finished and implemented, the feature should present itself on the New Tab page when you open the Chrome browser. As the name suggests, it will present to the user a number of new websites relevant to the user's tastes. It's unclear at the moment if Google will tailor its suggestions based simply on regions or on user's browsing habits as well. Knowing Google, the latter is expected to happen.
The feature is currently in testing phase but can be enabled on the browser. Do note that any content you see may not be the same as on the final version. To enable the new Explore feature, fire up Chrome browser on your Android smartphone and navigate to the URL, chrome://flags to land in a page called Experiments. In the search box, type 'explore' to find a flag item called 'Explore websites'. Click on the combo box below the name and set the value to Enabled. Relaunch Chrome. On the New Tab page you should now be able to see the Explore section.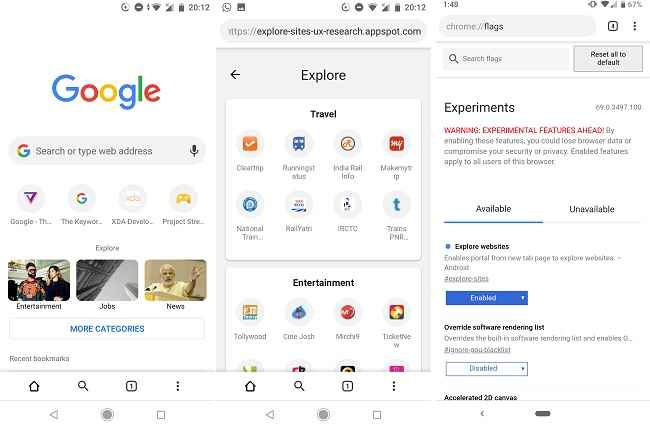 It's unclear at the moment if Google will even choose to retain this new feature under test. As with many such flag-enabled features, it could well never make it to the browser's New Tab page by default. It certainly seems like a way to get people into browsing more though. If at all the feature is completely ready and functional, you can expect the Explore section to suggest you pages you'd like to visit and information you'd like to find. Train schedules you might want to access quickly and travel websites you've not visited before are some examples.
What's also unclear at the moment is if Google will choose to implement this new Explore feature in the iOS version of Chrome as well. Currently the Explore flag does not appear in the PC version of Chrome, meaning that Google is counting on only smartphone users to use such a content-discovery feature. And anyway, in a world where there are seemingly more smartphone users than PC users, such a move only seems right.
Inline image courtesy: Android Police