Google has released a new update for its Google Calendar, that lets you track holidays from an additional 30 countries. The update was announced by associate product manager intern, Ronnie Falcon, who stated in a blog post that the new calendars will be rolled out over the next few days.
The update covers a larger number of holidays from over 30 countries and users will be able to see dates further in advance. You can see holidays from countries like Argentina, Azerbaijan, Austria, Bolivia, Brazil, Canada, Switzerland and many others.
Google Calendars is a great free online resource that allows users to create a detailed calendar and share it with colleagues and friends. Users can also sync the calendar with their desktop/laptop's Outlook email client. Google recently axed its Calendar notified app that used to send notifications about new emails and calendar appointments. Google is now asking users to install Google Chrome browser instead which comes with integrated desktop notifications and can be added to the company's productivity apps.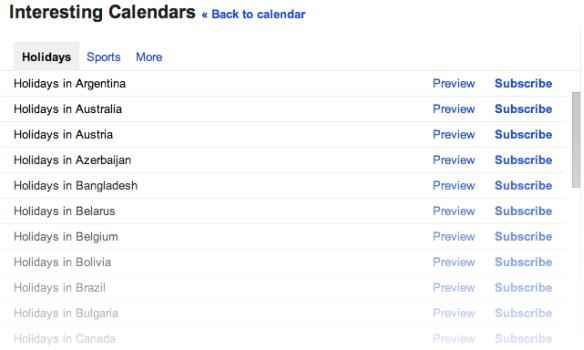 Source: Google