Highlights:
Chrome now lets you swipe left and right to go back and forward
The new feature is enabled through a flag within the browser
If you've loved the Chrome browsing experience on your Android smartphone but have secretly also envied your colleague's ability to swipe left and right on their iPhone's Safari browser, you've got good news coming your way. The latest version of Chrome for Android allows you to swipe inward from the left and right edges of the screen to go back and forward. The feature was originally available only in the Canary build of Chrome but is now, according to 9to5Google, available on all builds of Chrome, including the Stable version.
Like most features within Chrome, this new gesture feature is a flag that must be enabled for it to work. So, if your Chrome is updated to the latest version, head to chrome://flags in a new tab. In the search bar, type "history nav". When the results pop up below, look for a flag called "History navigation with gesture". In the combo box just below it, change the value from Default to Enabled. Chrome should now prompt you to "Relaunch Now". Hit the blue button. When Chrome reappears, the new gesture feature should be available.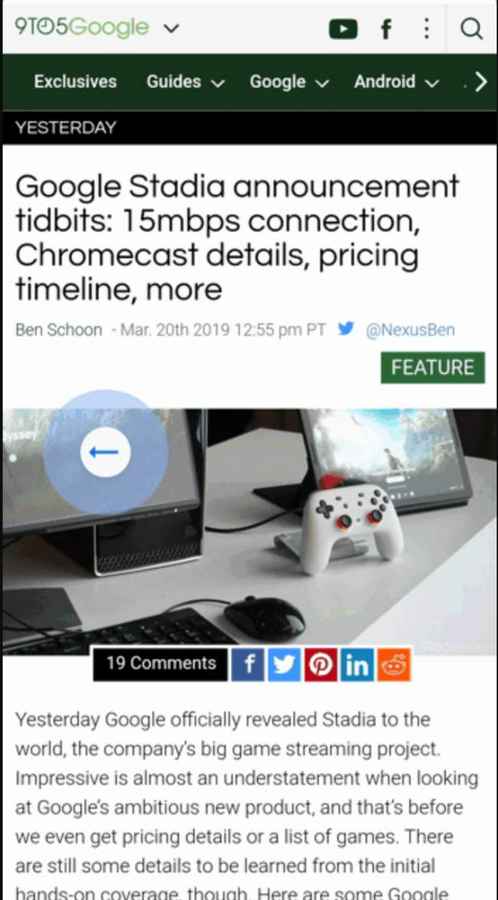 This new gesture feature should prove to be useful and convenient for those who use Chrome on Android extensively. Swiping inward from the left edge of the phone's screen takes you back to the previous page you were in, while swiping inward from the right edge of the phone's screen goes forward. Until now, a Chrome user could go back only by hitting the back button in the phone, and forward, by selecting the forward icon from Chrome's app menu.
Earlier this month, version 74 of Chrome Canary included a dark mode for web pages, which rendered pages in a dark grey colour and the text within the pages in white. Since it was still an experimental feature, the dark mode didn't work all that well. Also, it rendered only the content in a dark shade, leaving the UI of the browser untouched. With any luck, this new dark mode for web pages should make it to the Stable version of Chrome soon.
Inline image courtesy: 9to5Google
Related Read: Chrome Canary now includes dark mode for web pages