Blackberry rolls out new version of Twitter app for Blackberry 10 devices, adds location trends and support lists.
BlackBerry has rolled out a new version of its Twitter app which adds several new features to BlackBerry 10 devices. The app will bring personalization adjustments for BB10 users.
Users will be able to create, view, create, subscribe to, and edit Twitter lists directly from their smartphone. The app is useful for people who use lists and helps in keeping track of accounts. Twitter had earlier this year created a functionality of adding 1,000 lists that can contain up to 5,000 accounts. Now with the new feature users will able to track lists while on the move on their smartphone.
Twitter for BlackBerry will display trends based on personal interests and location as well. If a user searches for a topic in the trends section, the updated app will display the results based on the topic and conversations around it. The update will also display trends can for a specific location to users.
Other improvements included in the update are the ability to see more photos, new icons to indicate tweets with video, the ability to view recent tweets in an Active Frame and synced Direct Messages.
BlackBerry says the new Twitter version is "designed to heighten your Twitter experience." Users can download the new app version from Blackberry World. This functionality is already available for iOS and Android users.
Blackberry which is warring with Android and iOS has recently announced that the company has now reached 131,708 apps for the Blackberry 10 OS. The announcement was made by Alec Saunders, Vice President for Developer Relations at the BlackBerry Jam conference in Hong Kong. He added that Blackberry World has now over 256,000 apps for BlackBerry 10 and BlackBerry 7 combined.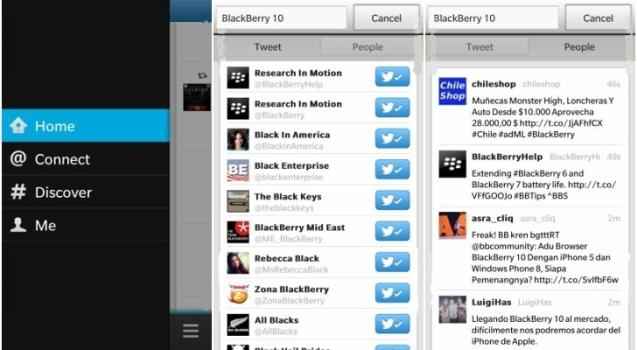 Source: TNW