Yes, you read that right - Apple's iOS devices crash more than their Android counterparts. As startling as it may sound, a new research suggests Android devices work more often than Apple's famed iPhone and iPads.
A new State of Mobile Device Performance Health Report by Blancco Technology Group reveals that iOS devices had an overall failure rate of 62 percent worldwide in Q3 2016, compared to 47 percent for Android devices. While that failure rate is still bad, it is worth noting that Android fared better than iOS - the no compromise mobile ecosystem. The report says apps crashed at least once on 65 percent of iOS devices tested in Q3. That number for Android was exceptionally better at 25 percent.
Apple users also reported rise in temperature of the device post iOS 10 update. iPhone users worldwide reported about overheating when devices were charging. "One reason for this is that when users first download and install iOS 10, it updates apps in the background. As a result, the update eats into the device's battery power and life and may cause the device to heat up more than usual," the report states.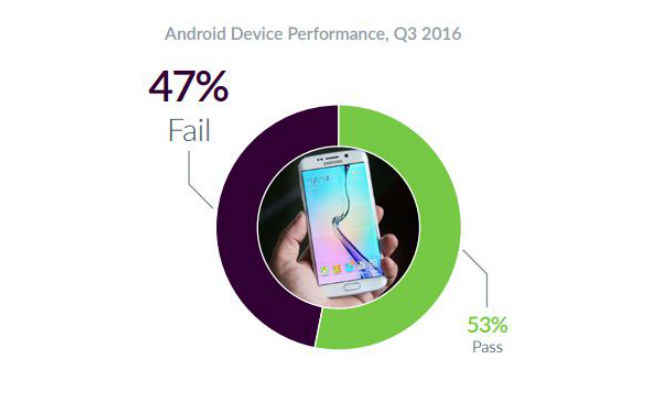 Apple recently introduced iOS 10 which initially bricked few iOS devices and also had stability issues. Apple was quick to issue an updated version of iOS 10, which improved stability and also helped tackle the overheating issue.
According to Blancco Technology Group's report, Apple iPhone 6 had the highest failure rate of 13 percent followed by iPhone 5S and iPhone 6s at 9 percent each. The iPhone 6 and 6s Plus rounded up the top five list with 5 percent and 4 percent failure rates respectively. It is disheartening that a year old iPhone is on the top five in terms of failure rate.
On the Android end, Samsung devices led the failure rate with 11 percent. Xiaomi and Lenovo smartphones saw failure rates in the tune of 4 percent and 3 percent respectively. LeEco's Le 2 topped the chart with a failure rate of 13 percent while xiaomi's best-selling Redmi 3S and Redmi Note 3 recorded failure rate of 9 percent. Samsung Galaxy S7 Edge contributed 5 percent failure rate to the Android list.
The most notable observation is that Pokemon Go emerged as the most unstable app on both the platform. The augmented reality app contributed maximum to the iOS platform crashing while it had a significant effect on Android devices' battery drain.
In Q3 2016, Instagram crashed 14 percent on iOS while Pokemon Go crashed 5 percent. On Android, IMS Service crashed 32 percent while Google Play Services failed 10 percent. Samsung's TouchWiz Home failed 3 percent, showing the excessive adoption of Samsung devices in the market.