HIGHLIGHTS
Sony India today announced the launch of its Android TV range in India, offering smart TVs based on Google's Android TV platform. Here's our first impression of the 50-inch Sony Bravia W950C TV running on Google Android TV OS
Early this year (Jan 2015), Google announced its Android TV partners, who'd be launching TVs based on Google's Android TV platform. Sony was one of the prominent partners apart from Sharp and Philips who are adapting Google's new platform for TVs. Today Sony has officially announced the launch if its new range of TVs based on Google's Android TV platform in India. And, we have the Sony Bravia W950C Android TV with us for review, while we will be publishing the review soon, here's our first impression of the TV. This being our first Android TV encounter, we have spent extra time and focussed more on the Android TV experience of the TV.
Let's run through the core specs of the TV before we get under the hood of the Sony Bravia 50 W950C Android TV
Panel: 49.5-inch VA panel with 1920 x 1080p native resolution
Panel backlight: Edge-lit LED panel with frame dimming
3D: Yes, supports active 3D, does not ship with 3D glasses
Smart TV: Yes, runs on Google Android TV, version 5.0.2
Sound system: Audio Output Power: 10W+10W+10W+10W, Two-way speakerx2, Subwooferx2
HDMI Connections: 4, HDCP1.4
Bluetooth: HID/ HOGP/ 3DSP/ SPP
MHL: Yes
MHL Version:Ver2
Analog Audio Input(s) for HDMI: 1 (Rear)
USB: 2 ports
Ethernet Connection: 1 (Rear)
Composite Video Input(s): 2 (1 Bottom Analog Conversion/1 Rear Hybrid w/Component)
Component Video (Y/Pb/Pr) Input(s): 1 (Bottom/Hybrid)
RF Connection Input(s): 1 (Bottom)
Analog Audio Input(s): 2 (1Bottom Analog Conversion/1Rear)
Digital Audio Output(s): 1 (Rear)
Audio Out: 1 (Side/Hybrid w/HP and Subwoofer Out)
Headphone Out: 1 (Side/Hybrid w/Audio Out and Subwoofer Out)
Google Cast: Yes
Voice Function: Yes(Optional Remote or Mobile App)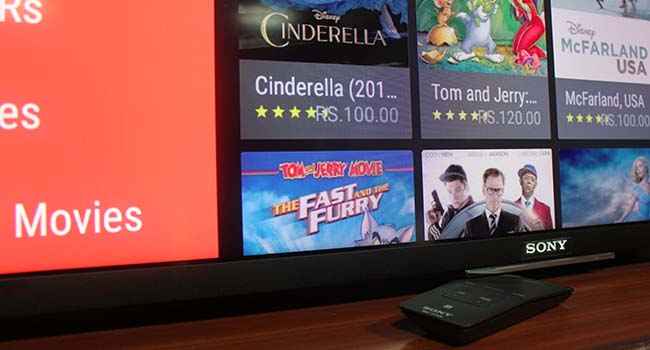 Now that you have a base level idea of what the TV is all about, let's dive into the specifics, starting with the Android TV platform.
The Android TV experience on the Sony Bravia 50-inch W950C: Boot the TV and you are greeted with a familiar Android boot-up splash screen, followed by the Android text logo, confirming the native Android integration. Upon boot-up, we immediately encountered an OS update notification and the TV was updated to Android 5.0.2 from the previous Android 5.0.1 version. And, just like most Android devices, the update process went smooth, followed by a boot up which also updated all the native and installed apps as per the latest Android version.
Our first encounter with the Sony Android TV interface was pleasant and somewhat familiar. First up, the home screen offers all the featured apps, movies and games that you can download via the Google play store, the TV comes with 16GB of storage out of which you get 8GB of memory free to install apps. The interface is clean and offers flat Android 5.0 styled tiles and cards. Clean lines, flat and visually pleasant is the best way to describe the interface. Right below the feature apps, you get direct access to all inputs to quickly switch to specific HDMI, component, composite and the analogue input. The Input row is followed by 'Apps' and 'Games' section (rows) which gives access to all the Installed apps and games on the device. And, finally at the bottom you have the settings, WiFi and help menu to change settings, connect to WiFi network and configure your Google account. Apart the main menu, you also get a quick menu access that can be activated any time to access and change picture and sound settings. While you can discover and browse through the curated and installed apps, the search icon that is almost omnipresent across all menus gives you quick access to the search engine that can find you specific app and content. And the search works pretty well, especially if you use the voice search option. We used (and preferred) the voice search feature to look for apps and content. The voice search works via the additional camera accessory which holds the microphone to capture voice commands. There is also an 'optional' touch pad remote that offers built-in mic along with a touchpad for effortless navigation. We highly recommend purchasing the remote, it works brilliantly for navigating across menus, just like a laptop touch pad. It's a pity that the optional touch pad remote comes as an add-on accessory that needs to be purchased separately for all 1080p models, the touch pad remote comes free with 4K Android TV offerings from Sony. The remote costs Rs. 2,999. It's extremely disappointing on Sony's part to not bundle the touch pad remote free with a 50-inch 3D TV that costs Rs. 1,32,000. In fact, we strongly believe that the touch pad remote, or a special Android TV remote should be bundled as a default accessory with all Android TVs (Google, are you listening?)
All-in-all, the Android TV interface on the Sony Bravia W950C is pretty slick and user friendly, it is generally an easy to master interface while being absolutely comfortable for Android users, who will feel right at home from the very first encounter with the TV. We will reserve our final judgement and rating of for the Android TV till our full review is complete and published next week.
The Android TV app collection and curation: While the overall interface and menus are sort of similar to what you'd get on an Android smartphone. The apps library in terms of the apps and the categorization is not the same as what you get on the Android Play Store on your phone. The apps available are tuned towards media consumption and hence you won't be able to get access and install all the apps that are available on Play Store. You get almost all media related apps that are available on the main (Mobile phone) Google Play store. No, you can't install WhatsApp, or any email app, heck it doesn't even offer Chrome as a part of Android TV Play Store. Sony seems to have found a route around it by offering Opera browser app, the same one that was offered pre-installed with the previous Smart TV range from Sony. So, the Android TV as a platform is focused on entertainment and media and not on productivity or messaging services, for now at least. On the games front, you have access to all games that is supported by the hardware configuration of the TV. While we couldn't find Real Racing or Asphalt on the Android TV Play store, you do get access to a whole lot of light, less resource hungry apps that can keep you busy for a while.
Build quality and looks: The Sony Bravia W950C is a far cry from most modern day televisions that are often dressed in glossy chrome and shiny surfaces. This Sony TV is all about matte finish and subtle, classic looks. The side bezel is extremely thin at 16.2mm in thickness and the frame is made of high quality metal with grained, matte finish. The panel itself has a matte finish and does not pose any worry or concerns over reflections. There isn't a single hint of gloss or shine on the TV, something that we surely appreciate. The dim glow below the Sony logo at the bottom is subtle, just an indication of what mode the TV is running in (power on, standby, etc.). At the back the panel continues its slim profile for most parts, till you arrive towards the bottom half where the panel width increases to about 5 times, that's the area that houses all the connections, ports and the core processing engine of the TV. The supplied sound bar styled woofer sits behind the TV when in table-top position and can be mounted below the TV when the unit is wall mounted. All in all, we like the subtle classic, high quality build of the TV.
Picture Quality and Sound: For an edge-lit LED TV with a 50-inch VA panel that uses frame dimming technology, we are super impressed with the image quality of the Sony Bravia W950C. The very first thing you notice about the image quality is the black levels, the TV offers brilliant black levels with almost no sign of any ugly grey tones or loss of detail in overly dark scenes. The second thing that impressed us was the contrast and brightness levels. While we suggest you wait for our detailed review (coming next week), our first impressions of the picture quality has been pretty good. The TV handles motion very well for a 60 Hz native panel, we never faced any judder or motion blur issues on fast moving action scenes.
The Sony Bravia W950C Android TV offers brilliant out-of-the box sound experience, the default sound system which consists of dual 20W two-way bottom firing speakers coupled with the supplied sound bar-like woofer that houses two side firing 10W + 10W bass drivers work together to deliver a satisfying aural experience. Unless you are planning to setup (and spend on) a professional grade home theatre system with this Sony Android TV, you won't need to buy a separate sound system for the TV, the default sound system seems perfectly capable of delivering a wholesome aural experience. Though, we will be putting the sound engine of the Sony Android TV through its paces via our detailed sound test to check on its tonal quality and the frequency response across the spectrum (high, mids and lows).
Closing thoughts: Sony's first batch of Android TVs have a lot going for them in terms of offering smart TVs that are easy to use and offer enough content to boot with. As far as the unit that we have with us, on first impressions, the Sony Bravia W950C does come across as a good Smart TV that offers good image and sound quality and the 'Android TV' bit feels well implemented. What we don't like though is the paltry 8GB of free memory for Apps and the strange decision to keep the touchpad as well as the camera as a separate accessory that needs to be purchased additionally, disabling the use of the voice input facility as a default out of the box feature. Android TV feels crippled without the voice input, and Sony needs to realize this now!