The smartphone industry has, since long, given rise to a slew of supporting industries that have made it possible for us to maximise our experience of using the handheld device (and to think this all started with people just wanting to be able to talk to other people). Communication is so important to us that we would go to any length to make sure we have the best devices to do so. Unfortunately, this need of ours is the one thing that now makes multinational corporations literally rule our lives. They keep upping the ante with bigger, thinner, faster, newer and in all ways addictive smartphones and then they go ahead and make us pay a ransom to own them.
But, the world always finds a way to balance itself out. In this situation too, there are middle men. People who can give us the best of both worlds, or at least hope to. This is the refurbishing industry, a place where smartphones come to die...and then be reborn. These places resuscitate life into devices, price them cheaper than their original unaffordable price tags and then sell them to people like us, who just can't do without that latest iPhone or maybe the S6 Edge or even a Xiaomi. I could go on with this endless list but that's what our Top Ten's are for. Maybe later you can have a look-see and you might be pleasantly surprised to see some of those devices available with refurbishers at reduced prices. By the way, it's called recommence-The activity of buying and selling refurbished goods.
"Customers across the price segment desire to own a better/higher priced phone but at a budget they wish to spend. This holds good for entry level phones, mid variant phones like YU Yureka and Moto G and high end like Apple iPhones too," notes Karthik J, Senior Market Analyst, Client Devices, IDC India.
The problem with the refurbishing industry though is that it remains quite unstructured and unorganised. It's like the tech industry 10-15 years ago. The spots for the biggest tech companaies were still up for grabs and it was anyone's game. Now, most of us can clearly count the the top 3-4 tech companies in the world, on our fingertips. But, that's not why we are here.
The refurbishing industry finds itself in a constant state of flux and there are occasions when consumers have a difficult time accepting a second hand product or one that has gone through a bit of tinkering post an accident or even one that was returned to ecommerce merchants like Flipkart or Amazon because someone didn't want them. All these doubts can be put to rest. This is after all a business which functions just like any other. You check out the product, you test it out, you return it if you don't like it or they fix it for you if something goes wrong. What more can you ask for?
How they do all this, is a whole different story and one that you should pay attention to very closely.
In the recent past, many companies selling refurbished gadgets have set up shop in India and they all say that they are seeing a healthy demand for these goods in the market. Rohan Gupta, COO of refurbishing firm Attero remembers, "What used to happen is that you would go to Gaffar market or some other market and the dealer there will say - this is a phone that is good and if you buy it I will not take any guarantees. That was the apprehension consumers had. Initially, the first 6 months, we also struggled when people did not know who we were, but once people started using the products and we got reviews then we saw that people believe that the quality of refurbishing is good."
Now, with both Amazon and Ebay stepping into the world of refurbished devices, the competition is heating up fast.
So, we decided to take a look at India's various refurbishing outlets and tell you just what to expect from each one of them. We also used a refurbished device for a week to judge its quality for ourselves. So, from ecommerce to recommerce, read on and find out if refurbished gadgets are a bang for your buck.
Gobol
Gobol is an extension of recycling firm Attero, which sells refurbished smartphones, tablets and supporting accessories. Gobol has divided its smartphone product inventory into various categories such as surplus, factory seconds, refurbished and pre-owned. This category bifercation is purely to differentiate between the price of the products. "The reason we have kept different categories is that every consumer will have his own preferred price point. You may want to buy a brand new iPhone and I may be ok with a scratchy iPhone becuase i really need an iPhone," says Gupta.
The idea here is to know your own need before you purchase from a particular category. That said, the next question that naturally comes to mind is – what about the warranty?
Well, like most other refurbishers, Gobol offers both brand warranty and its own standard 6 month warranty. Brand warranty here refers to the left-over warranty of a device from the date of its original purchase. So say if I bought an Samsung Galaxy S6 and decided to sell it to Attero after 6 months, that time period is excluded from the phones warranty period when Attero sells it to its customers. All products under 'Surplus' and 'Super Buy' category and most of the products under 'Carton Damaged' and 'Refurbished' carry manufacturer warranty, unless specified otherwise.
The second type of warranty is Gobol's seller warranty which is mostly applicable on 'Refurbished' and 'Pre-owned' products only.
Pricing of smartphones on sale with Gobol is determined by an algorithm developed by Attero itself. Rohan explains that "We have an algorithm that we have developed in house which consists of multiple things like brand, quality, warranty, lifecycle and other things. Discounts on smartphones vary from 10% to 60% depending on these factors."
The company has its own refurbishing unit which carries out more than a 100 checks using OEM grade equipment to ensure stringent quality checks.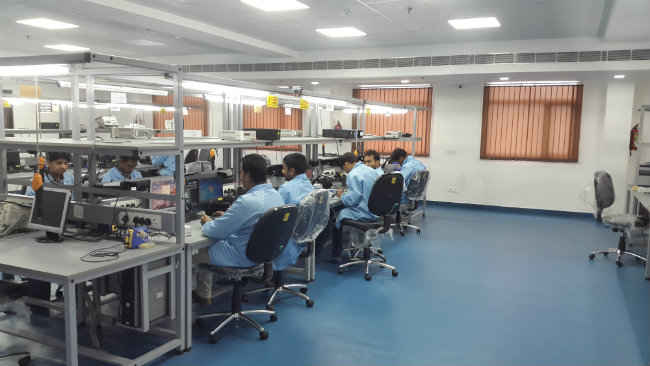 A section at the Attero refurbishing facility
The only thing that irked me while speaking with the company was a question that may just define a user's purchase. When I asked them whether all parts that are replaced in a smartphone are original or not, I recieved a very ambiguous "most of them are." Now, this can make a lot of difference when it comes to smartphones or even tablets which are damaged and then rebuilt. I once broke my iPhone 6's screen and was devastated to find out that the original screen would cost me upwards of 20K. So, I decided to go for screen that came from China and costed me 7K and trust me, there is a huge difference even if it's not evident at first glance.
The good thing about Attero though is that they promise door-to-door service, incase any discrepancies are noted by the consumers, and usually 6 months is a good time to notice anything that's wrong with a device.
Overcart
Overcart is yet another destination for buying pre-owened, unboxed and refurbished electronics. The only difference here is that unlike Gobol, they do not refurbish these devices themselves. Overcart obtains its inventory from various sources such as- returned or surplus phones from ecommerce platforms, retailers, OEMs and more. The smartphones sold here are usually ones that have been refurbished by manufacturers themselves.
"We have conciously taken a call not to refurbish ourselves mainly because these are usually not used products. On our website there are chances that if a product has been marked as pre-owned, they are still not used except maybe there are nicks and cuts on the product itself that makes it seem not new....its ok to underpromise and overdeliver on these things than the other way around," explains Saptarshi Nath, Co-Founder, Overcart
The company claims that 99% of its smartphone inventory is new, what I don't agree with is their policy of 'underpromising'. Why lead consumers to believe they are buying a pre-owned product when its actually never been used? Something here does not feel right.
Another disturbing fact emerged when I questioned them about their quality check procedures. "We have an app for instance that acts as a CT Scan for your phone. Once its installed on the phone, it will see if all the sensors are working. So, we take out a lot of the manual part of the testing process." Now, the Overcart website states that it has a 72-point quality check, but the company was very vague with details about these checks. All I was told was that it takes about 5-6 minutes to check each device.
What was even more troubling were the price disounts shown on the Overcart website. In this case, a Motorola X Gen 2 (32GB) smartphone is listed with a 55% discount but that discount is on the launch price of the device which was actually Rs 32,999 (and not Rs 33,999 as shown in the screenshot). The price of a Moto X Gen 2 (32 GB) has since been slashed down and the device costs Rs 17,999 for a brand new model. Not much of a discount if you consider this right?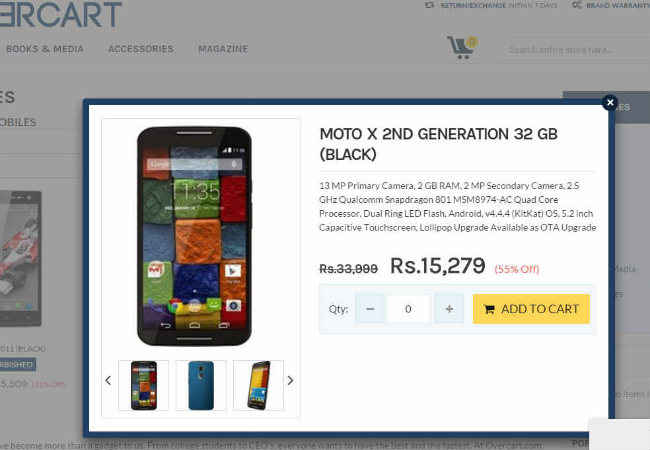 Screen grab from Overcart.com showing 55% discount on Moto X Gen 2 (32GB)
So, since Overcart claims it mostly sell new phones that encounter some defects during storage and trasportation, most of these devices come with brand warranty. Those devices which are not under brand warranty are covered under Overcart's own 6 month long warranty program. Nath says, "We have tied up with service centers in about 13 cities right now. So, if you have bought a phone from us, you can walk into any of these service centers and your product will be repaired free of cost."
My advise to you is, make sure you ckeck prices of new devices before purchasing their refurbished counterparts from Overcart as the price difference could be marginal.
Amazon
Amazon has been selling refurbished devices like the Fire phone, Fire TV, Fire Tablet, Kindle and other Amazon devices on their US website for a while now but back in August, the company started selling refurbished smartphones in India aswell.
The compnay claims that they sell 'quality assured' refurbished devices which have the same after sales support as new devices. Amazon has partnered with Surpluss.in, an online retailer of refurbished devices, to procure smartphones for their refurbished category. As per the agreement, Amazon will buy Samsung, Xiaomi, Apple, OnePlus, Motorola, Micromax, and Lava smartphones from Surpluss.in, for sale on its own platform.
Amazon claims that all devices sold here come with brand warranty and are refurbished by the manufacturer themselves, which is an assurance of original parts being used for the process of refurbishing.
As far as price is concerned, Amazon refurbished phones are usually discounted by 2-3K and since these devices are refurbished by manufacturers, they function exactly like a brand new device except for a few cosmetic belmishes , which are mentioned through a seller note on the products details page. All refurbished smartphones sold on Amazon come with a standard 6 month warranty, sealed packaging and a 10 day return policy.
Greendust
Greendust not only sells refurbished smartphones but also other comsumer electronics. The company is retail offshoot of its parent firm, Reverse Logistics. What Greendust does is very similar to Attero. They restore factory seconds, surplus products and carton damaged products which have never been used. In case of most products, including smartphones, they do a 50 point quality check before making these items available for resale.
The big difference between Greendust and all other refurbishing platforms is that they offer a 1 year warranty on all their refurbished devices. Customers also get an option of buying extended warranty for their devices bought from Greendust. This should give consumers enough time to figure out any kinks in the device.
Greendust also has its on app available on iOS, Android and Windows store, so you can shop from one smartphone to buy the other.
There are many other online retailers that sell refurbished products, but the ones listed above are in my experience, some of the best options available for consumers. It will be a while before the refurbishing industry gets some semblance of organisation but IDC's Karthik J says, "Despite low ASPs (Average Selling Price) on refurbished goods, the margins are quite substantial for the sellers and hence we anticipate the growth to be higher for this space."
Hope this article helps you make the right choice while buying a refurbished smartphone but before you go, here's our review of a refurbished Nexus 6 obtained from Overcart.
Nexus 6: Refurbished & Reviewed
For those of you looking for a review of the Nexus 6, this isn't it. You can check out our in-depth review here. This is purely a user experience of using a refurbished Nexus 6 smartphone. The unit we received is a 32GB Nexus 6.
Box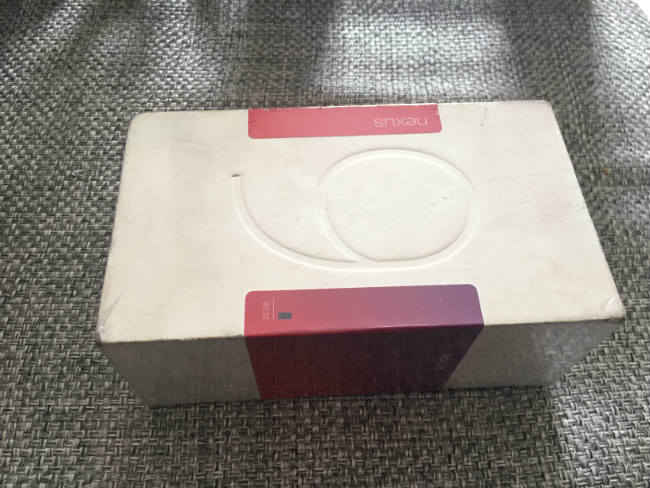 Box of the refurbished Nexus 6 from Overcart
Since this is a refurbished Nexus 6 smartphone, I expected it to come in a generic box. To my surprise it was in the original Nexus 6 box, although the box did look a bit tattered. Open the box, and the packaging is the same as what you'd expect from a brand new Nexus 6 - the booklets, manuals, earphones, charger, USB cable and of course, the smartphone.
Experience
For the most part, the smartphone worked just like a brand new unit would. From the process of setting it up to using it on a daily basis, the smartphone worked smoothly. The battery life improved from before thanks to the Android 6.0 Marshmallow update and the overall performance of the phone was smooth. So where did it lack? Well to begin with, there was a small chip on the ring flash surrounding the camera. It isn't big enough to be prominently visible but it is there nonetheless. It didn't make any difference to the performance of the camera though.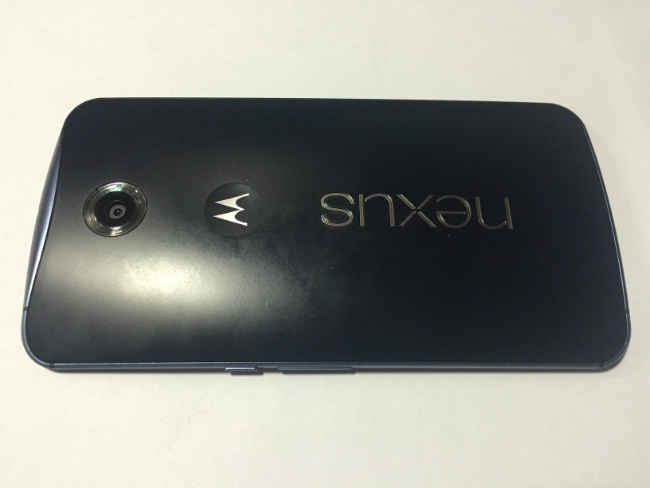 Back of the refurbished Nexus 6 from Overcart
Moving to the display, it's huge! The Nexus 6 works best for a two-handed use. The 2K displays is rich and vibrant with its reproduction of colours, but set the brightness low manually and the display appears slightly pink. Increase the brightness and all becomes fine. At first I thought this was just the display, but then the pink tint would come and go at random. This wasn't a problem we faced with the review unit. When the pink tint would appear it hampered the display experience.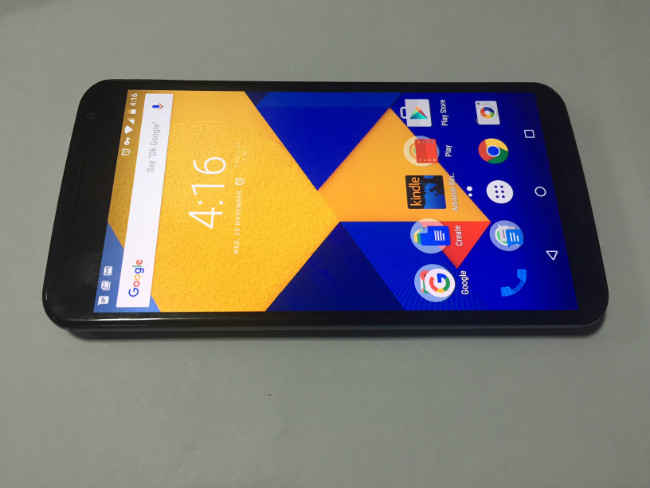 Display of the refurbished Nexus 6 from Overcart
Sticking with the display, there was a particular problem that happened only twice in the two weeks that of using it as a primary phone. While typing a text message (SMS only), if I plugged in the charger, there was a green spot that appeared for a few seconds on the display, right above the charging port. The spot appeared at the bottom of the display.
During the course of using the phone, I handed it to friends without telling them it's a refurbished unit. After they spent some time with it, their feedback was standard including statements like "Its so big" or "nice phone, hows the camera?" or "games look good on it". It was after they used it for a bit that I told them it was a refurbished smartphone. The most common response was- raised eyebrows.
Overall, the performance of the phone was good. Games ran smoothly on it. It received all the necessary updates in time and there is very little to complain about apart from the flaws we mentioned in our review. Would I purchase a refurbished smartphone? Why not! For me, the only question is, how is the after sales service? If that is satisfactory, then the refurbished market has found one more customer!
With inputs from Sameer Mitha