It's no secret that Sony's smartphone business has been in a slump. The company though has remained resilient, streamlining its product portfolio to a few targeted devices. Amongst these is the Xperia XZ1, the updated version of Sony's Xperia XZ from last year. The phone has everything its predecessor had and Sony has made some additions that are very typical of the company.
3D Creator
One of the differentiating features of the Xperia XZ1 is the fact that it can scan 3D models of objects or faces. Sony is positioning this as a portable device capable of 3D scanning, which the company says is non-existent at the moment.
To scan images in 3D, Sony's phone has a 3D Creator app inside. This is the software required to shoot those 3D images, which can then be shared or used for other purposes. It's an AR implementation of course, but seems like it will take some time to get used to. I tried creating 3D models of some of my colleague's faces, and it took me a few tries before creating a successful attempt. Moreover, the software doesn't deal with lower light conditions very well. I'm not even talking about night shots here, the lights at Sony's banquet weren't enough for a good 3D image. The resulting model is somewhat blurry and lacking details.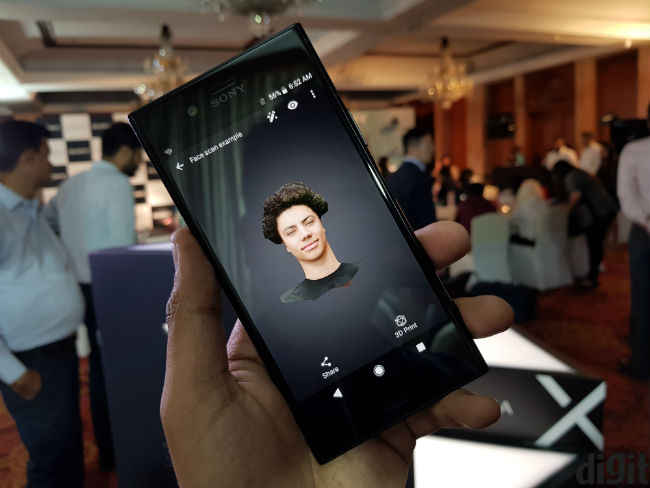 Of course, a 3D model can't have all the details of your face. But, on first impressions I found my 3D models being messed up too easily. You have to hold the phone steady at first and move it around the subject's face/or the object in question. The software then asks you to move around, above and below the face to "sculpt" the photo. On this stage, it gets rid of the background elements in the photo and creates the 3D model. Sony does all this through software, without external depth sensors or multiple cameras, which creates a rather gimmicky 3D model. I doubt an enterprise will be very satisfied with this, and the whole endeavour takes too much time and effort to really become a mainstream consumer feature.
The Xperia XZ1 might be the only phone that can create 3D models right now, but with ARCore embedded into Android now, it's a matter of time before someone tops this. In fact, I suspect most dual-camera phones would be able to do better, given the right software and intent.
Smile Predictive Capture and AF Burst
While Sony has almost categorically ignored new features like dual-cameras, curved screens etc, its own technology has evolved. With the Xperia XZ1, Sony has improved its predictive capture system, adding something called "Smile Predictive Capture". The Predictive Capture system would buffer images before you actually press the shutter button, while Smile Predictive Capture adds to that by recognising when a person is smiling and clicking a photo even before the photographer has shot the photo. It works with Sony's "Superior Auto" mode, but I couldn't try it out at the launch event due to a lack of subjects.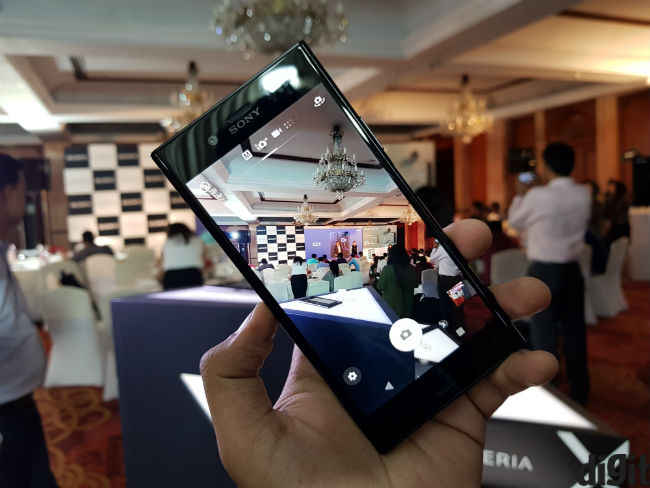 What seems more useful though is the AF Burst feature. Here, the XZ1 shoots a moving subject at 10 frames per second, when shooting in burst mode. It then lets you to either choose the best shot or create a video out of the burst shots. Choosing the best shot isn't particularly new, but it's useful nevertheless. As is converting burst photos into videos.
The other things
That covers the differences between the Xperia XZ and XZ1. Sony has for once chosen competitive pricing for this device. With 4GB of RAM, the Snapdragon 835 chipset and an HDR capable display, you certainly can't ignore this device based on pricing alone. Also, the Xperia XZ1 felt extremely well built and it's more compact than most flagships today, which is something I personally appreciate a lot.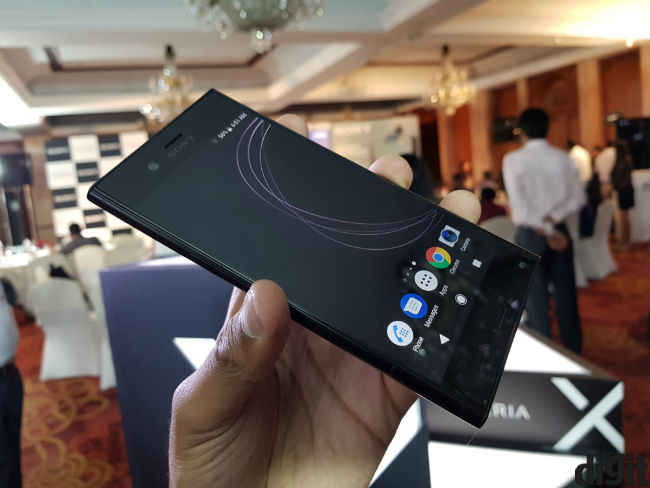 Overall, the Xperia XZ1 feels like a Sony phone, and a fan will probably not complain about what the company is offering. It's not the "wow" phone out there, but will perhaps turn out to be the dependable flagship that fans of Sony will love.