Samsung's Galaxy M series has continuously catered to the demands of young and aspiring consumers in the country with its innovative offerings that provide exceptional value for money. The M series smartphones have always stood out with their long-lasting batteries and superior processors, as well as remarkable features like a vapour cooling chamber, voice focus, object eraser, single take, and RAM Plus, all available at highly competitive prices.
The latest addition to the M series family is the Galaxy M14 5G, which promises an impressive 5G experience that'll exceed your expectations! Priced at INR 13,490, this phone boasts a whopping 50MP Triple Camera, a super-efficient 5nm processor, a jaw-dropping 60000mAh battery and so much more. Now, that's definitely some amazing bang for your buck! Let's delve a bit deeper into why the Galaxy M14 5G should be your next smartphone choice!
50MP Triple Camera to capture life with stunning details!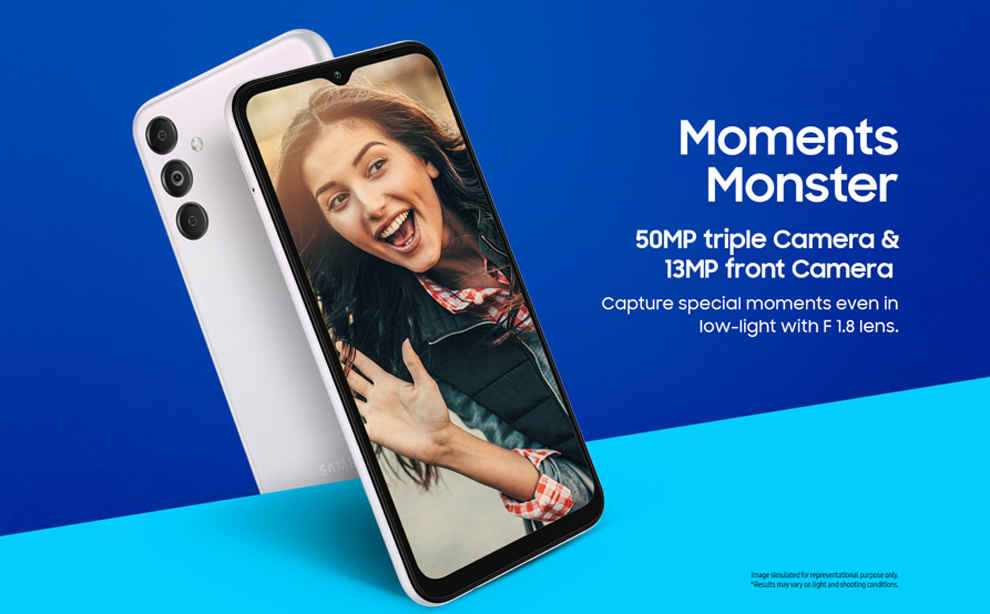 The Galaxy M14 5G is bringing some serious heat with its 50MP Triple Camera which helps capture your memories on the go. The primary camera sports an f/1.8 lens with a large aperture, paving the way for better, brighter images, which makes it easy to snap detailed low-light pictures with ease. Whether you're taking photos of your travels, capturing precious moments with your loved ones, or wanting to look your best on social media, the Galaxy M14 5G has got you covered.
And let's not forget about the 13MP front camera, perfect for all those pouty selfies and video calls with your squad. With the Galaxy M14 5G, you can expect to snap stunningly sharp and vivid images that truly stand out.
Stepping up the Performance Game with a 5nm Processor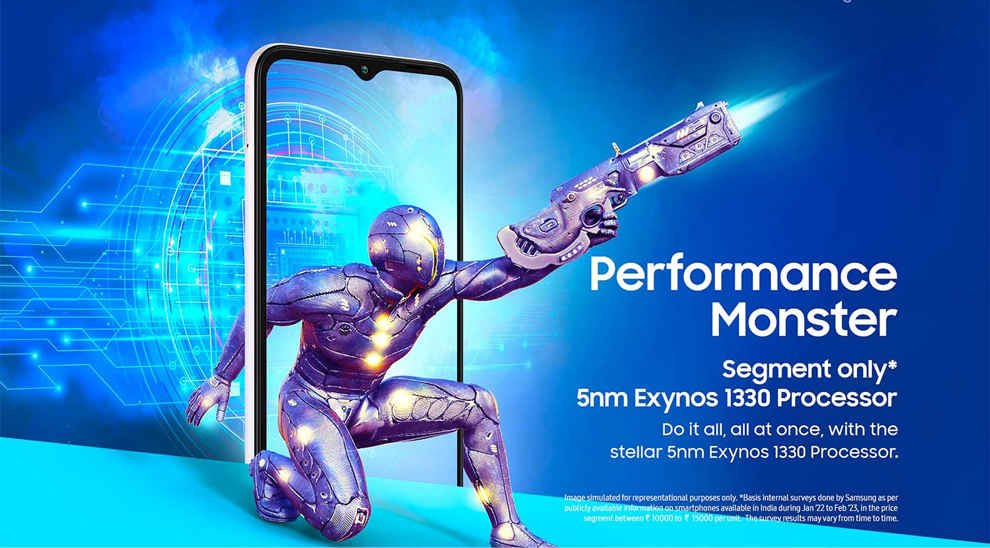 In addition to its exciting camera, the Galaxy M14 5G boasts impressive performance capabilities. It is powered by the segment-only 5nm Exynos 1330 Processor, which is focused on performance and efficiency. The Galaxy M14 5G helps you be productive while keeping lagging at bay. You should be able to play games, multitask, watch videos, and do whatever your heart desires with ease. The phone also supports 13 5G bands to ensure that you get fast and uninterrupted connectivity on the go.
But wait, there's more! The Galaxy M14 5G is expected to come with the latest OneUI Core 5.1 software based on the latest Android 13, promising an intuitive and user-friendly interface. Samsung further commits up to two generations of OS updates, which means that your experience will only get better with time!
As always, Samsung makes consumer security a top priority. With the Galaxy M14 5G, you can enjoy up to 4 years of security updates, ensuring that your device is protected against the latest threats. In addition, the phone comes with a secure folder which provides a safe and private space to store all your confidential files and documents.
Say Goodbye to Battery Anxiety with 6000mAh Battery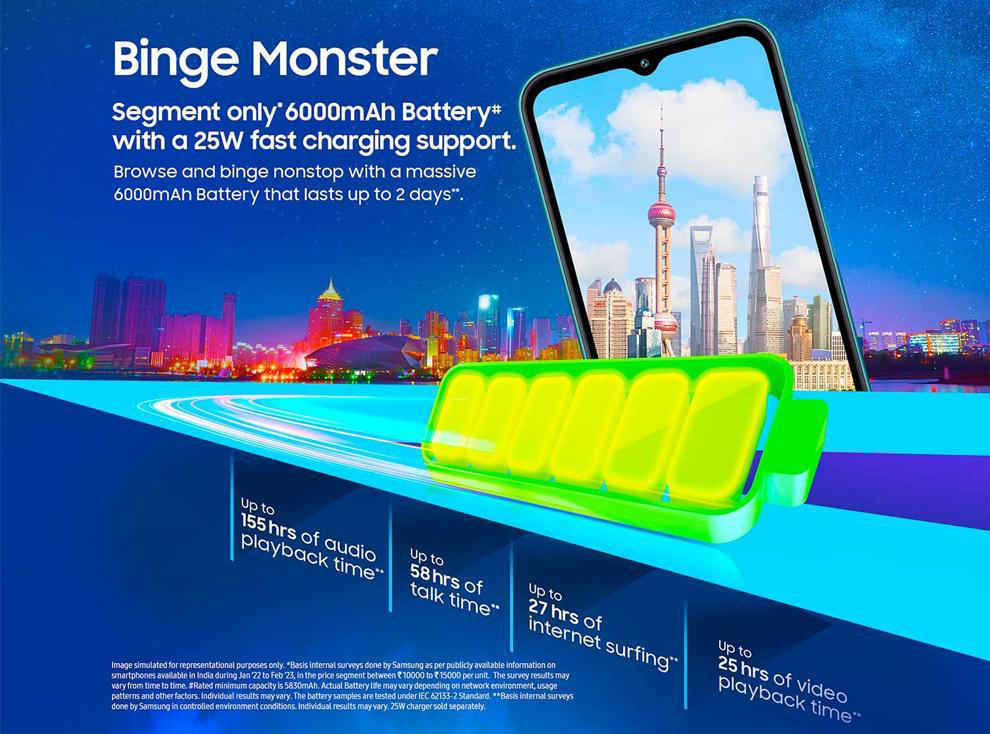 Apart from a power-efficient chipset, the Galaxy M14 5G is a powerhouse with a massive 6000mAh battery that lasts up to 2 days. Whether you're a power user or a casual one, this phone has all the juice you need to conquer your day. And when you do eventually run out of battery, the 25W fast charging will have you up and running in no time!
With up to 155 hours of audio playback time, you can listen to your favourite tunes non-stop for as long as you like. If you're someone who spends a lot of time on the phone, you'll appreciate having up to 58 hours of talk time. And up to 27 hours of internet surfing time ensures that you won't have to worry about running out of battery during those long browsing sessions.
The Galaxy M14 5G also promises up to 25 hours of video playback time, perfect for streaming movies or catching up on your favourite TV shows.
Pay attention to details that matter with Full HD+ Display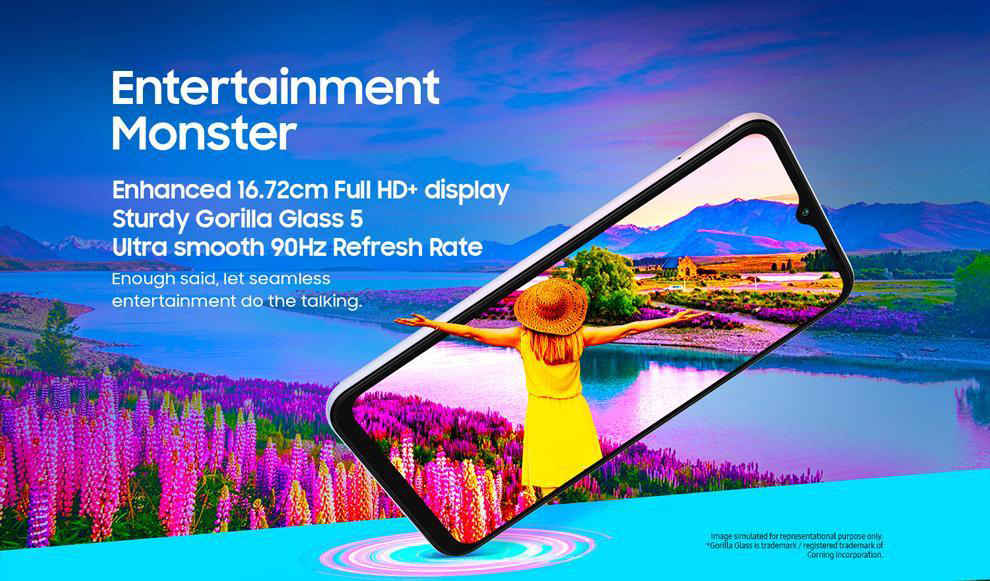 Talking of streaming, the Galaxy M14 5G will let you relish all your favourite content on a sharp 16.72cm Full HD+ display that supports a smooth 90Hz refresh rate. The display is shielded by Gorilla Glass 5, so you won't have to worry as much about scratches or accidental drops.
It's not just the display that gives you impressive details. With Voice Focus, you can enjoy clear and crisp audio while you make calls, even in noisy environments. For instance, if you're having an important business call in a crowded café, the Voice Focus feature will cancel out all the background noise and ensure that your voice is the only thing that's heard.
Get more for less
Samsung Galaxy M14 5G promises an exceptional experience and offers incredible value for money, making it an ideal choice for Gen MZ consumers. From its 50MP Triple-Camera to its powerful 5nm Processor, and long-lasting 6000mAh Battery life, the phone delivers all the features you need at an unbeatable value of Rs 13,490.
Ready to make the switch? The Galaxy M14 5G will be available for sale on 21st April, 12 Noon on Amazon and Samsung's official online store. You get to choose from three amazing colours - Berry Blue, Smoky Teal, and Icy Silver. So, take your pick and get ready to rock your new smartphone in style!
[Brand Story]