After launching the Bharat 1 smartphone at a price of Rs 2,200, Micromax has again launched another low cost 4G smartphone. The company has now launched the Bharat 2 Ultra 4G feature phone, which is effectively priced at Rs 999. Both the Bharat 1 and the Bharat 2 Ultra will go up against Reliance's JioPhone and Airtel's Karbonn A40 Indian, which are priced starting at Rs 1,500 and Rs 1,399 respectively. Micromax has partnered with BSNL and Vodafone for the Bharat 1 and Bharat 2 Ultra feature phones respectively, whereas Karbonn and Airtel have teamed up to offer bundled voice and data offers with the launch of their 4G phones.
Here's how the four operator-linked 4G handsets compare with each other.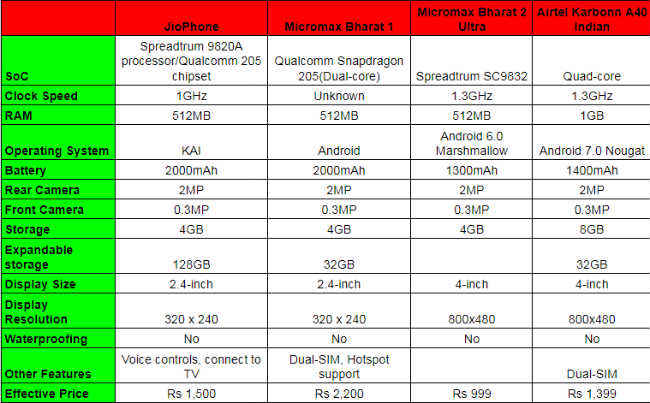 Hardware and specifications
Starting off with the JioPhone, it is powered by a dual-core processor (Snapdragon and Spreadtrum variants) and comes with 512MB of RAM, coupled with 4GB of internal storage. The storage on the device can be expanded upto 128GB via a microSD card. The device features a 2.4-inch TFT display with 320x240 resolution and runs on KAI OS. In the camera department, the JioPhone features a 2MP rear camera and comes with a 0.2MP front-facing camera too. It is powered by a 2000mAh battery and features a single SIM slot, which is restricted to Jio's network.
The Micromax Bharat 1 is quite similar to the JioPhone in terms of specs. However, It is a network-unlocked dual-SIM capable feature phone, running on a forked Android operating system. The phone sports a 2.44-inch QVGA display and is powered by a dual-core processor with 512MB of RAM. The Bharat 1 features 4GB of internal space which can be further expanded upto 32GB via a microSD card. It sports a 2MP main camera and comes with a 0.2MP front facing camera. It is backed by a 2000mAh battery.
Micromax's second offering, the Bharat 2 Ultra highly varies from the company's initial 4G phone offering. The feature phone runs on Android 6.0 Marshmallow and sports a 4-inch screen with a 800x480 resolution. The Bharat 2 Ultra is powered by a 1.3Ghz Spreadtrum SC9832 SoC with 512MB of RAM. The device features 4GB of internal storage, however, the company has not yet revealed it comes with dual-SIM and microSD card support. In terms of optics, it sports a 2MP rear camera and comes with a 0.3MP front facing camera. The phone is powered by a 1300mAh battery.
The Airtel Karbonn A40 Indian has an advantage over its competition as it is powered by a quad-core processor and sports 1GB of RAM. The device runs on full-fledged Android Nougat and supports installation of apps from the Google Play Store. The Karbonn A40 sports a 4-inch display with a 800x480 resolution and features a 2MP rear camera. It comes with a 0.2MP front-facing camera and is powered by a 1400mAh battery.
Apps and features
Even though the JioPhone, Bharat 1, Bharat 2 Ultra and the Karbonn A40 Indian are targeted at feature phone users, they offer varying levels of functionality.
The JioPhone is targeted at those feature phone users who are yet to experience 4G connectivity. It runs on KAI OS and gives users access to Jio's suite of apps like JioTV, JioCinema, MyJio, JioMusic and more. These apps are pre-loaded onto the JioPhone, but the device does not support WhatsApp just yet. Facebook and YouTube work in the form of a web application and can be accessed through a browser.
The company has said that it is working on bringing support for WhatsApp in the future. The JioPhone also houses a digital assistant which responds to voice commands. It allows a user to open apps, place calls, send text messages and do much more with simple voice commands. Although it supports 3G and 2G networks, users are restricted to Jio's VoLTE network as the carrier does not support lower standards.
The Micromax Bharat 1 is quite similar to the JioPhone in terms of specs. It does however differ in terms of interface and operating system. Micromax has confirmed that the device will come with Google Play Store pre-installed and will support Android apps.
The Bharat 1 comes with built-in YouTube app and a "Micromax Entertainment" app dubbed as "Fun" on the device. The Fun app allows users to access Live TV, Music, Movies and Videos.
The phone runs on a forked version of Android and comes with an option to access net banking. As the Bharat 1 features unlocked SIM slots, users can also switch network providers and choose between 3G and 2G networks.
The Micromax Bharat 2 Ultra runs on Android Marshmallow and the company says it offers support for video-viewing, social networking and chat apps. This probably points towards apps such as YouTube, WhatsApp and Facebook. As mentioned above, the Bharat 1 runs on a forked version of Android and thus we can expect limited support for Android Apps from it.
Airtel's Karbonn A40 Indian boasts of better specs than the JioPhone and the Bharat 1. The A40 Indian is a full-fledged smartphone which runs on Android Nougat. It is Google certified and is capable of supporting numerous apps on the Play Store. Both the JioPhone and Bharat 1 lag behind the Karbonn A40 Indian, as the smartphone comes with WhatsApp support. You can expect almost every functionality you get from a regular Android smartphone with the A40 Indian. Apart from 4G, VoLTE the smartphone also supports 2G and 3G networks and comes pre-loaded with Airtel apps such as MyAirtel, Airtel TV and Wynk Music.
Tariff plans and Pricing
The Reliance JioPhone is "effectively free" as the company is offering the device at Rs 1,500, which will be refunded in full once a buyer returns the device after three mandatory years of usage. In the case of JioPhone, users need to recharge with minimum amount of Rs 1,500 per year or Rs 4,500 over a period of 3 years in order to be eligible for a Rs 1,500 refund.
The phone comes with two recharge options of Rs 153 and Rs 309. The Rs 153 plan offers unlimited data (capped at 500MB per day), free calls and unlimited free access to Jio apps for a month, while the Rs 309 plan offers the same except for a higher data cap of 1GB per day and allows users to stream media directly from their JioPhone to any TV using a JioPhone media cable.
The Micromax Bharat 1 is priced at Rs 2,200 and unlike the JioPhone, it has unlocked SIM slots which means that users can switch between their choice of network providers. At the Bharat 1 launch, BSNL introduced a new Rs 97 tariff plan. It offers unlimited voice calls, free roaming, unlimited SMS and data to its users.
For the Bharat 2 Ultra, Micromax has teamed up with Vodafone and is offering the phone at Rs 2,899. The effective price of the device comes down to Rs 999 when users recharge their Vodafone connection with a minimum of Rs 150 per month for 36 months consecutively. Recharges can be of any denomination totaling to a minimum of Rs 150 per month. After 18 months, users will receive a cashback of Rs 900, and after another 18 months, another cashback of Rs 1,000, in their Vodafone M-Pesa wallets. This will enable customers to transact digitally or withdraw cash. An important thing to take note here is that Vodafone has not announced any data or calling benefits with the Rs 150 recharge.
Airtel's Karbonn A40 Indian is priced at Rs 1,399 effectively, against its actual price of Rs 2,899. It comes bundled with a Rs 169 monthly recharge plan by Airtel. While buying the smartphone, users need to make a downpayment of Rs 2,899 and consecutively recharge their cellular connection with the Rs 169 plan for 36 months and by doing so, they will be eligible for a Rs 1,500 cashback. The recharge gives bundled 500MB of data per day along with unlimited calling for a month. Users will be refunded with Rs 500 cashback after 18 months and will receive a Rs 1000 cashback after 36 months or 3 years, thus bringing down the A40 Indian's effective price to Rs 1,399.
We got to spend some time with the JioPhone and the Micromax Bharat 1. You can read our first impressions of the Jiophone here and of the Bharat One here.