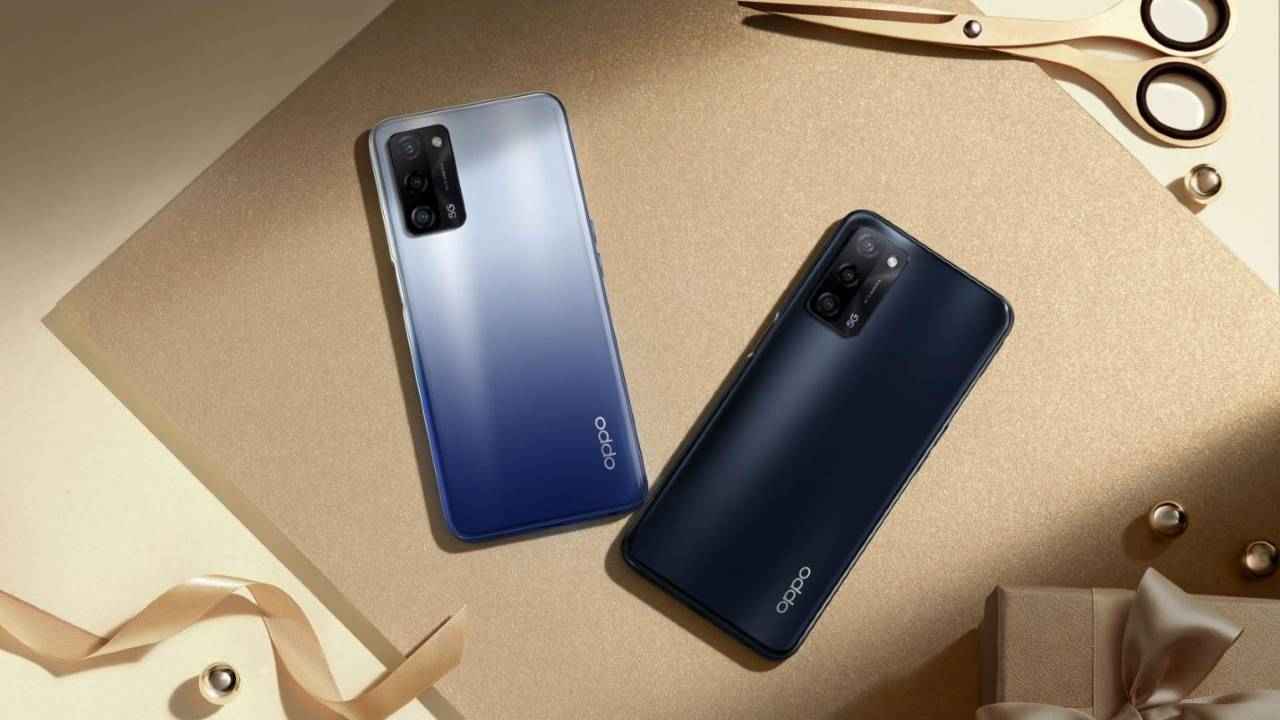 Buying a new budget smartphone is not an easy task. Not only are buyers looking to get the most bang for their buck, but they also want a device that can last the next few years. As such, buyers need to look for a device that not only offers decent specifications, but also a number of features that will become commonplace in the near future. Case in point being 5G connectivity.
Now, OPPO is a brand that has strived to offer buyers the best possible value when it comes to their smartphones. This philosophy echoes throughout the company's offerings like the flagship OPPO Reno5 Pro 5G or the stylish OPPO F19 Pro+ 5G. It also recently launched the OPPO A74 5G, its first 5G offering in the A-Series. It can also be seen in the brand's latest smartphone, the OPPO A53s 5G. The newest member of OPPO's long running A-Series continue from where the recently launched OPPO A74 5G left off. A feature-packed future-proof offering with an attractive price tag. In fact, the OPPO A53s 5G is now the most affordable 5G smartphone with 6GB RAM in the market yet.
The device is priced at just INR 14,990 for the 6GB RAM/128 ROM version and INR 16,990 for the 8GB RAM/128 ROM. With sales starting from May 2, across mainline retail outlets and Flipkart. Here is a closer look at the brand new OPPO A53s 5G.
Smarter 5G for better connectivity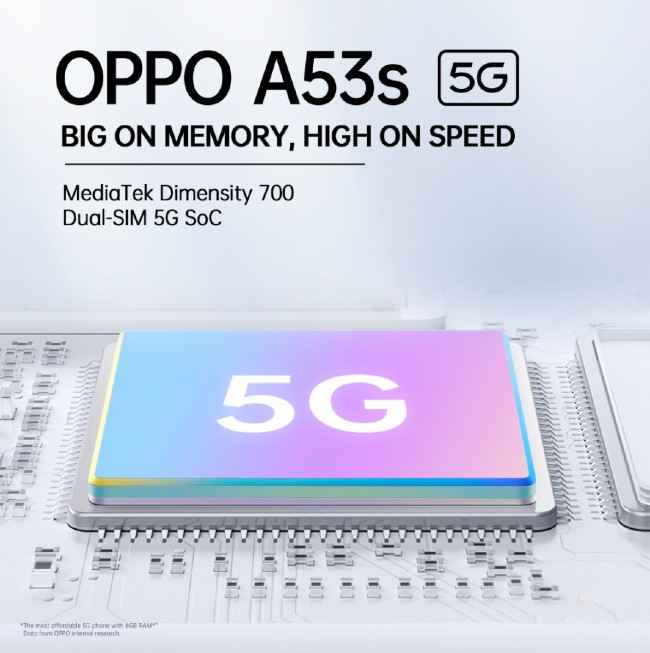 At the heart of the OPPO A53s 5G is the MediaTek Dimensity 700 SoC that supports Dual Sim 5G. This allows both the SIM slots on the phone to offer 5G connectivity on both SIM cards. To ensure that buyers of the OPPO A53s 5G get the best possible experience from their smartphone, the device comes with Smart Antenna Switch technology that equally distributes 5G antennas all through the phone. This lends a stable 5G connectivity regardless of the way you hold the phone. So if you're having a video chat in portrait mode and suddenly switch to landscape mode, you should have no problems with connectivity.
For added network stability, the phone comes with 5G + Wi-Fi Dual Channel technology. This technology allows the user of 5G and Wi-Fi networks simultaneously. This should allow for a more stable internet connectivity as a single network is no longer responsible for all the data transfer. This means that you should be able to download a file and stream a movie at the same time without hampering each other.
With 5G just around the corner, the smarter 5G technology in the OPPO A53s 5G makes it future ready. In fact, the phone is the most affordable 5G smartphone with 6GB RAM in India right now!
The OPPO A53s 5G also comes with ColorOS 11.1, which is based on Android 11. Besides the usual benefits that come with Android 11, the phone also comes with a bunch of added features designed to improve user experience in other words, users should enjoy a smoother UI, even after a long time of use.
The sleekest 5G phone with 6GB RAM in this segment!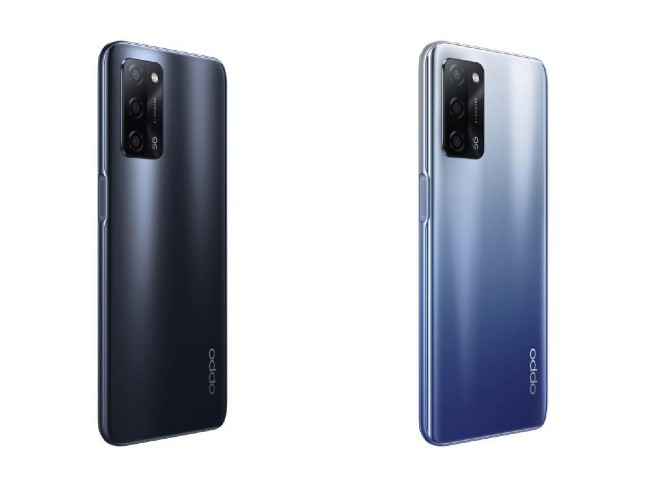 The OPPO A53s 5G comes with a sleek design with rounded corners. These rounded corners help ensure comfortable grip, regardless of how you hold the phone. Further, the smooth lines on the phone are not broken up thanks to smart designed choices, For example, instead of adding a read fingerprint scanner haphazardly placed in the middle of the rear panel, the OPPO A53s 5G features a fingerprint scanner integrated into the power button on the frame.
Of course, the build is also quite smart. The phone weighs 189.6gm that makes it easier to carry in the pocket without feeling like a burden. Further, the phone is 8.4mm thin, making it the sleekest 5G phone in the segment. All in all, this design gives the phone an elegance that should not look out of place, even in the immediate future. This design is available in two striking options, namely Ink Black and Crystal Blue.
The OPPO A53s 5G comes with a 6.52-inch display with an HD+ resolution and a waterdrop screen. It also comes with a special sunlight screen that greatly intensifies the screen brightness when under direct sunlight. This makes the screen more legible under these testing conditions. Of course, with such a view, it's important to take care of your eyes. The OPPO A53s 5G comes with All-Day AI Eye Comfort. The technology automatically adjusts the brightness and preserves the colors as the day progresses. So you won't have to continually adjust the settings as the ambient light changes around you. This makes the screen easier to look at and minimises discomfort.
Big battery to ensure the party doesn't stop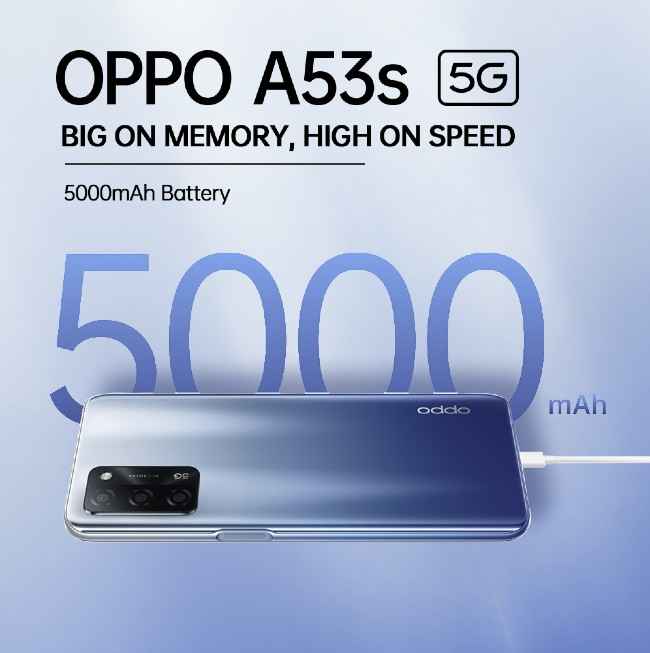 Powering the OPPO A53s 5G is a large 5000mAh battery. A large battery means that users will get enough juice to last them through a day without the need to carry a power bank or hunt for a charging socket. As such, the battery goes through fewer cycles, leading to prolonged battery life. In other words, users will enjoy the full benefits of this large battery for a longer time. Who would say no to that?
To ensure that your late night party scenes are not scuppered by a dead smartphone, the OPPO A53s 5G comes with a Super Power Saving Mode. When the battery reaches 10%, users will get a prompt asking them to turn on Super Power Saving Mode. This mode intelligently adjusts the CPU frequency and screen brightness for maximum efficiency while also deploying power management options for select apps. With this mode turned on, the OPPO A53s 5G is said to still offer 231 minutes of talk time with 10% battery. As a result, you can make those all-important emergency calls without worrying about the OPPO A53s 5G dying on you.
RAM expansion feature to keep up with your needs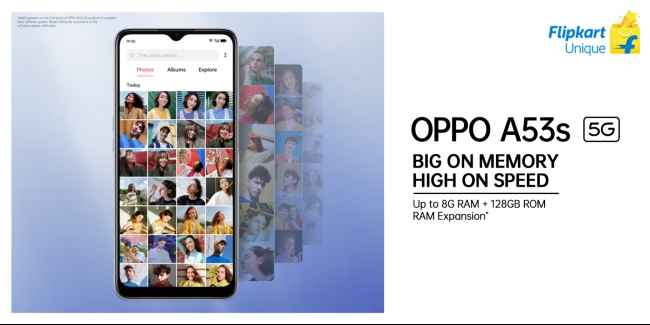 In terms of memory, the OPPO A53s 5G offers up to 6GB RAM, which should be plenty for most tasks. However, in case you need even more RAM, the phone comes with a RAM Expansion technology that temporarily boosts RAM. How this works is pretty straight forward. When the phone detects that it needs more RAM, the phone temporarily moves low-frequency apps to the ROM space. This helps free up some more RAM that can be used to give the phone an extra boost when needed. As a result, users should see faster app load times and a general smoothness in usage.
In terms of storage, buyers get up to 128G of space, allowing users to download multiple apps, games and videos with ease. However, in case that's not enough The OPPO A53s 5G also supports microSD card expansion by up to 1TB. So if you do run out of storage space in the future, you can always expand it and continue using the phone.
AI Triple Camera to help you be a social star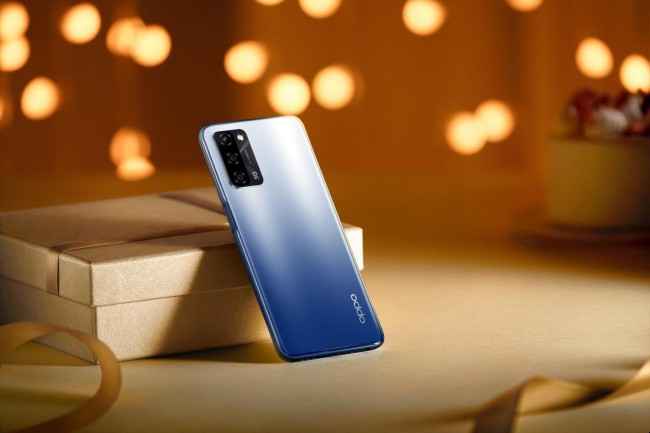 The OPPO A53s 5G packs a 13MP AI triple-rear camera setup. This includes a 13MP primary camera that's aided by a 2MP portrait camera and a 2MP macro camera. The Portrait camera helps take bokeh shots in which the subject remains in focus, but the background is blurred. This focuses the attention of the viewer to the subject itself, leading to a more prominent photo. On top of this, users get six filters, giving them an option to personalize their pictures. The macro camera lets users get really up close with their subject and take photos that are detailed and sharp. All these options give users more control and flexibility over the type of photos they want to take.
The OPPO A53s 5G also offers a number of additional features to even greater flexibility. This includes the Ultra Clear 108MP Image that allows the smartphone to take a high resolution 108MP image for greater detail and clarity. This allows users to zoom into the picture and appreciate all the fine details in the subject. There's also AI scene recognition that allows the phone to automatically recognize up to 22 different scenes. It will then automatically tweak the setting to apply the right amount of saturations and contrast in order to take the best possible photo. This means that each photo you take will be social media worthy! As if that wasn't enough, the OPPO A53s 5G also comes with an Ultra Night Mode that can brighten up photos taken in low light conditions. So you can continue clicking even when the sun does down.
So what does it mean for customers?
As one can see, the OPPO A53s 5G is a phone that is packed to the rafters with features designed to ensure longevity. The cherry on top has to be the fact that even with so many features, the OPPO A53s 5G is still the sleekest, the most affordable 5G smartphone with 6GB RAM you can buy in India right now. As a result, it ends up being a very strong contender for anyone looking for a good looking smartphone that will be their companion for years to come.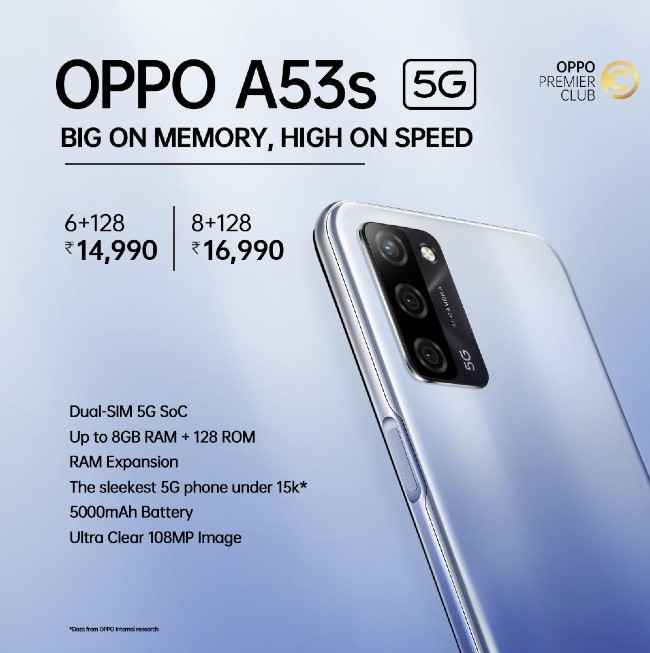 The device will be available for sale starting May 2 from Flipkart and Mainline Retail Outlets. Priced at Rs 14,990 for 6GB/128GB and Rs 16,990 for 8GB/128GB. The device is available with attractive schemes and offers.
Offline Offers
Customers buying through retail outlets can avail a 5% cashback from the leading back partners – HDFC Bank, Standard Chartered, Kotak Bank, Bank of Baroda and Federal Bank.
OPPO is also offering zero down payment schemes from its finance partners and No cost EMI of up to 6months with 1year of extended warranty.
Customers paying via Paytm will receive 11% cashback.
Online Offers
Customers ordering online through Flipkart can avail of a flat Rs 1,250 instant discount on HDFC Bank cards and Credit Card EMI transactions, 2 Years Warranty (1 year extended), up to 70% buy back @ Re. 1, no cost EMI up to 9 months.
Existing OPPO Customers can also upgrade their OPPO phone and get Rs 1,500 additional exchange discount.
[Brand Story]