The Nokia 2 series of phones have always been known for offering affordable smartphones that promise top-notch build quality, premium design and hardware that punches above its weight. All of which is well supported by regular software updates. Now, the company has unveiled the latest addition to the series with the Nokia 2.4. The new smartphone has a lot riding on its shoulders. Let's take a look at how the phone plans to live up to those expectations.
Built to take on life
Nokia smartphones are known for their top-notch build quality and the Nokia 2.4 seems to be well on track to live up to the legacy of its brethren. According to a report by Counterpoint, Nokia smartphones lead the Trust Rankings in not only security and software updates, but also build quality. In the report, it was noted that Nokia phones undergo tests that are 33% tougher than the industry average and are designed to last longer, making them a good option for those who want to hold on to their phones for longer.
Designed for elegance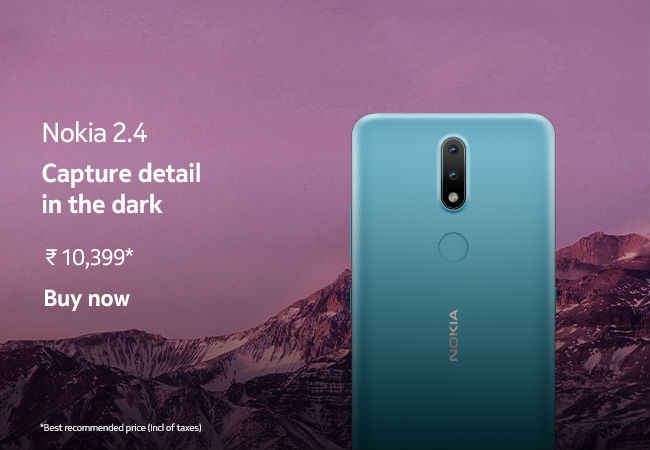 The Nokia 2.4 balances out looks and ergonomics by taking a leaf out of the company's own Finnish roots. By doing so, it manages to offer a subtle yet classy design that is apt for all walks of life. The metal frame looks premium, while adding to the overall strength of the phone, thereby merging form with functionality. Meanwhile, the 3D Nano-textured cover adds a dash of style to the phone. The phone also comes with a jelly case in the box.
Big screen entertainment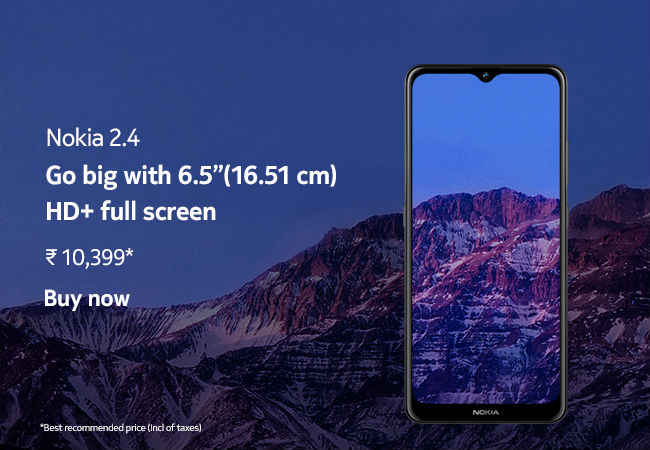 The Nokia 2.4 packs a large 6.5-inch screen that sports an HD+ resolution. Not only that, but it offers this with an aspect ratio of 20:9. This aspect ratio ensures that users will be able to enjoy a big screen experience, without sacrificing on ergonomics or pocketability. On top of this, the Nokia 2.4 also features slim bezels with a small notch just above the display. This allows for a more immersive experience when watching videos or playing games, as compared to traditional phones that feature thicker bezels.
The power of 2
The Nokia 2.4 packs an AI-based dual camera setup, which is a first for the series. The two cameras, combined with AI, allow for a bunch of features that elevate the camera experience. One of them is the 'Night Mode' that is said to use advanced image fusion exposure stacking to allow for better details in low light conditions. In other words, photos taken in areas with minimal light will be brighter with higher detail, and who wouldn't want that! There is also an advanced Portrait Mode. Aside from taking your standard portrait shots, this mode allows users to refocus the image after it has been taken. So, users can capture photos and make tweaks later. A win-win situation.
2-day battery life
The Nokia 2.4 packs a pretty large 4500mAh battery that is said to offer a battery life of up to two days. The phone uses its AI-assisted Adaptive Battery technology to ensure optimised power consumption. This tech smartly and automatically prioritizes power for the apps that are being used the most. This efficiency allows for a longer battery life, which is something that all users will appreciate.
Always updated
Nokia smartphones are a part of Google's Android One program. This means that all Nokia smartphones, including the Nokia 2.4, will be first in line to any software upgrades that are released by Google. So, users will get two years of major Android updates and three years of security updates. Not only that, but as part of the program, the Nokia 2.4 offers a pure Android experience that is free of unnecessary bloatware that may slow down the phone and hamper your experience. The Nokia 2.4 also comes with the Google Assistant button that allows you to quickly open apps, play music, set alarms, schedule reminders and more though simple voice commands. You can also ask the Google Assistant to tell you a joke, make mathematical conversions, and more.
The Nokia 2.4 is built to handle the requirements of modern life thanks to a combination of great hardware, software and security experience. As such, all bases are covered, and buyers should expect an all-round experience. Due to its range of offerings, the Nokia 2.4 makes for an interesting choice for anyone looking for an affordable and well-rounded smartphone.
The Nokia 2.4, will be available at leading retail outlets across India and online on Nokia.com/phones.
[Sponsored Post]