If you've been following the smartphone market recently, you would have noted that Apple's iPhone causes less of a stir in the market than a sub-15k smartphone from Xiaomi, Meizu or someone else. While that may not always translate into equivalent sales, the fact is that the competition today lies in the budget smartphone segment. So, when a company like Letv announced its intentions to enter India, we were obviously interested. The company does in China, what Xiaomi did to many established players in India, and that is, bringing top-end specs at the lowest prices. The company had launched the Le 1, Le 1 Pro and Le Max smartphones earlier, marking its entry into the smartphone space, and it followed that up with the Le 1S just under a day ago. In a lot of ways, the Le 1S reeks of disruption, but there's one big question that needs to be answered.
The camera is on the top left, while the round thing you see is the fingerprint sensor
Firstly, the Le 1S has the one thing that most other smartphones in the 10-12k segment do not have. The phone costs 1,099 RMB (which is roughly Rs. 11,500) and has a metallic unibody design. While the budget segment is no stranger to a metal body, they're usually kept to a metal frame. The Le 1S though has an aluminium body, which is unlike any phone in this price segment. It feels good and solid in the hand, and is not as heavy as you would expect a 5.5 inch metallic smartphone to be. In addition, the thin bezels ensure a really high screen to body ration, giving the phone a really premium feel. The best part is, the phone runs the 2.2 GHz MediaTek Helio X10 Turbo processor, which is amongst the most powerful processors in the market today. Letv has taken a step further, combining it with a PowerVR GPU, which means the phone's gaming performance should be better than phones like the HTC One M9+, Meizu MX5 etc, all of which run the Helio X10 processor, albeit at a lower clock speed.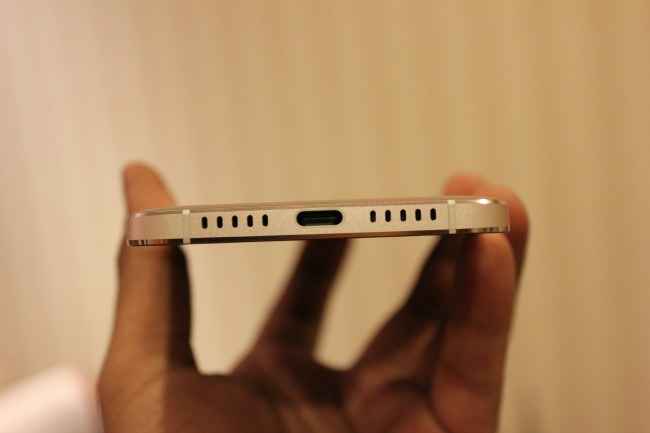 Looks like an iPhone doesn't it?
Like Coolpad recently did, Letv has also added a fingerprint sensor to the smartphone, and at least on the demo devices, it is crazy fast. The company calls it a mirror fingerprint sensor, since you can see your reflection in it, just like a mirror. What it does though is makes your phone unique. There are a bunch of phones in the market now, that have fingerprint sensors on the back, but this one will make a passersby wonder why you have a mirror on the back of your phone.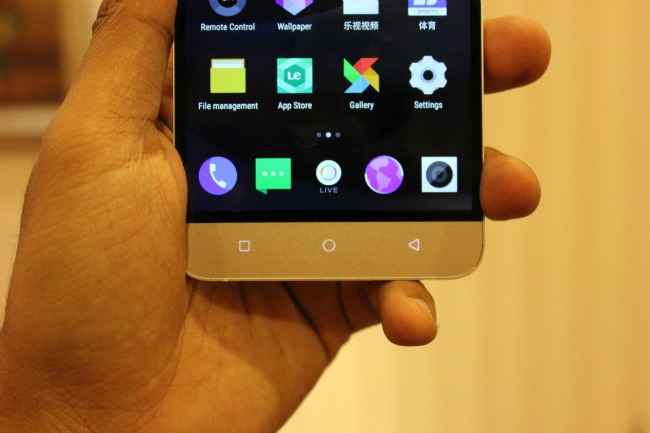 The other specs include a 13MP rear camera, 5MP front camera and a 5.5 inch FHD display, all of which seem just as good as you would expect them to be. The question that Letv needs to answer though is how it plans to maintain the price. You see, Letv earns its money in China from the content that it provides on its phones and televisions, but when coming to India, it will have to amass Indian content, and build a library. That costs money. So, while the company can afford to sell below the BOM (Bill of Materials) cost in China, it would be much more difficult to do so in India. Amassing the content will need investment, while duties and taxes required to actually sell here are going to further add to the cost. APAC Head, Tin Mok, did mention that the company is looking at 'making in India' in the long term, but as this story will tell you, that should still not help Letv in actually bringing similar prices.
Letv's eUI is quite nice, as long it has the company's ecosystem
So, while the Le 1S is a really good phone from the point of view of the Chinese market, it will only be so in India, if Letv can maintain a sub-15k price point. Of course, we don't have confirmation on whether Letv actually plans to bring this particular phone in India, but there's a pretty fat chance. So, while the Le 1S is definitely a disruptive device, unlike anything that the Indian market currently has, Letv has its work cut out for it. Let's hope the company's promise to follow its ecosystem model when it finally enters India, doesn't end up being a thorn in its side.