Growing up, most of us were introduced to feature phones first, gradually moving to smartphones. But what exactly is a smart feature phone? If you compare today's smartphones to the Nokia 6600s of yore, those legendary phones would actually feel like feature phones that are just smarter than that era's Nokia 3310. And that's just what the JioPhone feels like, but in the modern context. Before you go bashing me on the Nokia 6600 comparison, let me explain.
Why is the JioPhone a smart feature phone?
The JioPhone, for all practical purposes, looks like a feature phone. That is, it has a plastic display that won't break easily, it has a tiny form factor made completely of plastic, and a T9 keypad that I think lets me type faster than smartphone QWERTYs. The JioPhone feels slow, like phones did before we realised that they could be faster. It has an uber reflective display with obscene viewing angles, and you need a button (or combination of them) to do anything on the phone.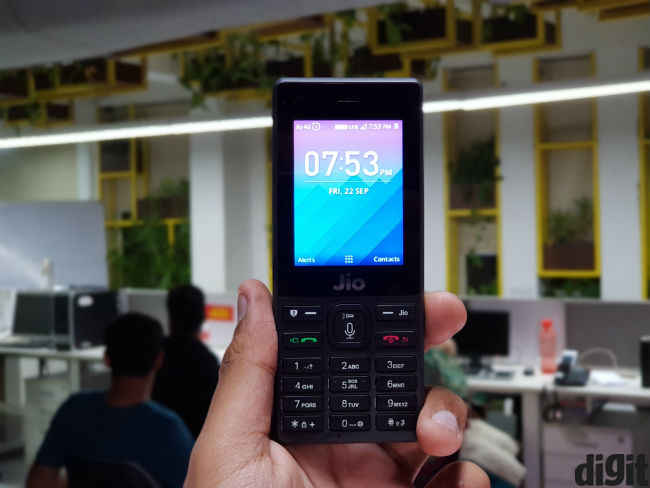 That's what those old school feature phones used to be like, right? Enter, the smart features. The JioPhone has a voice button placed (rather noticeably) at the center of the keypad, declaring that you can bark commands to this phone. Of course, the fact that it supports 4G connectivity and VoLTE voice calls contributes to the smart aspects as well.
That's not the end of it, the JioPhone also comes with Jio apps built in. You can use these to stream music or movies, which is a sure shot sign of a gadget that's smarter than the average phone.
Are you saying all this actually works on this "smart" feature phone?
Now, here's the thing. The JioPhone isn't meant for us smartphone users. To us, it will feel slow and difficult to use, but that's not true for those who don't have smartphones. I tried running Jio's apps on the phone, and browsing the web, and from the looks of it, they do work. In fact, things seem way more seamless here than they did on the 2017 edition of the Nokia 3310.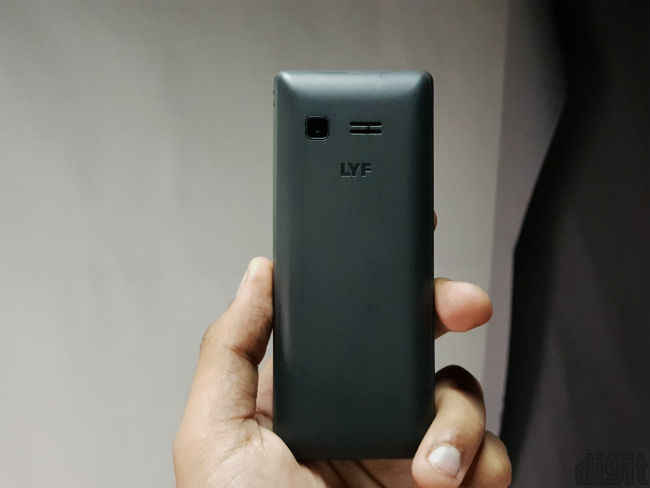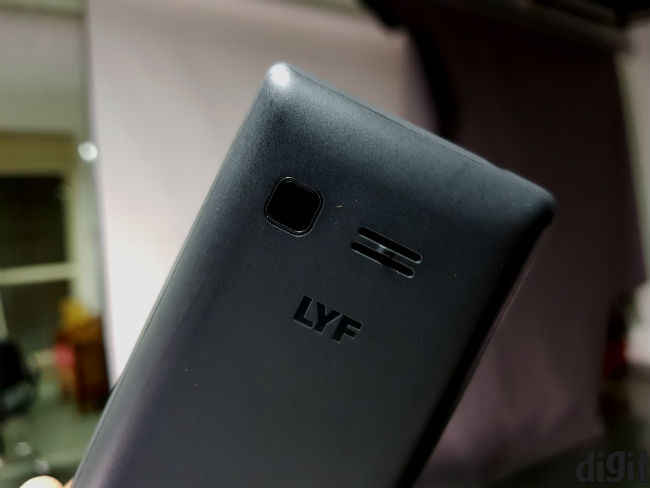 The feature phone side of this phone rears its ugly head often, whenever you open an app. You will face lags when you're browsing the web or opening other apps, but that's only if you are a smartphone user. That's why Jio wants to start shipping this phone to tier II and tier III markets ahead of tier I cities. It's not a phone meant for the urban population, but for those who don't have access to smartphones and high speed data.
I doubt anyone would watch movies on a 2.4 inch QVGA display, but the JioPhone can play them nevertheless. As long as you have good data connectivity, there's minimal buffering in the beginning of a movie and there was no buffering once the movie began. The same goes for music, but the latency is even lower here. I tried launching the Jio Cinema app using voice and after taking a few seconds to decipher my command, the phone directly jumped into the movie I was playing the last time. I must say that it was a surprisingly smart thing for a feature phone to do. I had fully expected it to simply boot the app and wait for me to navigate to what I want to watch.
Speaking of voice, I tried telling the JioPhone to call people, open apps, send texts and it read all my commands without fail. I did have to speak loudly at the phone though, and it's unsurprisingly not conversational like today's smart assistants. Voice support on the JioPhone can decipher Hindi as well, and even Hinglish to some extent. It's certainly not evolved like on smartphone, but a nifty little talent for a feature phone.
How's the content quality?
I can't comment on video quality, having watched content on the phone's QVGA display only. The JioPhone TV Cable (more on that later) is not available right now, so I couldn't plug the phone to a TV yet. That said, music streaming quality seems fine, and to the same standards as on smartphones using Jio Music.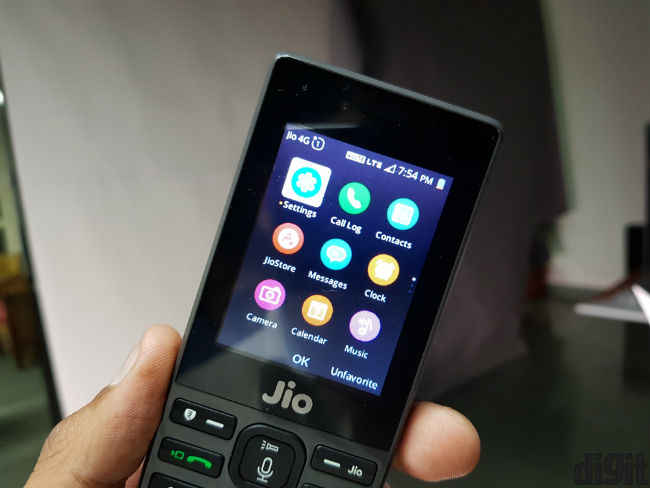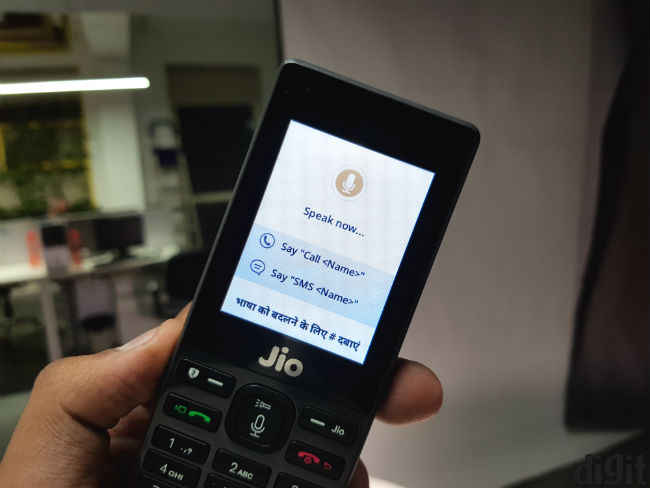 Does it support WhatsApp?
The JioPhone does not support WhatsApp at the moment, but there's a Facebook app hidden somewhere within the app store. Jio says it's working on bringing WhatsApp support, but there's no confirmation on when, or if, WhatsApp will work on the device.
Can I tether from the JioPhone and does it support WiFi?
No, the JioPhone can't tether data at the moment, but the company says that's another feature it is working on right now. The phone does support WiFi though, so you can use a home network to stream movies seamlessly when mobile data connectivity is down.
Is the JioPhone usable?
As a smartphone user, I'm programmed to cringe at the thought of using a feature phone. Surprisingly, my solitary hour with the JioPhone wasn't as frustrating as it was with the Nokia 3310 some months ago. Having things to do on a phone makes it more interesting, and though the JioPhone doesn't hold a candle to today's smartphones, I can see myself spending hours playing those simple games this phone has, browsing content on JioTV or movies, and streaming music. I'm not saying the JioPhone is perfect, but it's certainly not disappointing and deserves the "smart feature phone" tag.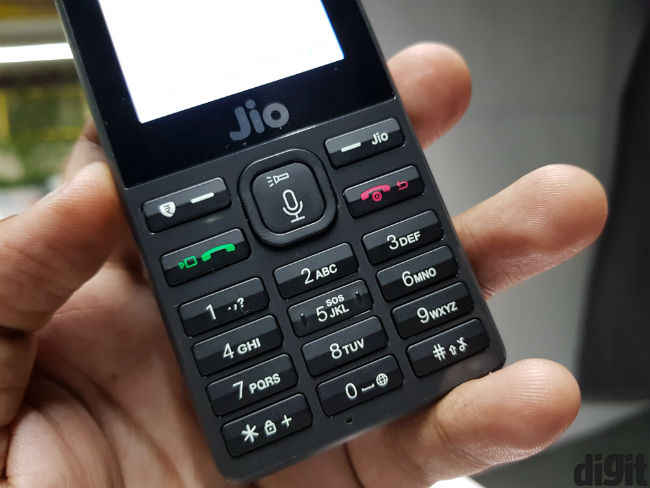 Tell me more about the Jio TV Cable
Here's what we know,
The Jio TV Cable will start shipping "soon".

It allows you to mirror content from the JioPhone to a television. That means whatever's on the phone's screen will be reproduced on the TV, including phone calls and text messages.

You will have to purchase the cable separately at a later date, and we do not have a price for it yet.

For more information on the Jio TV, watch our Facebook Live from India Mobile Congress below.
When will the JioPhone start shipping?
According to Reliance Jio, 6 million units of the JioPhone will be shipped to customers by Diwali. A second round of pre-bookings is going to begin "next few days" as well, and you can't get a JioPhone without pre-booking it first.
Who should buy the JioPhone?
If you're a smartphone user, the JioPhone is obviously not for you. However, for the scores of feature phone users, the JioPhone does bring them a taste of "smart" feature. It's more like a precursor to your first smartphone, instead of being a one stop shop for everyone who can't get a smartphone. You spend Rs. 1500 for this to realise the whole new world a little more cash can open up for you.