When iOS 10 was unveiled by Apple at WWDC 2016, the list of devices included even the iPhone 5, launched in 2012. In today's world of smartphones, a smartphone usually lasts in good working state for two years, before you would upgrade your smartphone to a new one. Apple users, meanwhile, have often been known to refresh their devices less frequently.
This brings us to two devices at hand - the iPhone 5s and iPhone 5c, launched in 2013. Featuring hardware that is three or four generations old now, the latest generation iOS may have expectedly slowed down operations on these old devices. Previously, when I had upgraded my old iPhone 4s to iOS 8, the device slowed down to a point where it became quite difficult to use it, even for regular tasks such as messaging and calls.
With the iPhone 5s and 5c, performance was expected to be better. To recall, the iPhone 5c runs on an Apple A6 SoC with two Swift cores clocked at 1.3GHz, along with a PowerVR SGX543 tri-core GPU and 1GB of RAM. The iPhone 5s, meanwhile, housed the Apple A7 SoC with two Cyclone cores clocked at 1.3GHz, coupled with PowerVR G6430 quad-core GPU and 1GB of RAM. The present generation iPhone 7 and iPhone 7 Plus, meanwhile, runs on Apple A10 Fusion quad-core SoC clocked at 2.37GHz, along with 2GB of DDR4 RAM and a hexa-core GPU.
iOS 10, meanwhile, has been built keeping the iPhone 7's resources in mind. Take for instance the 3D Touch-enabled interactive lock screen widgets, advanced iMessages, shareable Notes and redesigned notifications, and you get an operating system that is built to cater to iPhones that have 2GB of RAM or more, along with new generation processors.
The iPhone 7's abilities extend way beyond its predecessors. To lend perspective, the iPhone 5c is the weakest of the iPhones in question. The iPhone 5s packs in more than double the processing power and graphics power than the iPhone 5c, while the iPhone 7 is multiple times faster than both these devices. In fact, we've already come across the iPhone 7's AnTuTu v6.2 benchmark score of 178,397. In our benchmark tests, the iPhone 5s scored 45,892, while the iPhone 5c scored 30,099.
With these statistics considered, we upgraded our iPhone 5s and 5c from iOS 9.3.5 to iOS 10.0.1, checking in tandem the effective performance output of these devices. Here's how they fared:
On iOS 9.3.5: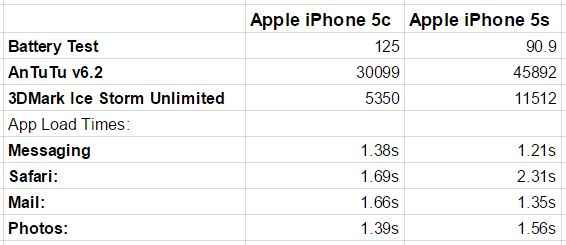 On iOS 10.0.1: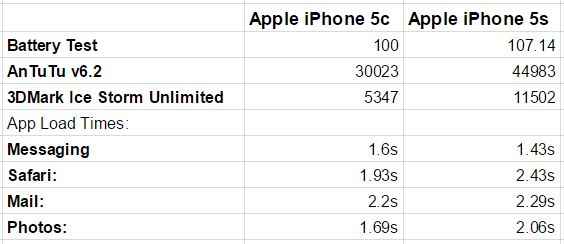 iOS 9.3.5:
I have used my iPhone 5s for nearly three years now, so naturally, it has been through a lot. I've updated my iPhone 5s from iOS 7.0.3, to iOS 10.0.1. The iPhone 5c, meanwhile, is a little more than one year old, and has not been as exhaustively used as the iPhone 5s. On iOS 9.3.5, here are the relative battery and performance scores:
It's important to note that the iPhone 5s has about 40 apps installed, while the iPhone 5c barely has about 10 apps installed. There is a notable difference between the two phones in terms of performance capabilities, but load times for apps do not really show a massive difference, as the iPhone 5c has been used lesser, and has hence undergone lesser processor load.
In terms of real world usage, both the smartphones took about one full minute to boot from power off. There were no real jitters per se, but upon fast switching of open apps, the iPhone 5c started slowing down in comparison to the iPhone 5s after a while. I had Mail, Messages, Facebook (a particularly resource-hungry application), Instagram, Apple Music and Snapseed open at the same time, and in between switching from changing tracks, refreshing the Facebook news feed, surfing through Instagram's 'explore' feed, replying to emails and messages and applying filters to photos on Snapseed, the iPhone 5c started taking split seconds longer than the iPhone 5s to open apps consecutively. This, despite the much heavier stock of apps on the iPhone 5s.
Graphically, the iPhone 5s is way superior to the iPhone 5c, and it shows. In gaming, for instance, I ran Traffic Rider on the two devices, both fresh from a restart, no apps open in the background, battery level 100%, connected to Wi-Fi and screen brightness at 100%. The iPhone 5s ran nearly seamlessly, and there were no real glitches. Even in-game menu switching was responsive, and the game did not crash even once. The iPhone 5c, meanwhile, did shows hints of stutters and intermittent jerks in between races, although admittedly, this was not a very frequent occurrence throughout 20 minutes of gameplay. Nevertheless, the performance difference is there for everyone to see.
This brings us to battery life. The iPhone 5s does not deliver impressive battery life on regular terms, and after 20 minutes of the above-mentioned gameplay followed by 10 minutes of continuous Full HD video recording at 30fps, the battery was at 67%. The same, for the iPhone 5c, was at 76%. While the fact that the two iPhones have not been used for the same duration and under similar intensity does need to be taken, this will give crucial insight into what we can consider with iOS 10. In relative terms, with iOS 9.3.5, the iPhone 5c could easily outlast the iPhone 5s by an hour and half, even under heavy usage.
iOS 10.0.1:
On to iOS 10.0.1, then. Both loaded quite seamlessly, and there were no hiccups in the process. iOS 10, however, seems to runs slightly yet noticeably smoother on the iPhone 5s, than iPhone 5c. This does not mean that the iPhone 5c is slow in any aspect - in fact, unless measured to milliseconds, you will not really notice the difference in app load times. Benchmark scores and real-world performance remains almost the same, too
To scrutinise minutely, both the old iPhones have slowed down with iOS 10.0.1. For instance, the Mail app on the iPhone 5s takes nearly a second longer to open now, than on iOS 9.3.5. Every app on the iPhone 5c takes about half a second longer to open now, than on the older OS. Both the iPhones score practically the same on respective benchmarks for both versions, and in terms of gameplay, the consistency of iPhone 5s' fluidity remains over the iPhone 5c.
In terms of battery, the iPhone 5s seems to last longer on iOS 10.0.1 than on iOS 9.3.5. After 20 minutes of gaming followed by 10-minute video recording, the iPhone 5s lost 28% battery. This would roughly translate to about 30 more minutes of intense usage. The iPhone 5c, meanwhile, lost 30% battery in the same test, which actually takes away about 30 minutes of intense usage from it.
In real life, though, iOS 10 seems to work just fine on both iPhone 5c and 5s. Apps take split seconds longer to open, which you really wouldn't realise unless you are parallely comparing your old iPhone with newer ones (why would you, anyway?). In fact, even though iOS 10 is more intensive in terms of graphics and has lock screen widgets that make the operating system technically heavier than iOS 9, Apple's management of resources seem to have made it a good update for the old devices.
While performance and battery seems to have remained quite decent with iOS 10, there is one particular issue at hand - iOS 10, like mentioned before, is designed for iPhones with bigger displays, and the larger notification bubbles and interactive widgets does not really look aesthetic. To make the operating system look more suave, I switched to small text size, which somewhat tricks the eye into making the display seem slightly larger than what it is (more content appears on screen), but even that does not take away the large buttons, which, in my personal opinion, is not the most elegant bit of designing by Apple.
Should you upgrade?
Yes, you should. Despite compromised aesthetics, iOS 10 still has its moments of looking more swanky. The new iMessage service does add more intuitiveness to messaging, although I do not see myself using the scribble features too often. Nevertheless, you should upgrade to iOS 10 on your older iPhones. The performance remains fairly seamless, and at the end of the day, it does look like a refreshing update to the old OS.
iOS 10 is surprisingly fast on old iPhones, and not everyday would you come across three-year-old phones that run almost seamlessly on latest generation operating systems.