It is big! That is the first reaction the moment the Samsung Galaxy Note popped out from inside its rather slim box. It reminded us of the Dell Streak, which walked down the same path, but apparently came well before its time. This device is aimed at someone who finds the traditional smartphone display (4-inches approx.) too small, but the tablet uncomfortably big as well. The 5.3-inch display does offer the in-between alternative. Maybe this is the niche category that was needed in the gap between the smartphone and tablet.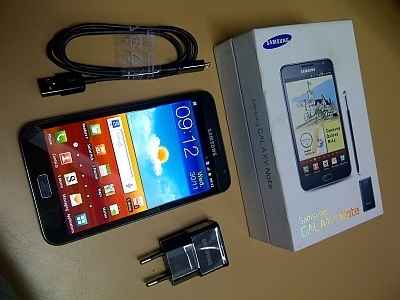 However, for the moment, here is what our initial reactions are.
The Samsung Galaxy Note feels quite big when placed next to a phone with 4-inch display.
Surprisingly, despite a bigger footprint, this smartphone isn't very heavy. At 178 grams, it only carries the burden of a big display and a big footprint.
The Touchwiz UI is similar to the one we saw in the Galaxy S II, and looks good on this display.
Speaking of which, the 5.3-inch display is walking the same path of amazing as the Galaxy SII. The colours are vivid, and the brightness levels are quite good as well. Set the level at any more than 50%, and it becomes uncomfortably bright.
Whichever applications we tried in this short time responded superbly on this dual core 1.4GHz processor. This is paired with 1GB of RAM, just to point out.
To emphasize this point, we ran the Quadrant benchmark and got a whooping score of 3283. This is by far the best we have seen on any smartphone till now, showing the muscle power of the 1.4GHz processor.
The review unit that we have received has 16GB of internal storage, with a microSD slot to expand memory by up to another 32GB.
Enough words for the moment! We will let you enjoy the pictures of this phone. Just notice how much bigger it is than the Sony Ericsson Xperia X10i, which isn't a small smartphone by any stretch of the imagination. Stay tuned for a detailed review of the hybrid device.
The Samsung Galaxy Note is priced at Rs. 34,990.