The landscape of the gaming industry has changed dramatically over the last few years. From primarily being a console, PC-driven space, games now have started finding space on smaller screens found on our smartphones. While there are many interesting games to be found for smartphones, when it comes to blue blood gaming smartphones there are not too many options available to regular mobile phone gamers in India. This year was no different as we saw only a handful of dedicated gaming phones make it to the country. By a dedicated gaming phone, we mean a phone that's been designed and tuned to run games on a high refresh rate screen with enhancements like high touch response rate, game mode, thermal management system, RGB shenanigans and more. These phones are known for providing top-of-the-line features and an overall sustained performance that can take on the most demanding of titles without breaking a sweat. Here are our winners for the Best Performing Gaming Phone of 2022 category.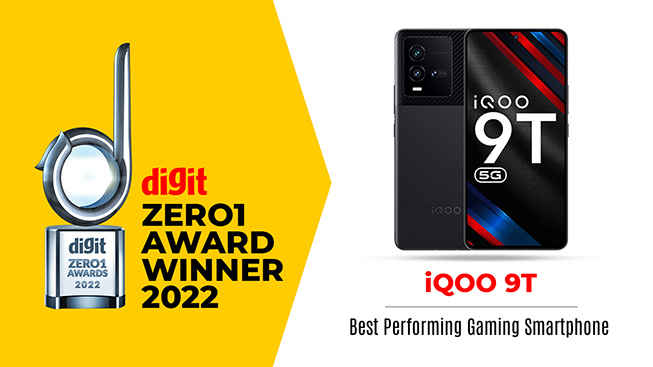 The iQOO 9T emerged as the winner of the Best Performing Gaming Phone of 2022 title based on majorly one factor: Its ability to effectively handle the tricky Snapdragon 8+ Gen 1. In our tests, it blazed past competing phones without losing its cool and its performance in benchmarks and games was second to none. However, this chipset paired with the Vivo V1+ chip inside the device, helped the iQOO 9T run games at higher frame rates for longer, thus not only helping with battery life, but also improving thermal performance. The presence of a dedicated game mode, a high ppi display, and an ergonomic design further make this phone an easy-to-recommend device and a worthy winner for our coveted Zero1 performance award for this category.
Price: Rs 49,499
Runner-up: realme GT 2 Pro (Buy link)
The runner-up title in this category goes to the Realme GT 2 Pro which edged the OnePlus 10 Pro marginally to emerge as the second most powerful smartphone for mobile gaming we tested this year. It is arguably one of the few phones to have handled the Snapdragon 8 Gen 1 right, and in the process clock high scores in benchmarks and sustained performance in games. In our time with it, we found the Realme GT 2 Pro to be a device that can handle demanding games like BGMI at the highest graphics and FPS preset (HDR + Extreme, or UHD + Ultra). And that too without heating up much. The latter is thanks to the phone's use of a stainless steel vapour cooling chamber which offers a large cooling surface for quick heat dissipation. On the outside, the device's ergonomic design and manageable form factor only add to improving gaming experiences on the device. Overall, all this combined makes Realme GT 2 Pro a brilliant phone to play games on and definitely worth a recommendation.
Price: Rs 49,999
Best Buy: OnePlus 10T (Buy link)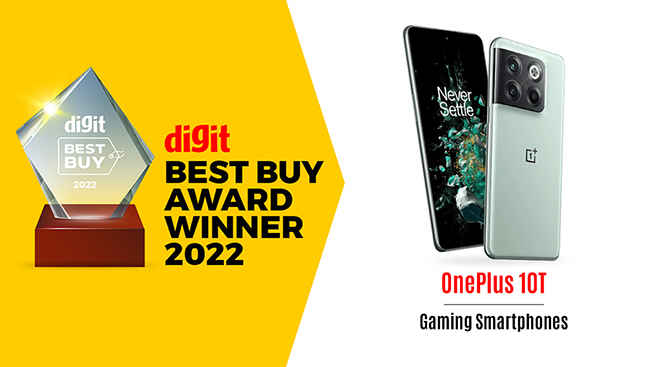 The winner of the Best Buy Award for the gaming phone category this year is the OnePlus 10T. It offers very good performance in apps of daily use as well as graphics-intensive games. Backed by the Snapdragon 8+ Gen 1 SoC, this phone is amongst the most powerful smartphones in the market right now. However, what makes it a very good buy is the fact that it offers a lot more than just powerful core hardware. From cameras, and display to design, the OnePlus 10T doesn't disappoint. And to bring everything together and make this a very compelling choice, the phone is also available at an aggressive price point, helping it offers great bang for your buck.
Price: Rs 49,999