The Cellular Operators Association of India (COAI) has red flagged MediaTek enabled dual-SIM devices. As per the telecom body, when a 4G only SIM is placed in the second SIM slot of a MediaTek enabled dual-SIM smartphone, it drastically reduced the data speeds from any SIM present in slot 1. As per COAI, there is almost 40% data drain from the SIM present in slot 1 of MediaTek powered dual-SIM devices.
In a letter to the Department of Telecommunications (DoT) and the Telecom Regulatory Authority of India (TRAI), Rajan Mathews, Director General of COAI said, "It was observed that placing a SIM (which has only 4G LTE capability) in the number 2 slot (2G-only) significantly deteriorates the throughput of any other operator's 4G SIM present in the main slot, by as much as 40 per cent." COAI has now directed all OEMs selling MediaTek powered devices to resolve the issue.
To put this test we used a Lava Z25 dual-SIM smartphone with a Vodafone SIM in slot 1 and a Reliance Jio SIM in slot 2 of the device, given that Reliance Jio is the sole 4G-only SIM available in India for now. Speed tests conducted by us using the Ookla speedtest app (The TRAI My Speed app was crashing constantly) show that when only the Vodafone 4G enabled SIM was inserted in the primary SIM slot, we got a download speed of 6.97 Mbps and an upload speed of 7.04 Mbps with a ping of 29 ms. See image below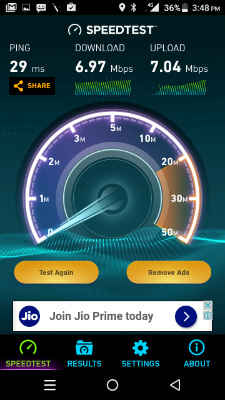 Speedtest of Vodafone SIM in Slot 1
After inserting the Reliance Jio SIM in the secondary SIM slot, i.e. SIM 2, we conducted another speedtest on the Vodafone SIM, which remained in SIM slot 1. The second speedtest showed a considerable decrease in download speeds, a 60% drop to be exact. The download speed on the Vodafone network was reduced to 2.95 Mbps, while the upload speed was also reduced to 2.68 Mbps. What's worse is that even the ping went up to 75 ms from the 29 ms recorded earlier. See image below.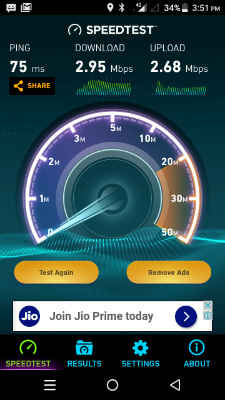 Speedtest of Vodafone SIM in Slot 1, with Jio SIM in slot 2
On speaking to MediaTek, we found out that the company just recently discovered this problem. To be clear, MediaTek knew about the problem before COAI's letter to the DoT and TRAI, but we don't know how long they have known it for. We have asked the company to clarify the same. Further, we have found out that MediaTek has been working to resolve the issue internally. In an official statement a MediaTek representative told Digit, "The Indian mobile market is a key focus and of great importance for MediaTek. We recently became aware of these reports and it is of the utmost priority to address. While MediaTek's solutions are globally compliant and fully adhere to all global standard bodies-defined guidelines, we are already working closely with all the telecom operators to ensure any reported issues are resolved."
As per COAI, 35% of smartphone in the Indian market run on MediaTek SoCs and most of them are expected to be affected by the problem. COAI has also suggested that all dual-SIM 4G devices should have both SIM slots that support 4G and dual-SIM 3G phones should have support for 3G on both SIM slots as well. "Devices with 2G only SIM slots should be phased out in the next 6 months," it noted. Stay tuned to Digit for more updates on the issue.
Take a look at the test in action in the video below