Finding the right laptop is never an easy task. It's even more difficult when you want to get one for work or business. This laptop not only needs to be versatile enough to be able to handle a wide variety of tasks but also secure enough to ensure your private data and information doesn't get compromised. On top of all this, it also needs to offer good value.
HP aims to help users be free of this little dilemma via its ProBook series. The ProBook x360 435 series of laptops come with a variety of features designed around the needs of professionals looking for a versatile laptop. Here's a look at some of the most notable features of the laptop.
Professional, yet strong
The HP ProBook x360 features the company's signature wedge design and features an anodised aluminium lid as well as an aluminium keyboard deck that has been 3D forged from a single piece. This liberal use of metal should add additional strength to the laptops as unlike plastic, aluminium is not only stronger, would also bend rather than crack when subjected to sudden stress. So if you accidentally drop the laptop when you are travelling, there is a chance that your laptop, as well as your data, stays safe from loss or corruption.
Speaking of durability, the laptop has been designed to pass the MIL-STD 810G certification. This includes 19 tests that check for dust, drops, vibration, extreme temperature, humidity and more. HP notes that the total test process took over 120,000 hours. So users can rest assured in the knowledge that the HP ProBook x360 should be able to handle most of the abuse that you may throw at it.
Looks are also a pretty important aspect when considering a laptop and the HP ProBook x360 does not disappoint. The laptop comes with narrow bezels around the sides which not only look great but also improve immersion when watching a video or a movie. Further, the use of aluminium also helps give off a subtle, yet classy look which is just what a professional needs in a laptop.
Of course, one of the most visually striking design features of the ProBook x360 has to be the 360-degree rotating hinge that allows the display to turn all the way around. This offers a whole new world for professionals in terms of versatility. For example, if you want to showcase a particular slideshow or a video to a client, you can pitch the laptop up in tent mode, which makes it easier to see the display. However, you can also flip the display around and use it in tablet mode.
This mode makes it easier to use the device when you are moving about and the addition of the HP Pro Pen aims to make it even easier. The Pro Pen stylus lets you directly annotate, draw or take on-screen notes. This would be just like using a pen and notepad, which means almost anyone will be able to use the device at it should come naturally. It supports 2048 pressure levels, which should ensure a more realistic experience when using it as it would mimic an actual pen. You also don't have to worry about charging the device daily as the device comes with a higher batter battery life.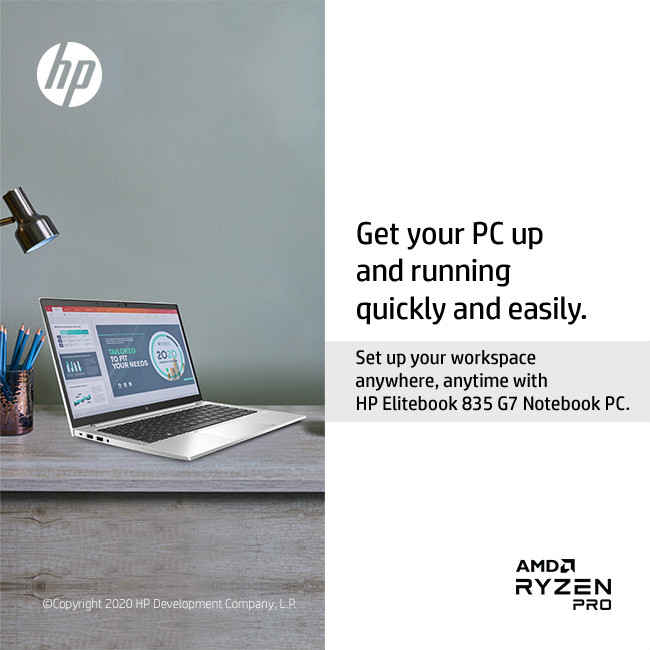 Power performer
Performance is a key criterion when purchasing any laptop. The HP ProBook x360 is powered by AMD Ryzen™ 4000 Series Mobile Processors, built on the most advanced 7nm technology and optimized "Zen 2" architecture. Featuring the most cores in each class of AMD business mobile processors with- up to 8 cores, AMD provides powerful performance to accelerate productivity and exceptional battery life. Options include the Ryzen 7 4700U octa-core processor, the Ryzen 5 4500U hexa-core processor and the Ryzen 3 4300U quad-core.. In fact, the new processors are efficient with up to 2X the performance-per-watt when compared to our previous generation. It should also be noted that all three processors are part of AMD's U-series, which have been specifically designed for thin and light devices and offer better power efficiency.
Graphics duties are handled by built-in AMD Radeon™ Graphics designed to support increasingly multitasked and visual workload for most small to medium business needs. This includes general office applications and video conferencing for crunching data, compiling code or rendering videos. If you're feeling tired and need a break from all the work, it is also powerful enough to play games and stream your favourite shows in a vibrant 4K resolution.
Stay Protected or Be protected or Be Secure
Every business, regardless of size, needs to have a robust security system in place to ensure confidential information does not leak out. Office laptops are obviously vital component security. HP seems to know this quite well and has packed its laptops with lots of features to ensure security and privacy. This is divided into multiple layers. At the base level, we find HP Sure Start that promises a self-healing BIOS that can automatically recover from corruption or attacks without the need for any IT intervention. This is vital if you have people working from home or out of office who cannot directly contact the IT team for assistance.
Another notable addition is HP Sure Click. As the name would suggest, this helps protect the device when you accidentally or unintentionally click on a malicious link or file. HP says that the range of protection includes malicious websites, read-only Microsoft Office and PDF attachments, malware, ransomware and viruses. Not only that, but HP Sure Click is said to be hardware-enforced. So even if a piece of malware somehow managed to bypass software-based security measures, it would be stopped by the closed operating environment that hardware-enforced security measures provide.
Then there is HP Sure Sense, which aims to ensure that you are always one step ahead of the attackers. Traditional antivirus security requires the software provider to detect new threats, and then update the software in order to ensure security. This left a bit of a gap wherein a user's system was vulnerable. HP Sure Sense is said to avoid this problem by harnessing the power of Artificial Intelligence (AI) to identify and quarantine new attacks, which in turn helps to prevent infections before they happen.
Privacy is also quite important in our lives and HP has done its bit to ensure that the ProBook x360 offers you a high level of privacy. In order to ensure attackers don't get a behind the scenes look at your private life, the ProBook x360 comes built-in with HP Privacy camera that features a physical shutter to protect your privacy from malicious surveillance.
If that wasn't enough, the ProBook x360 also comes with the company's Sure View technology. This nifty bit of tech reduces visible light when the screen is viewed from the side. So if you are in a public place like in a restaurant or during a commute, the person next to you won't be able to see your screen and read any confidential information that you might have open on your device.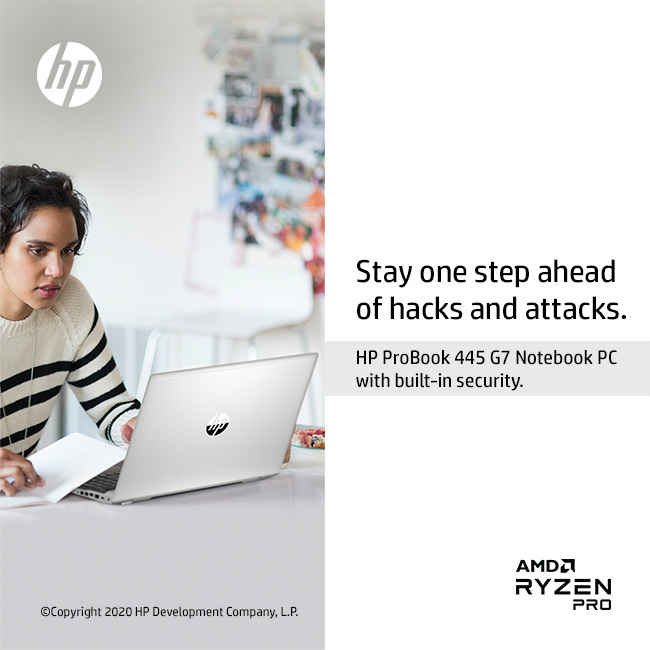 Stay connected
Wi-Fi connectivity is a must when it comes to business work. The HP ProBook x360 offers option HP Extended range Wireless LAN and Intel Wi-Fi 6 connectivity option. This should offer faster connectivity speeds as compared to older connectivity standards. In fact, Wi-Fi 6 can offer theoretical maximum speed of upto 1.2Gbps. This can be vital when you need to download important documents or data for that last moment meeting.
As this is a business laptop, you would also need to have multiple ports. These ports are vital for times when you may want to connect the device to external peripherals like a projector, a display, printers or even memory cards. Thankfully, the HP ProBook x360 offers multiple connectivity options, so you shouldn't have to worry about miss out on anything. This includes two USB Type-A 3.1 ports, a USB Type-C port, an HDMI port, a microSD card reader and a 3.5mm jack.
As one can see, the HP ProBook x360 has a lot to offer to those professionals looking for a versatile and secure laptop for their work with unprecedented performance and responsiveness. This makes it a device that should be considered by small and large businesses looking to take their productivity up a notch higher.
HP, with this laptop, offers three essential components i.e security, reliability & performance. These three combined truly have the power to make all your business activities unstoppable.
You can learn more about HP laptops here.
[Sponsored Post]