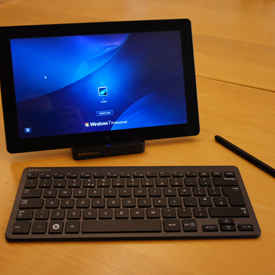 Samsung isn't new to the tablet game, but the company's newest offering - the Samsung Series 7 Slate - may be exactly what buyers have been waiting for in Windows tablets. We went hands on with the new Series 7 Slate, and we were pleased with what we saw.
The Samsung Series 7 Slate has a spacious 11.6-inch display, with 1366-by-768 resolution and an eye-popping 16 million colors. It should even look good outdoors, with 400-nit brightness coming from Samsung's sharp-looking SuperBright LED backlit display. That extra inch of real estate for the screen also helps to alleviate one of the biggest problems we've seen with Windows tablets, namely the fact that Windows icons become miniscule on a smaller screen. The touch screen is capable of registering up to 10 fingers at a time, or it can be used with a digital stylus for more precise selection or handwriting recognition.
The Series 7 Slate is also light, weighing 1.96 pounds - lighter than many smaller 10-inch tablets we've seen, like the
Acer Iconia W500-BZ467
, which weighed in at 2.1 pounds. It's thin too, measuring less than a half inch thick. The back appears to be brushed aluminum, and the rich texture of the cool metal surface leaves you feeling that the slate, though thin and light, is still substantial.
On the hardware side, the Series 7 Slate is remarkably similar to the super-thin
Samsung Series 9
laptop, with the same dual-core 1.6-GHz Intel Core i5-2467M low-voltage processor. It's an enormous step up from the Intel Atom processors that have been used in competitors thus far. With 4 GB of RAM and solid-state drives available in both 64 GB and 128 GB capacities, the Series 7 seems to be borrowing much of its spec list from the top-rated laptop. During our time with the slate, the Series 7 was also significantly faster and more responsive than any other Windows tablet we've reviewed.
[RELATED_ARTICLE]
The Series 7 boasts a number of ports and connectors, with a full-sized USB 2.0 port, a micro HDMI port for displaying video on an HDTV, and a microSD card slot. Wireless connectivity comes in the form of Bluetooth 2.1 and Wi-Fi 802.11n, and a SIM card slot opens up the option for a 3G mobile connection. A docking connection on the bottom includes support pins similar to those seen on the Acer Iconia Tab W500, but a proprietary Samsung connection is used instead of USB. Samsung estimates that the internal lithium- polymer battery will provide up to 7 hours of use on a single charge. We'll have to take that with a grain of salt until we have tested the unit in the labs.
You'll also find several features more at home on a tablet, like front and rear facing cameras, accelerometer and gyroscopic sensors, and GPS. Physical controls for power and volume can be found on either side of the device. While the tablet can be purchased on its own, you can also pick up the Series 7 Slate bundled with a dock, wireless keyboard, and digital stylus.
The biggest problem plaguing the Windows tablet concept has always been the lack of a physical keyboard and mouse - two elements that are too deeply integrated into Windows to discard without inconveniencing users. Samsung has sidestepped these problems with a digital pen, dock, and wireless keyboard. Combined with the impressive hardware inside, the Series 7 Slate stands to be used both as a consumption device and a genuine productivity tool.
The dock, in addition to the necessary docking connection, offers full-sized versions of the ports found on the tablet, with HDMI, USB 2.0 and Ethernet ports available. The dock is also remarkably sturdy, with metal construction, and table- gripping rubber feet that provide a surprisingly stable base for the slate. When using the touch screen in this set-up, I found myself wishing that touch-screened desktop computers were so stable. The accompanying wireless keyboard is just as slim and light as the Series 7 itself, with chiclet-style keys and a cool brushed aluminum surface.
The Series 7 Slate will be available on its own, with a 64GB SSD, for $1,099, while the Series 7 bundle with stylus, dock and keyboard will be available for $1,349 with a 128GB SSD. While some may balk at these prices, it's worth pointing out that other Windows tablets are priced similarly, and the oh-so-similar Samsung Series 9 laptop sells for even more.
According to Samsung, the Series 7 Slate will be made available for order online on October 2. While the new device will likely also be sold by brick and mortar stores, Samsung expects the majority of their sales to be online.
For more, check out the hands-on slideshow below: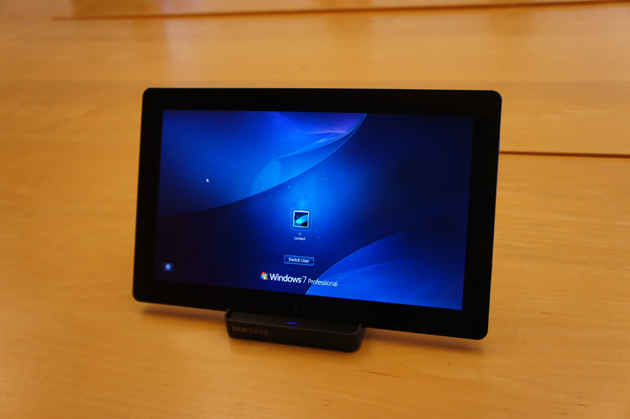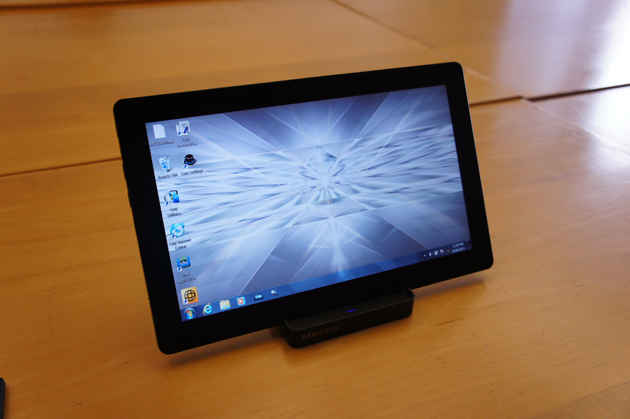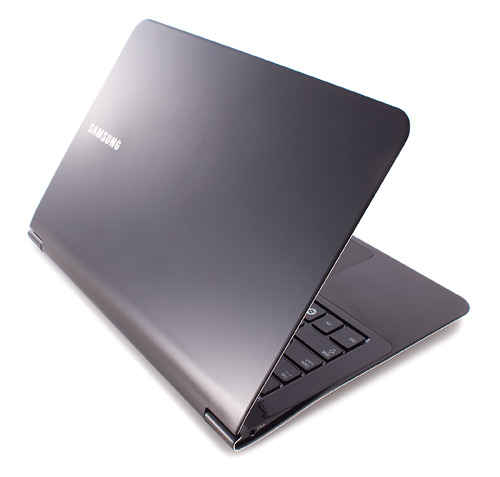 Display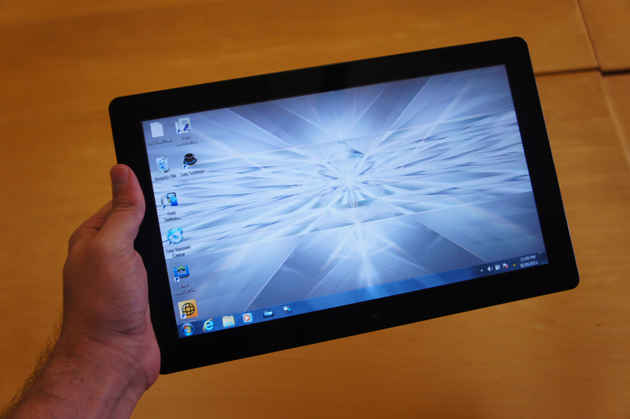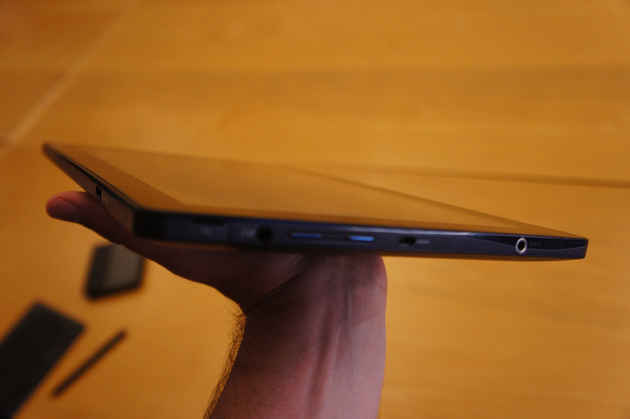 SIM Card Slot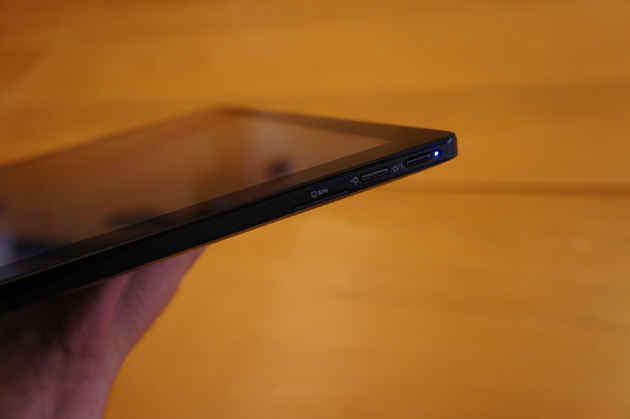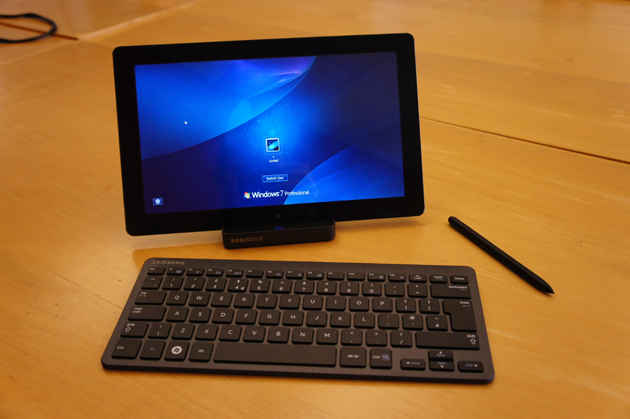 Wireless Keyboard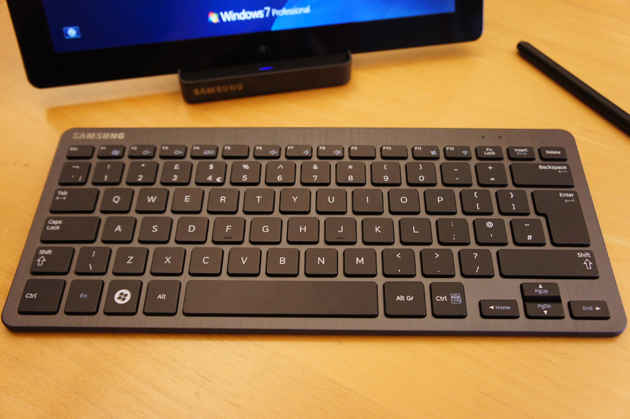 Copyright © 2010 Ziff Davis Publishing Holdings Inc.