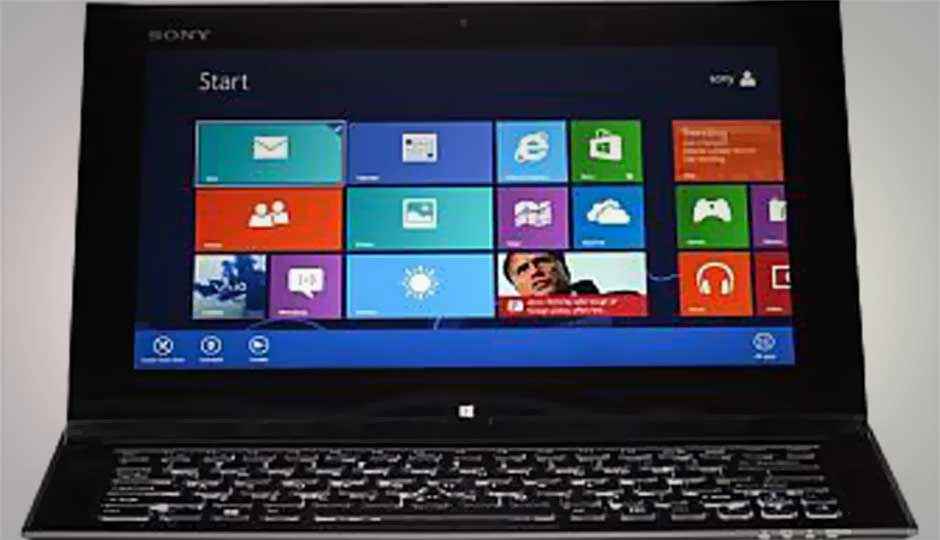 If your definition of a PC has to do with a monitor, a keyboard, and a mouse, then get ready to update your dictionary. The number of ways you can interact with and use your laptop has just expanded further than it has in years. With designs that convert from laptop to tablet, and the tablet-centric nature of Windows 8 and Windows RT, new hybrid laptops are being outfitted with integrated sensors previously associated with smartphones and standalone tablets. The result is a slew of new sensors becoming standard, several existing technologies gaining new importance, and technology on the horizon offering even further expansion for the once moribund PC.
Aside from finding ways to make them lighter, thinner, or more power efficient, the laptop as we know it has continued to use variations of the same basic design—a clamshell body, with keyboard and touchpad mouse on one half, and a display on the other. Changes have been incremental, adding features like wireless LAN and webcams over years, or integrating the latest, fastest connection, such as USB 3.0 or Thunderbolt. Iterative refinement has been the name of the game, and attempts to innovate beyond the "slimmer, faster" paradigm have generally resulted in gimmicky one-off features—like glasses-free 3D, or motorized port-covers—features that don't stick.
But that's all changing. When Intel started pushing its ultrabook initiative, the call for thinner, lighter laptops seemed like more of the same. But from the very beginning, Intel's roadmap has ventured further than just thinner laptops, and we're turning the bend from incremental tweaks to genuine innovation, with all the upheaval and rethinking that new technology requires.
New Form Factor, New Features
The most obvious change coming to the PC space is the touch-enabled screen. Granted, touch-screen technology has been appearing on PCs for years, but this is the first time that the technology has been so widely implemented, and rarely on laptops outside of the tablet PC niche. With capacitive digitizing technology from the likes of Wacom and N-Trig, the new laptops offer 10-point tracking and precision input with the use of a stylus. Windows 8 takes full advantage of this with a touch-friendly interface, and a handful of apps have already been brought forward to show off new features, like ArtRage Studio Pro (included on the Sony Vaio Duo 11), which takes advantage of the stylus's 256-levels of pressure sensitivity.
Several other sensors are new to the laptop world, but not to anyone that's used a smartphone or tablet. Hybrids and tablet PCs now include both gyroscopes and accelerometers (sometimes called a G-sensor), and an internal compass (sometimes called e-Compass, or the more technical magnetometer). Gyros and accelerometers are used in part to manage screen rotation, but just as on a smartphone or tablet, they can also be used for motion control in games and other apps. The built-in compass will often be joined with integrated GPS for location-based services, which can also be used to physically locate a lost or stolen laptop. All of these new sensors take advantage of the fact that, unlike a laptop, a hybrid with tablet functionality won't always be used at a table or desk, but picked up and used on the go. Where traditional laptops are portable, hybrid designs are truly mobile.
Non-standard sensors seen on new hybrids include the aforementioned GPS, as well as various implementations of near-field communication (NFC) technology. NFC is a wireless protocol that makes pairing various devices through Wi-Fi or Bluetooth as simple as touching them together. So far, NFC has been used for simply pairing peripherals (like wireless headphones and computer mice), but future applications will likely emerge as the technology gets more mainstream exposure.
Old Tech, New Uses
Another effect of the transition from relatively stationary laptops to mobile tablet hybrids is the reinvigoration of technology already standard in many PCs. Ambient light sensing technology, for example, has been used in many laptops over the last year or two for automatic adjustment to display brightness and keyboard backlighting, allowing for better power management without sacrificing usability in low light situations. It's a feature often overlooked, however, because laptops aren't often used outdoors, and are stationary when indoors, presenting few opportunities for light-based adjustment to even be used. On a more mobile device, however, this already common feature will be put to use far more often.
Similarly, while Bluetooth has been available in laptops for years, it hasn't been widely popular for use with peripherals like mice and keyboards because dongle-based wireless devices offer better battery life. However, with Windows 8 tablets offering few full-size USB ports—Microsoft's Surface RT tablet has one, and Asus's Vivo Tab RT has none without using an adapter or docking keyboard—Bluetooth will likely become the wireless technology of choice for keyboards and mice.
Even the cheapest of laptops are equipped with webcams these days, but the change in form factor from desk bound to handheld brings with it the need for rear-facing cameras, similar to those seen on smartphones and tablets. Yes, this means even more instances of people taking snapshots with big, unwieldy devices, but it also introduces the possibility of incorporating more video into everyday use. One use case suggested in a marketing video for the Microsoft Surface is that a student can simultaneously type notes in class while also filming the lecture. It's a simple application, but suggests plenty of other novel uses.
Tech on the Horizon
The push for new technology in laptops and tablets isn't stopping there, however. Unsurprisingly, Intel has continued to encourage development of new connections for components, seeking ways to make PCs even faster, thinner, and more efficient. Intel's upcoming line of Core processors, codenamed Haswell, is built from the ground up for the new breed of ultrabooks, offering better power efficiency, faster boot times, and integrating with the sensor and interface technologies coming down the pike.
Intel is also developing more advanced gesture recognition, bringing more powerful and more intuitive controls to touch-enabled devices. Intel has also partnered with Nuance Technology to develop voice control technologies, with the aim of bringing Siri-like functionality to the PC. And these are just the advancements already planned for 2013.
Nearly a year and a half ago, Lenovo unveiled a
prototype laptop
featuring Tobii Assistive Technology's eye-tracking hardware built-in, and Tobii has since unveiled a
standalone accessory
version of the same. Related technology using the built-in webcam has been used by both Toshiba and
Spatial View
for use with glasses-free 3D displays.
And while brain-controlled interface (BCI) technology sounds like something out of science fiction, Intel's CTO Justin Rattner wore a pair of NeuroSky's Necomimi Brainwave Cat Ears when addressing developers at IDF. Unusual technologies and new applications of technology are clearly still on Intel's radar as new standards are drawn up for future PCs, and it's not too great a stretch to think that these innovative technologies may find their way into PCs in coming years.
Copyright © 2010 Ziff Davis Publishing Holdings Inc