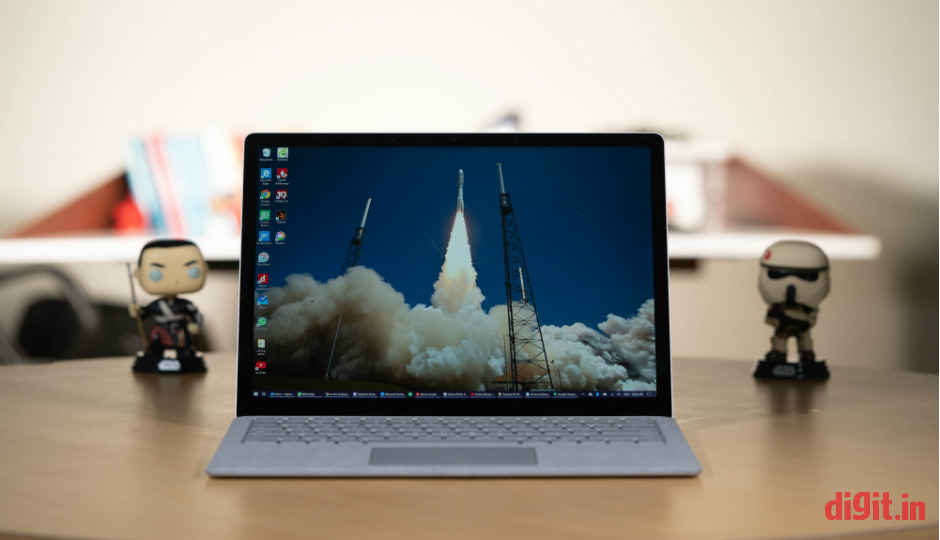 HIGHLIGHTS
The least fancy of the Surface devices from last year has descended on our country, and thus, on me for a review. But before that, let me just spill a few immediate thoughts about the Surface Laptop in this piece.
Microsoft Surface Laptop. That's as precise as a name is ever going to get for a Surface device that doesn't feature detachable limbs and is just a regular laptop. Unboxed, the Surface Laptop looked as clean as a neatly wiped blackboard in its metallic silver body, unassuming even. The lid bore naught but Microsoft's static window tiles logo in the middle. Flipping it over revealed an almost equally bare surface; save for four tiny rubber feet and an etched Microsoft badge, there was nothing else. All this made the laptop look positively understated and premium.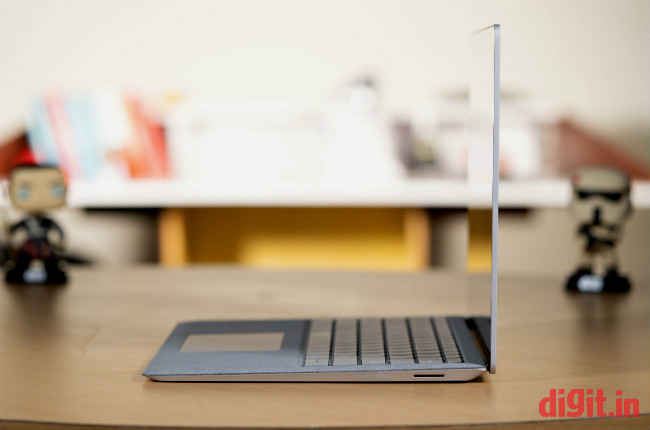 Truly thin and light, this Surface Laptop
Build and Design: Takes on the Mac like a Pro
As advertised, the Surface Laptop opened easily with the push of just one finger against the lid. Reminiscent of the Microsoft Surface Pro I reviewed a couple of months ago, the Surface Laptop greeted me with a nice, glossy display and a grey keyboard area. The Alcantara fabric surrounding the area around the keyboard and touchpad felt soft and grippy in the hands. The laptop felt supremely thin and lightweight to hold.
Keyboard and Touchpad: As soft as a teddy bear
Turning the slim new device around revealed only a smattering of ports. On the left I found a full-size USB port, a Mini DisplayPort, and a 3.5mm audio jack. On the right there was just one port—the Surface Connect port for power. The laptop booted to desktop swiftly, which is a good sign. As on the Surface Pro's Signature Type Cover keyboard, typing was a pleasant experience. The keys were undoubtedly flat in appearance but offered sufficient amount of travel and resistance. The precision touchpad too worked without a fuss.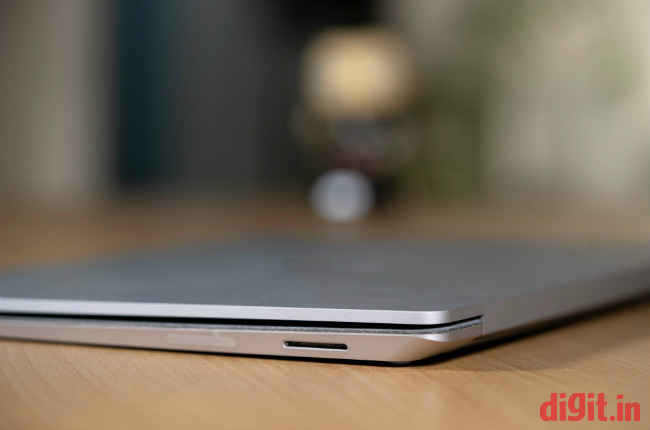 That's not a card reader slot; that's the power port
Display: Shines bright like a diamond
The display on the Microsoft Laptop is definitely one worth writing home about. It's a 13.5-inch touchscreen unit with a resolution of 2256 x 1504 and a traditional aspect ratio of 3:2. It's strengthened by Corning Gorilla Glass 3. I found colours appearing vivid on the exceptionally bright PixelSense display. Touch was responsive and palm rejection was spot on. Sadly, I did not get to try running a Surface Pen stylus on it. At any rate, using a Surface Pen with the Surface Laptop to create elaborate drawings seems like a far-fetched idea to me because the display doesn't go beyond 125 degrees.
First Impressions: Properly impressive
I haven't had a chance to test the laptop's performance just yet, but from what I've seen so far, Windows boots in less than 25 seconds, and apps like Chrome and Edge launch in less than 4 seconds right after boot. Spending more time on the Surface Laptop in the coming days should tell me more about it. For now, I know I love this machine's build and design; it oozes maturity and simplicity. I know I also love its quick performance so far, and its soft, comfortable keyboard. Let's see what else about it I end up liking (and disliking) in the coming days.