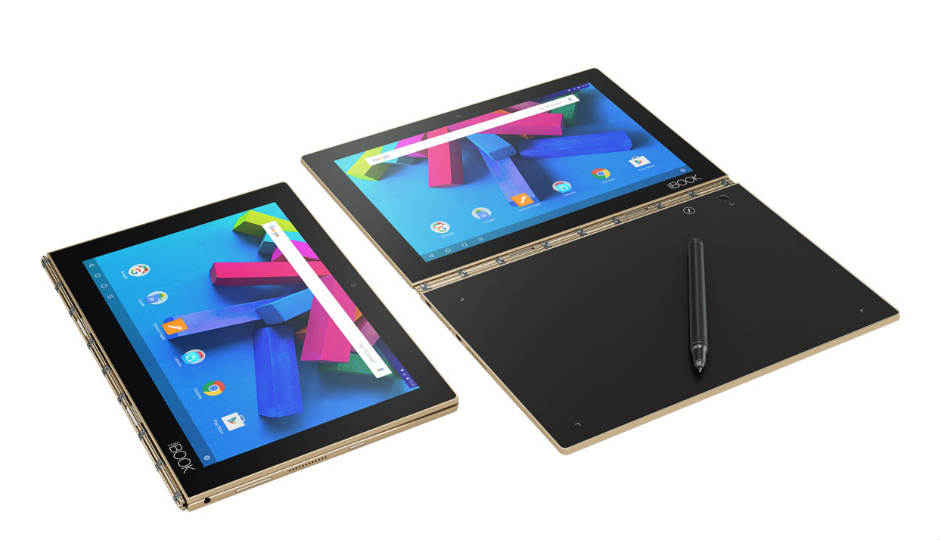 HIGHLIGHTS
The Lenovo Yoga Book has a completely different take on hybrids that may only aid graphic designers at the moment, but still makes for an intriguing machine to use.
Is the Lenovo Yoga Book a tablet, a laptop, a hybrid, or something completely different? The answer lies in how you would use it. It has a 10.1-inch Full HD display with touch input and speakers that sound quite full for a portable device, making its appeal for a entertainment-oriented tablet. There is also a non-detachable keyboard and Windows 10 pre-installed, the essentials of a functional laptop. However, the main aspects of the Lenovo Yoga Book is the light weight and easy portability, and something that completely differentiates it from any other laptop/tablet/hybrid/convertible in the market – a touch panel that acts as a keyboard/sketch pad. While this is certain to turn heads when you use it in public, questions do remain about practicality of it. Lenovo has introduced the Yoga Book in India at Rs. 49,990, and at this price, does it have what it takes to be a good overall computing device? Here's what we think.
The Lenovo Yoga Book is a preamble to how 2-in-1 hybrids of our future will be. The functionality of a stylus-enabled sketch pad may not rank too high for everyday office-goers, but this can be particularly useful for illustrators and designers. For the average user, though, this is more of a "cool" factor that adds a dash of charisma to our everyday black/white/red plastic-and-metal laptops and tablets. In terms of practicality, it will take you some time to get used to tapping away on virtual keys of a touch panel, as against the physical keys of the keyboards we are used to. The time of adjustment depends on your level of adaptability, but you will encounter niggling discomfort or unease for heavy typing usage. For most office-goers, this may not be the device of choice. Unfortunately, while the touch panel and the stylus make sense for designers, the presence of an Intel Atom processor makes the Yoga Book feel somewhat underpowered, and using Intel M series processors would have done better.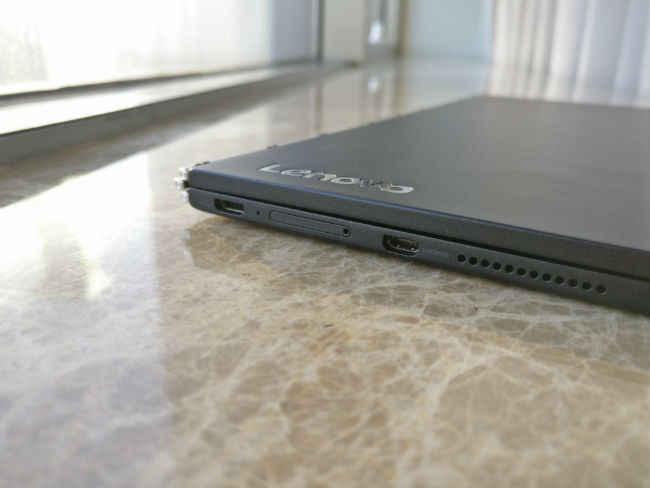 With this stylus, you can literally write on the keyboard dock by placing a sheet of paper on it and scribbling on top. Lenovo provides user-replaceable ball pen nibs in the box, which you can switch with the stylus nib while writing on paper. This particular feature does not seem to read handwriting on the edges of the panel, but is otherwise a neat, precise feature. Yet again, this does not add much to practical usability, but can be a crucial factor to consider for calligraphy artists.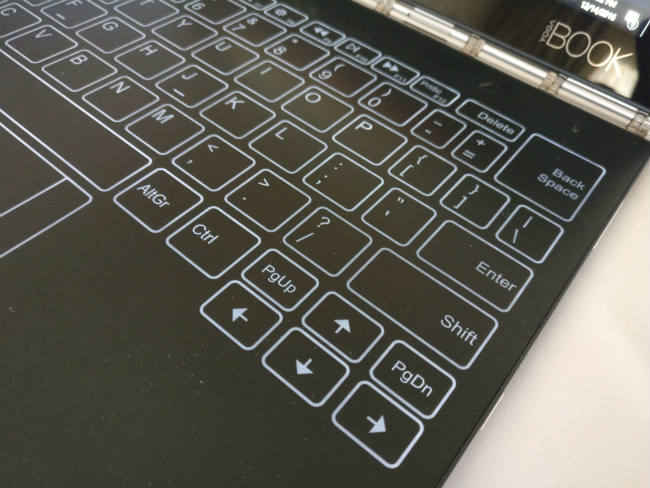 Tapping the stylus button off, you end up with well-spaced touch keyboard. There is no depression in the keys, and instead you feel a little vibration in the keyboard dock akin to Apple's new haptic feedback Home button. The keys are lit in white and present a Halo effect, hence the name 'Halo keyboard'. Lenovo claims that it takes a little over two hours to adjust to the keyboard, but after two days of usage, I am still not convinced. Maybe I'll appreciate the brilliance of it after about a week, but at present, I am still adjusting to the ultra-sensitive keys, zero key rollover, and the small, frankly hostile touchpad. It feels stiff, is unresponsive at times, and does not support all of Windows gestures.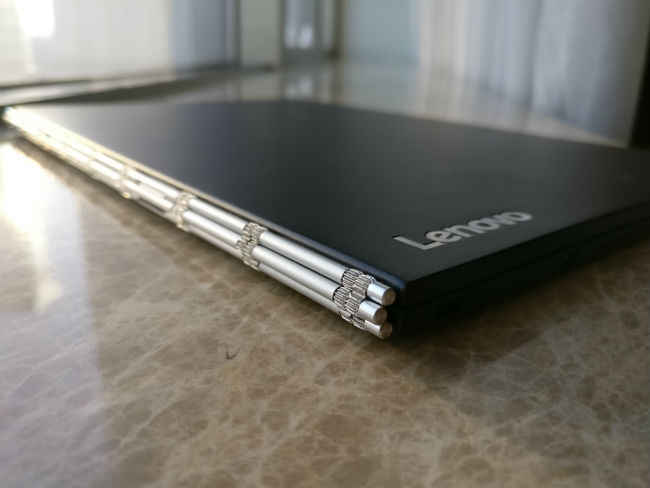 As for the rest of the laptop, it looks and feels well made. Lenovo has a used Magnesium alloy for the whole frame and its signature watch-band hinge, making it one of the sturdiest 2-in-1's I have seen in a while. It weighs less than 700 grams and is less than a centimeter thick. The slim form factor, despite looking nice, compromises on ports as there is only one microUSB port (not even Type-C). Native storage of only 64GB is also too less for a Windows machine, but there is a microSD card slot available if you want extra media on the device. The machine also has a dedicated SIM slot, and in addition, this makes it a potent media consumption device on the go. Average battery life of 9-10 hours makes it poised for better entertainment-oriented usage.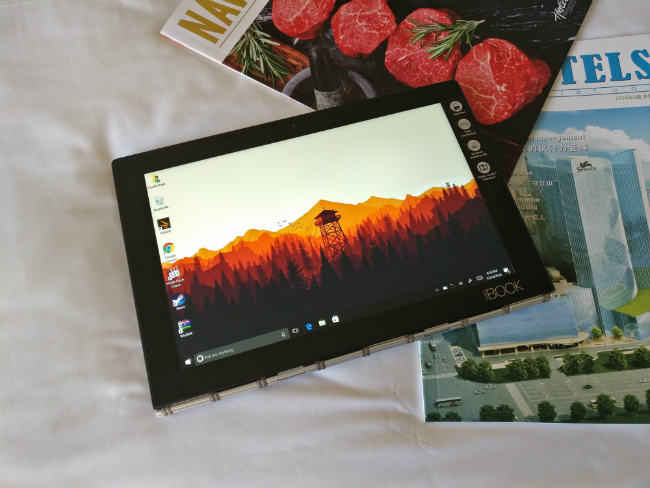 That being said, the rathe rancient Intel Atom processor and 4GB of RAM limits the productivity of the Yoga Book to just browsing and watching movies. Web- or flash-based games work well, but it would be frugal to expect more from the machine. To conclude, the Lenovo Yoga Book seems more like a proof of concept for future hybrids. The type and sketch experience is new, and will almost certainly take more than one attempt to master it, but this seems to be a positive step ahead by the company.