A few months ago I'd reviewed the Lenovo IdeaPad 330S, followed shortly by the Lenovo ThinkPad E480. I found both models equally satisfactory during the review. The reason I'm comparing the two is because both models cost about the same: the IdeaPad 330S starts at a price of Rs 37,990 while the ThinkPad E480 starts at a slightly higher price of Rs 39,699.
The two laptops are also share similar specs: both models feature an 8th-gen Intel Core-series CPU, a 14-inch matte-finish display, and weigh about the same. Agreed, the ThinkPad line of laptops isn't exactly for consumers but rather for enterprises. However, the entry-level ThinkPad models are an exception. The E-series has been around in the consumer laptop market for many years now. Let's see which one is right for you based on some key parameters:
Build and Design
The IdeaPad 330S uses a mix of polished aluminium and plastic in its construction in that the top cover is made of metal so it looks (and feels) good when you're carrying it around and the base is made of plastic. Lenovo branding around the laptop has been kept to a minimum, which makes it look tastefully designed. The IdeaPad 330S weighs 1.67 kilogrammes, only 17g more than the more sophisticated IdeaPad 530S. It's quite easy to lift and carry it around.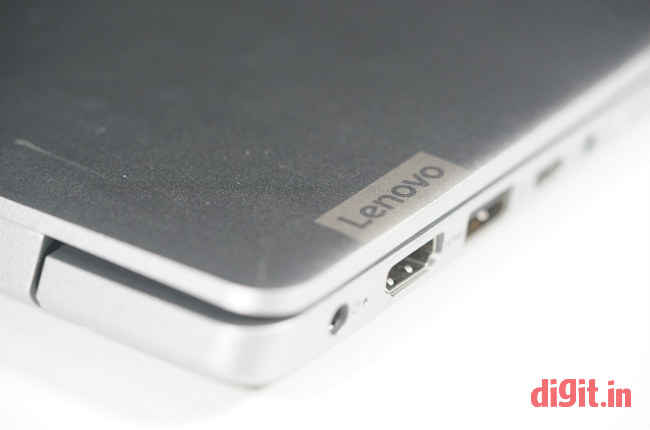 The ThinkPad E480's exterior is made of aluminium with a black finish but low-end variants only get a coated plastic lid. The one I tested had a plastic body but felt strong and hard-wearing, as is the case with most ThinkPads. Technically speaking, the plastic variant does not sport a MIL-STD-810G certification but it certainly feels solid enough. The ThinkPad E480 weighs 1.75 kilogrammes, which is not too heavy but not too light either.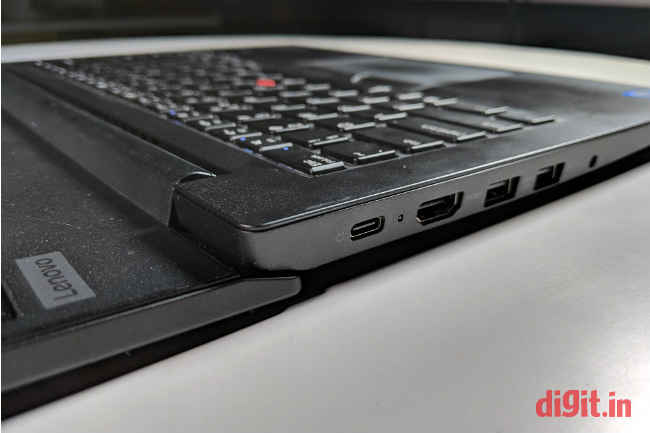 You honestly can't go wrong with either model on this front. The IdeaPad 330S weighs a little less and comes off as a premium laptop when seen from afar. Its thickness doesn't really show because of its clever design. The ThinkPad E480 is built almost like any other ThinkPad from the past, and ThinkPads have always been built like trucks. They take water spills and drops in their stride. If anything, they look a bit boring in their all-black uniform but many like it (like me).
Display, Audio, and IO
Both models sport a 14-inch IPS LCD panel but the IdeaPad 330's unit gets Full HD resolution. The maximum horizontal viewing angle on it is about 175 degrees. Colours are neither too sharp nor too flat, and appear very natural during movie playback, web browsing, and photo-viewing. This display's most accurate colours are blues, followed closely by reds and yellows. In summary, I believe it's a really good display for a laptop of its price. Audio performance too is above average. Around the sides, the IdeaPad 330s gets two USB-A ports, an HDMI port, the power port, a USB-C port, an audio jack, and an SD card slot. Not bad at all.


The Lenovo ThinkPad E480 does not get a Full HD display in any of its variants, which is huge disappointment. Colours on the 1366 x 768 display look washed out and grainy for the most part. Still, it's not unsightly. It'll do the job for web browsing and document editing. Sound output on the ThinkPad is just as good or as bad as on the IdeaPad. The speakers are good enough for watching a TV show in a quiet bedroom but nothing beyond that. The ThinkPad E480 has all the ports the IdeaPad 330S has. In addition, it gets an extra USB-A port and an ethernet port. The ThinkPad draws power through the USB-C port, which means, if you want to use it for data transfer you'll have to unplug the power cord.


In my opinion, the IdeaPad 330S wins a lots of points here simply because it has a Full HD display with slightly better colours. If you enjoy watching a lot of movies or even browsing, go with the IdeaPad 330S. It's a real shame Lenovo hasn't included the Full HD display option when it's available globally.
Keyboard and Touchpad
The IdeaPad's backlit keyboard is quite pleasant to use. The keys on it have enough travel but could use more. They're a little short on resistance, which means you can't always tell if you've struck a key. It lacks dedicated keys for Home, End, Page Up, and Page Down functions, which is something to consider if you're into a lot of typing. Also, the keys are placed a little too close to one another for comfort. On the whole, it's not too shabby a setup.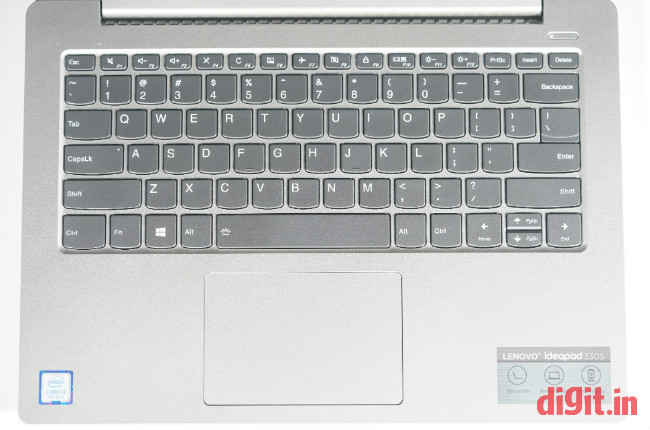 The ThinkPad E480 comes with the legendary ThinkPad keyboard, which is known for ample space and comfort. The backlit keys have just the right amount of travel and resistance. There are dedicated keys for Home, End, Page Up, and Page Down functions. The arrow keys are not cramped like in most other laptops. If you're into a lot of typing you need look no further than the ThinkPad E480.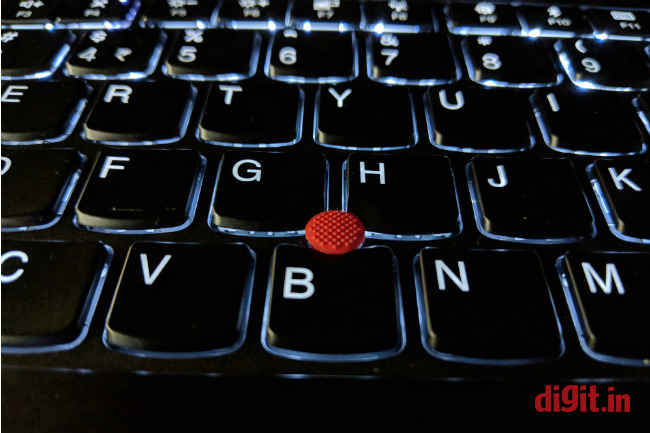 The touchpads of both models are precision units, which means they use Windows 10's precision drivers to allow multi-finger taps and swipes. Both touchpads are smooth and easy to use, although I believe the ThinkPad scores more points here for having separate mouse buttons, including the middle button. On the whole, the ThinkPad E480 steals the show in this department.
Performance
The IdeaPad 330S we tested came with an 8th-gen Intel Core i3 CPU with 4GB of RAM. Storage was taken care of by a 1TB hard drive. Performance was somewhere between average and above average because although app launches happened swiftly bringing up some menus and screens took a while. You should be all right if you get the variant with 8GB of RAM. If you can get a variant with an SSD instead of the hard drive, it's even better.
The ThinkPad E480 we tested came with an 8th-gen Intel Core i5 CPU and 8GB of RAM. It was let down by a sluggish 1TB hard drive spinning at 5,400 rpm. Booting and app launches took much longer than expected. Performance, on the whole, was not very impressive. Get a variant with an SSD and you should be fine.
The performance of the laptop should depend on the configuration you pick. On the whole, both laptops perform quite well but there are two key elements that make them fast enough for 2018: 8GB RAM instead of 4GB and a solid-state drive. If you can manage to include these two in your configuration (more importantly, your budget), you're sorted. If you can't, that's all right, because both laptops can be upgraded in the future. The ThinkPad E480 is easier to upgrade as it comes with two RAM slots.
Battery
You can expect a total run time of five hours from the IdeaPad 330S when it's fully charged. The battery on the review unit we had dropped from full charge to 58 percent in one and a half hours when there were over fifteen Chrome tabs and a couple of apps open. Five hours is not too bad for a laptop of its price but nothing too great either.
The ThinkPad E480 lasted 2 hours, 48 minutes on our standard benchmark test, which isn't too shabby. That's 22 minutes longer than the IdeaPad 330S . With a setup similar to that of the IdeaPad, the ThinkPad lasted five hours, which makes the two about the same on the battery front.
The battery life is anybody's guess but I believe the ThinkPad E480 can beat the IdeaPad 330S here by a small margin. At any rate expect no more than five hours on a single charge from either laptop.
Verdict
The Lenovo IdeaPad 330S is the laptop with the most value. For the money you pay you get a modern laptop with 8th-gen Intel Core-series CPUs and SSD options. It looks premium (from afar at least) and is light enough to be carried around without feeling any stress. Its Full HD display option gives it an edge. It's a good tool for work and an even better tool for leisure.
The Lenovo ThinkPad E480 offers fewer features for the money you pay in the traditional sense (no Full HD display, for example) but commands a premium just because it's a ThinkPad. To some that may sound appealing because the ThinkPad brand comes with a long history and reputation. The ThinkPad E480 is perfect for you if you type a lot. It's a great tool for business but not so much for leisure.