Given the state of hardware and games today, you don't need a ridiculously expensive PC to have fun. A mid-range system is more than sufficient for most games and full-HD movies look great on such a system. Keeping that in mind, the relatively modest hardware that you would require need not be stuffed into a capacious cabinet, all you need is an HTPC box and you can pack it to the brim with all the hardware that you'll ever need to build an enjoyable HTPC or "small-form-factor-PC."
The details of the configuration we settled on are given in the box below, but you can easily mix-and-match to build your own rig. Basically, an i5 processor, a decent mid-range graphics card (such as a 560Ti or 650Ti) and about a TB or two of hard disk space are all you need for a worthwhile system within a reasonable budget. Of course, consoles like the Xbox One and PS4 would like to convince you that they're already doing that, but as any PC users knows, the extra effort and money spent on the system will more than justify itself in terms of the sheer power and flexibility (and even cost in the long run) that the build would offer you.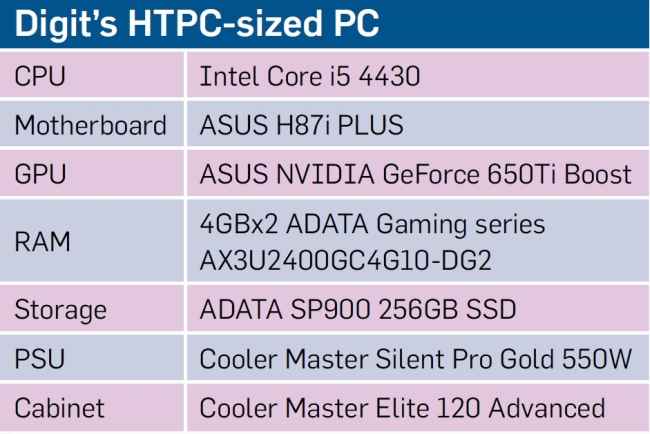 Regardless of what hardware you settle on for the PC, there are some basic items that you would require for any system. These are not compulsory of course, but they will go a long way in making your HTPC more accessible. The items are as follows
• HD Webcam (for chatting, obviously)
• Xbox 360 controller (wired or wireless depending on your budget)
• Wireless keyboard and mouse (what's a PC without these?)
• HTPC remote (movies and music will not be the same without it)
• Bluetooth headset (when not disturbing your family is a bit higher up in your list of priorities)
• USB DAC (for the "audiophile")
• High-speed internet connection (4mbps or above, necessary for HD videos)
• At least a 300N capable wireless router (for all your connectivity needs. USB support is a bonus)
• Android / iDevice (The right software can make these seem indispensable)
• A Steam account and a library of Steam games. (It's the best gaming service and has a massive game library and supports controller-based navigation via its "big-picture" mode)
Setting up a PC is a task that many of you may be familiar with, so we won't go through the entire setup process unnecessarily, suffice to say, be careful, don't force anything in the wrong way and make sure everything is plugged in properly before firing up your system for the first time. We've added images (at the end of the article) so you can use them for quick reference if you have any doubts.
Let's run through the tasks that we would expect our ideal HTPC to do:
• Multimedia playback: This is something we all expect, a seamless, integrated system that will play your entire media collection without a hitch. We want a system that will give you an indexed library for you to browse through. Searching for and playing back files should not be an issue. The system should also be able to access a NAS device or other forms of networked storage.
• Streaming: The PC should be able to stream data to and from your devices.
• Gaming: This is a no-brainer. Any decent PC should be able to play games and play them well. We don't want to see lag on a 60" plasma screen.
• Internet access: The PC should be able to give you hassle-free internet access. What we need to do is find a system that does all of the above in the most convenient way possible. The most obvious choice is Windows 8. The Metro UI is a pain to use on a standard desktop, but as the OS for an HTPC with a proper remote control, it can be more functional. Also, the Windows platform can offer you a gaming experience that is unmatched by any other currently available. That said, a Windows 8 license is expensive and it's not like Linux doesn't have some great games (Steam anyone?). Here are some of the more viable options that you have:
1.Windows 8 PRO with Windows Media Centre: This is probably one of the more expensive options. Windows 8 will cost you about Rs. 13,550 for a PRO license with Windows Media Centre. Couple this purchase with a Media Centre remote that costs upwards of Rs. 2,000 and you will have one of the most convenient media centre systems that you can own. All you have to do is organize your media, dump it into the media libraries and you're set. The remote will help you navigate the Media Centre Interface and all your media will be accessible and playable from there. You can also configure your Xbox controller with software such as Xpadder to remap the controller.
2. Windows 8 with Metro apps: Windows 8's Metro UI is an absolute pain in the neck on a PC, but when it comes to a HTPC UI, it's one of the best and most powerful options at your disposal. If your media library is well-organized, you'll be able to access it with ease. And, being a Windows platform, gaming is never going to be an issue. In our opinion, this is the most convenient option.
3. Windows 8 with iTunes: iTunes is actually a very viable Media Centre option if you have an iDevice. You'll already have iTunes if you have an iDevice, just login with your Apple ID > click on the Menu button > Library > Turn on Home Sharing > Enter Apple ID again. That's it. You can now stream your entire iTunes library to your iDevice or control your library via the "iTunes Remote" app on your iDevice. Just make sure that your PC and device are on the same network. Remember that iTunes only supports a select few formats and if you have a large collection of FLAC files or videos in mkv or some other unsupported format, you won't be able to import them into iTunes.
4.Windows 8 with XBMC/MediaPortal: Both XBMC and MediaPortal are excellent media centre systems. You can read more about XBMC in the workshop that we've published, all we'll say here is that it's an excellent option for a media centre. Media Portal is a good media centre in itself and an alternative to XBMC. It shares a lot of features with XBMC and choosing between the two is more a question of aesthetics than anything else.
5. XBMCUbuntu: XBMC is available for Linux, but XBMCUbuntu integrates Ubuntu and XBMC to give you a standalone OS. Configuring this setup can be a pain if you're unfamiliar with Linux, but the XBMC forums are always there to help you. This is probably the best option for a powerful media centre that costs nothing in terms of software.Couple this with the Linux version of Steam, you can enjoy some great gaming as well.
A media centre remote
Setting up a remote for your PC is a very simple task. You can take the easy way out and just purchase a media centre remote, or, you can use your existing smartphone to setup a wireless remote control.
• Remote control apps: Apps like RemotePC or VLC remote will allow you to setup a virtual remote for your PCs. Just search for "remote" on the Play Store or App Store and you'll be inundated with options. Most will ask you to setup a server on your PC that will grant your phone access to the PC.
• iDevices: We've mentioned this earlier, but if all your media is on iTunes, all you need is an iDevice and iTunes Remote and you have full access and control over your media library.
• IR blasters: These are present on a handful of mobile devices, but you can get third-party add-ons as well. These are a little hard to find in India, but if you have a kindly relative who's coming from abroad somewhere, you can probably get one at a decent price (l5remote.com for example).
That's it! With the right hardware and apps, you've got the ideal HTPC on your hands. One that is no slouch when it comes to gaming, but can also provide you with a compelling multimedia experience. A PC that can hide in the background when it's not needed, but can give you all the power that you've grown up with when you do. PCs need no longer be banned from the living room.
Digit's HTPC configuration
The configuration of the PC that we built is mentioned here and it didn't cost us more than Rs. 68,000. As you can see, the hardware isn't ridiculously high-end, but is a more sensible combination of price and function. The choice of motherboard is especially important as it will determine your connectivity options. In our tests, we got over 50fps in Arkham City at 1080p high settings and PhysX set to high, we also managed over 60fps in Borderlands 2 at 1080p and max. settings. You don't need to stick to this configuration of course, mix and match to build the PC. Don't forget to put up your HTPC at http://dgit.in/18CQlGG.
Quick installation guide
To all those a little confused about setting up your PC, here's a quick setup guide to help you along.
Here are all the components that you'll need to setup a decent HTPC, minus the cabinet of course.
All the components of a PC are designed to only go in one way. You need to be firm when installing components, but don't force anything in.
One drawback of a tiny little PC is that most custom heatsinks don't fit. You're at the mercy of the awful stock heatsink.
Audio, USB 2.0 and USB 3.0 headers. Make sure you put them in the right slot. Refer to your motherboard manual if you're assailed with doubts.
Make sure that all the front panel connectors go in the right place, especially the power and LED connectors.X
Never forget to plug these in. In order, they are the 4 4-pin CPU, SATA Power connector, 6 2-pin PCI-e, 20 4- pin motherboard power connectors.
Cable management is crucial in an HTPC-sized case. Remember to ensure clean airflow.
Double check your connections, make sure that everything is screwed on right and connect your peripherals and power it on.