Today's consumers not only require laptops that can navigate the digital landscape effectively, but they also demand laptops that support their creative inclinations effectively. In this regard, MSI laptops offer excellent choices for modern consumers who have diverse skills and work requirements.
MSI's NVIDIA Studio-validated laptops in the Creator & Stealth series are particularly exciting because they offer all the necessary features and capabilities to keep up with the ever-evolving needs of young consumers. Unlike many high-performance laptops of the past, these laptops also prioritize aspects such as display accuracy and wide colour gamut support. This is especially beneficial for professionals and young creators who cater to the growing demand for digital content on social media platforms.
Whether you're a creator or a gamer, MSI's NVIDIA Studio laptops provide a balanced solution that ensures optimal performance, vivid displays, and other crucial features that are essential to enhancing your digital experience. Here's everything that you should know.
What are NVIDIA Studio-validated laptops?

To ensure that these high-performance laptops offer a seamless and immersive experience for creators, NVIDIA Studio validation mandates minimum specifications. These laptops come equipped with some of NVIDIA's most advanced GPUs, such as the GeForce RTX 40 and 30 series, empowered by NVIDIA's dedicated Studio Drivers. Additionally, they must be outfitted with processors that meet the minimum requirements of Intel Core i5 10th Gen or AMD R5 5th Gen or better, have at least 16GB of dual-channel RAM, and feature a minimum of 512GB SSD storage. These laptops also include bright and colour-accurate displays that support a wide colour gamut.
Several exciting NVIDIA Studio laptops are available in India, and MSI offers some great options in its Creator, Stealth, and Prestige series that you can pick from. These laptops offer features like large trackpads and slim designs to make it easier for creators to work on the move. Some of these also include per-key RGB keyboards that can help improve efficiency for frequently used shortcuts.
To support such powerful hardware, MSI equips these laptops with its powerful Cooler Booster technology that increases the heat exchange area and airflow to improve thermal capability. This ensures that creators and gamers can work and play for extended periods without experiencing performance drops or interruptions.
Let's talk a bit more about what really makes the Nvidia Studio-validated laptops special.
What's in it for creators?
MSI not only employs top-notch hardware, but its NVIDIA Studio laptops are precision-engineered and undergo rigorous hardware and software testing for optimal performance with top creative applications and workflows.
In addition to powerful graphics, MSI's NVIDIA Studio laptops feature dual-channel memory. They are equipped with OLED or IPS displays that are factory-calibrated out of the box to support popular wide colour spaces, including 100% sRGB, 99% Adobe RGB, and 97% DCI-P3.
The powerful NVIDIA graphics will allow you to effortlessly tackle demanding 3D, video, and broadcast workflows while also promising an exceptional gaming experience in your leisure time.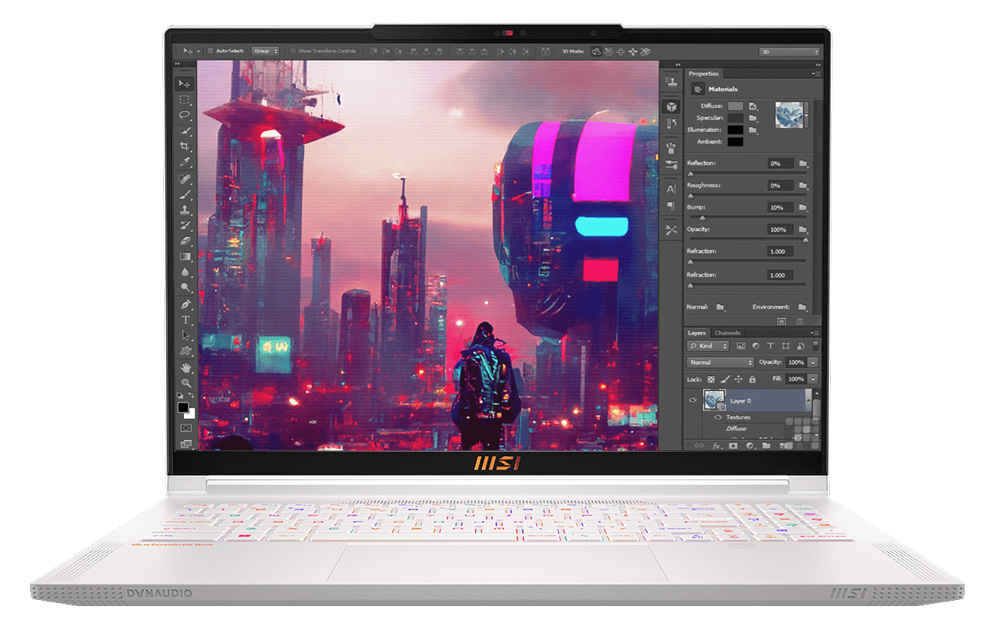 The GeForce RTX 40 Series graphics cards are powered by the 8th generation NVIDIA Encoder (NVENC) and support AV1, resulting in a 40% improvement in encoding efficiency and enabling higher-resolution streaming. The fourth-generation Tensor Core enhances AI features compared to previous-generation GPUs, providing faster editing and advanced effects. Additionally, the third-generation Ray Tracing Cores enable faster real-time ray tracing of complex 3D scenes.
MSI specifically optimizes the software to enhance the creative experience. With MSI Center, creators have effortless access to critical system information, as well as a range of controls for power management and display settings. These features ensure that creators can fully customize and optimize their laptops for their creative needs.
These laptops further include the NVIDIA Studio Suite, a package of exclusive software for creators such as NVIDIA Omniverse for collaboration and advanced AI-powered tools, NVIDIA Broadcast for enhanced live streams and video calls with AI effects, and NVIDIA Canvas for turning brushstrokes into realistic landscape images. Additionally, NVIDIA DLSS 3 boosts 3D performance using AI to generate high-quality frames in supported real-time renderers.
The secret to exceptional performance also lies in the NVIDIA Studio Drivers, which are developed and optimized with creative app developers, teams of testers, and engineers. Popular creative applications like Adobe Creative Cloud, Autodesk Maya, Blender, Blackmagic Davinci Resolve, OBS, Unity, and others have RTX acceleration to speed up performance.
MSI's NVIDIA Studio laptops, such as the Creator Z17 HX Studio, Stealth 16 studio, and Stealth 14 studio have a lightweight Mg-Al alloy casing and are incredibly slim, providing creators with the freedom to work from anywhere, at any time.
These MSI laptops offer colour-accurate displays that support a broad colour gamut and promise exceptional detail and contrast. This depth and quality are essential for creators who require optimal visual performance.
What do gamers get?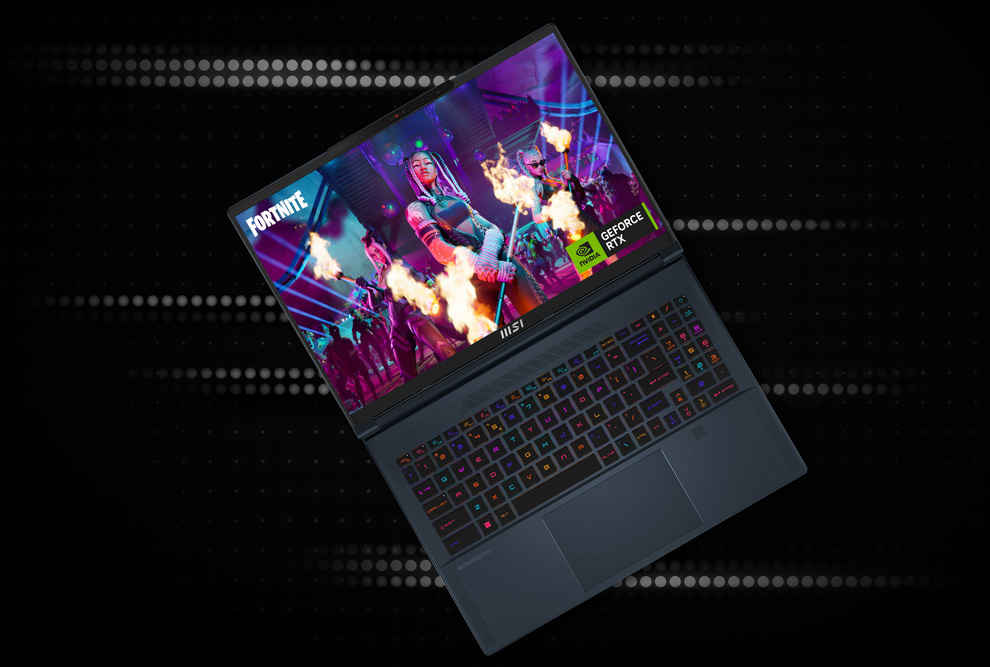 By utilizing MSI's high-performance hardware and optimized software, gamers can also enhance their gaming experiences. MSI's NVIDIA Studio laptops ship with factory-calibrated 16:10 displays with up to 2K+ resolution and 100% DCI-P3 coverage. This means that the colours that you see will be reliable out of the box and all your gaming visuals will be remarkably crisp.
The powerful NVIDIA graphics promise fast and realistic gaming, featuring real-time ray tracing and DLSS 3.0. Besides, the Max-Q graphics options enable thin, fast, and quiet laptops that can be easily carried along.
MSI also employs the latest 13th Gen Intel H-series processors and integrates the company's Overboost Technology which further helps users to enhance GPU clock speeds beyond the standard to unlock their full potential.
MSI's Cooler Booster technology provides strong support for high-performance hardware. This technology enhances the heat exchange area and airflow, improving the thermal capability to power a more immersive gaming experience.
These laptops also have a MUX switch on the motherboard that allows the user to switch between the discrete and integrated graphics to further optimise performance and battery life.
And yes, all this power comes in a sleek and portable form factor. With elegant designs and sturdy construction, these MSI laptops offer the perfect balance of style and durability. For instance, the MSI Stealth 16 Studio weighs less than 2 Kg and has a thickness of just 1.99 cm, making it highly portable without compromising on power or aesthetics.
Empowering and inspiring creators and gamers
MSI's NVIDIA Studio laptops serve as a bridge between technology and artistic expression, enabling creators to bring their visions to life with speed and efficiency. These laptops provide content creators with reliable and high-performance tools that are tailored to their specific workflows, giving them the confidence to produce their best work.
Moreover, MSI's NVIDIA Studio laptops are also excellent for gaming, thanks to their powerful hardware, high-performance graphics cards and thoughtful software optimizations. This makes them a versatile choice for creators who want to switch between work and play without sacrificing performance or reliability. Whether you're designing graphics, editing videos, or playing the latest games, these laptops should be able to handle it all with ease.
MSI offers several Studio laptops including Creator z17 HX studio, Creator z16 HX studio, CreatorPro z17 HX studio, CreatorPro z16 HX studio, Stealth 17 Studio, Stealth 16 Studio, Stealth 14 Studio, and Prestige 16 Studio. Shop the latest MSI RTX 40 laptops here.
[Sponsored]