A workstation is absolutely crucial when it comes to working efficiency. With the rise of creative applications such as CAD, CAM and more, modern workstations need powerful hardware in order to run smoothly. In the past, the need for powerful hardware meant that users had to deal with large, bulky components. This necessitated the need for a traditional desktop workstation. As a result, professionals were quite literally anchored to a single spot from where they could work effectively as working a desktop around isn't really a feasible option.
Thankfully, things have changed a lot. Technology has shrunk down to a point where modern laptops are powerful enough to go toe-to-toe with desktops in terms of performance. This means that professions don't have to be chained to their cubicles in order to work effectively. They are free to work wherever they want. This could be in their office cafeteria or even their home without worrying about their work getting hampered.
Lenovo has been offering high-end workstations under their Thinkstation lineup for many years now. The company understands that simply adding powerful hardware may not result in the ideal workstation and professionals need more than that in order to unleash their creative potential. The new Lenovo Mobile Workstations are powerful laptops that are designed to be used by professionals who want the freedom to work from anywhere, while still having all the tools they need to ensure quality.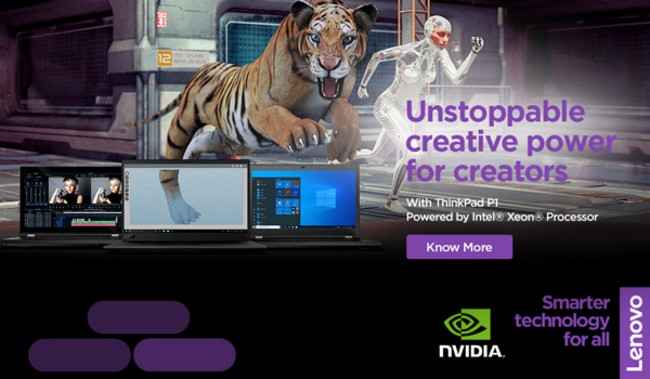 Here's a quick look at the advantages of the Lenovo Mobile Workstation.
Top-notch hardware to power through anything
When it comes down to it, a workstation needs powerful hardware. The Lenovo Mobile Workstations are available with up to Intel Xeon Scalable processors. These processors are built with workstations in mind and come with a number of features designed to help professionals. This includes a balanced architecture that delivers built-in AI acceleration. It also offers advanced security capabilities. This performance allows the Lenovo Mobile Workstation the flexibility to complete a range of tasks. These can range from CAD, 3D modelling, VR and more.
Pantone Color Calibration for better consistency
The Lenovo Mobile Workstation displays are also calibrated to X-Rite Pantone color. This is vital for those in the creative field as it allows for colour consistency in the work that they do. This ensures that the colour of the work remains consistent all throughout the process. So it will look the same when you see it on your display, or even when you print it out. This ensures that colours look the same all through the workflow process without the need for constant calibration.
Built for portability and robustness
The entire concept around a laptop is portability, which is why the Lenovo Mobile Workstations are engineered to offer performance and portability in a single package. This will allow professionals to carry the laptop with them just as any other laptop and not get bogged down with weight. On top of this, these laptops are also tested to MIL-SPEC standards and are designed to take on the hazards of the modern workspace. This could be anything from spilt coffee to a tumble off the desk.
Always there
Of course, there will be times when professionals might need help with their workstations. To ensure that work isn't hampered, Lenovo offers end-to-end support for the entire lifecycle of its products. This includes support through planning, deployment and final asset recovery. This includes Lenovo Premier Support that promises 24x7 unscripted support for fast, first-time resolutions. There is also Lenovo Thinkshield to help guard against cybersecurity threats. This support is vital in the current work-from-home environment, where going through standard support cycles might not be possible.
ISV Certified
The quality, adaptability and advantages offered by Lenovo Mobile Workstations are pretty evident and this has been recognised by independent software vendors (ISV) as well. This includes some of the biggest names in the industry like Autodesk, Adobe, Avid, Siemens and many more. These certifications should allow Lenovo Mobile Workstation users a smoother experience when it comes to installing and using software from these vendors.
As one can see, the Lenovo Mobile Workstation goes beyond hardware. This holistic approach to mobile workstations ensures untethered creativity from professionals with minimal hindrances while breaking free of the confines of the traditional office space. The company offers a wide range of laptops as part of the Lenovo Mobile Workstations, so users should be able to find one that perfectly matches their requirements.
[Sponsored Post]