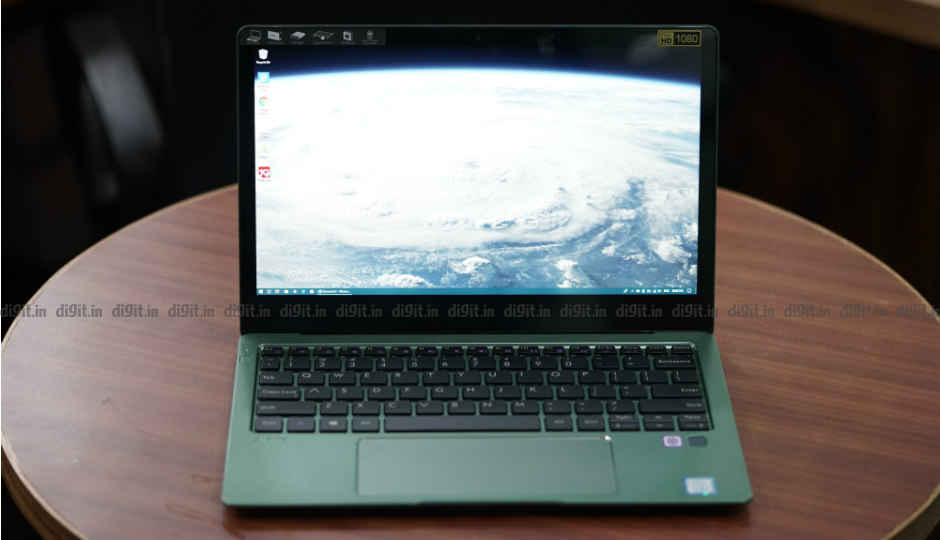 HIGHLIGHTS
We have not only a new laptop in the market but also a new laptop maker. The new US-based brand is called Avita and its first laptop in India is the Liber 12.5. Let's take a look at it.
You may have noticed that the model name of this laptop isn't prefixed with a brand name like 'HP', 'Dell', or 'Lenovo'. That's because the manufacturer of this laptop has only just entered the Indian market. About a month ago, Nexstgo, a Hong Kong-based laptop manufacturer, launched the US-based lifestyle tech brand Avita in India. Its first series is Liber, a seemingly colourful and cheerful set of 12.5-inch, 13.3-inch, and 14-inch Thin and Light laptops. Resting in front of me right now is the top-of-the-line Liber 12.5 in Peacock Green.
Design: Promising
Wondering what is so 'liber' (Latin for free or unrestricted) about the new Avita laptop, I take the metallic green slate out of its box for a closer look. Images of the recently launched MacBook Air and my old third-gen iPod nano fill my mind up for comparison. The metallic top cover, whose centre bears the brand name in bold debossed letters, feels solid to the touch. The green slab feels both light and compact. Turning its body around reveals only a single USB Type-C port, a 3.5mm audio jack, and a round-pin power port. Even on a body so slim, I expected more ports, at least one more USB Type-C port. At least the proprietary round-pin power port will ensure the USB-C is always available.
Opening the lid of the Avita Liber reveals a small reflective screen with decent-sized black bezels around it. The keyboard contains black spongy backlit keys with ample travel. Around the keyboard are a tiny square power button, another Avita logo, and a fingerprint scanner. And then, I catch sight of it—the touchpad. My god, it's nearly as wide as the keyboard above it! Avita expects this chrome-bordered extra-large precision touchpad in matte finish to "enable intuitive manipulation" but we'll have to wait to see if it does in our review.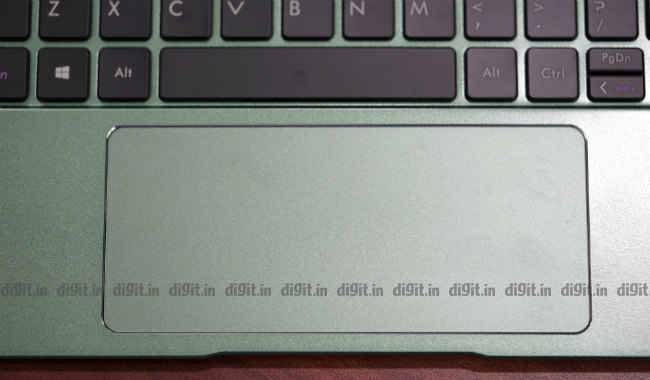 Egad! That trackpad is seriously large!
Under the Hood: Fast storage but dated CPU
Powering the Avita Liber is a 7th Gen Intel Core i5 CPU, 8GB of DDR3 RAM, and integrated graphics. Storage is taken care of by a 256GB solid-state drive. The display is a—you guessed it—12.5-inch IPS LCD panel with Full HD resolution. Sadly, it's not a touchscreen, and the lid doesn't fold all the way back. On the bright side (sorry for the unintended pun), the screen brightness seems sufficient for working in bright and sunny outdoor spots. Colours too seem to be rich but we'll have to see just how rich in our review.
Running everyday applications like Microsoft Edge, Word, and Excel reveals no signs of fatigue or lag on the Avita Liber 12.5. A cold boot happens in under twenty-five seconds. Of course, I'll have to do a comprehensive test of the Avita's abilities but it definitely leaves a positive first impression on me. While the other variants of the Avita Liber start with a 7th Gen Intel Celeron CPU, this 12.5-inch variant comes with only a 7th Gen Intel Core i5. I'm not sure if Avita has any plans of updating the CPU to 8th Gen units just yet. It's a shame Avita's models didn't enter the market updated with the 8th Gen chips.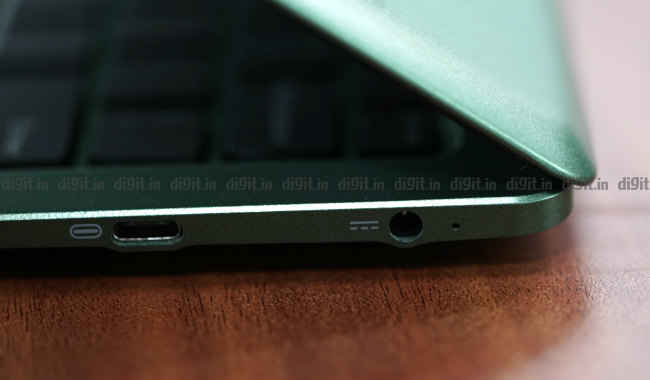 Just one USB-C
Summary: Cute but seemingly expensive
What I like about the Avita Liber 12.5 is that it resembles the MacBook Air but not to a point where it looks like an exact facsimile or a cheap imitation. I also like that it comes in distinct colours, something we haven't seen in a long while now. The last laptops to come to India in funky colours were Sony Vaios and Dell Studios. Where's the catch, then? Is it the price? Well, the Avita Liber 12.5 is expected to sell at Rs 67,190, which seems to be on the higher side for a laptop of its specs. Still, it's too early to call it. Let's get this newcomer on our testbed for a full review.