Recommending anyone a good value-for-money gaming laptop is a very difficult task. I am not tooting my own horn here but determining how someone else should spend their hard-earned money comes with its ups and downs. At best, I'd recommend something that's pretty good. At worst, I just give the worst advice of all time. However, this time I am pretty sure I've struck gold and I wish to share it with the world. The Acer Nitro 5 is powered by an AMD Ryzen 7 5800H and an Nvidia RTX 3060 for around Rs 1 lakh.
Now, the specific model that I have comes with a 1440p 165Hz display but the gaming performance metrics mentioned in this review will be similar to another Acer Nitro 5 with the same CPU and GPU but equipped with a 1080p 144Hz display.
Acer Nitro 5 Specs
Processor: AMD Ryzen 7 5800H CPU 8-cores 16-threads, up to 4.4GHz boost clock 20MB cache memory
Graphics: Nvidia RTX 3060 GPU with 6GB GDDR6 VRAM (95W TGP)
Memory: 16GB DDR4 Memory
Storage: 256GB SSD + 1TB HDD
Display: 1440p 15.6-inch with 165Hz refresh rate
Acer Nitro 5 Benchmark Performance Review
One of the main reasons for choosing the Acer Nitro 5 (Ryzen 7 + RTX 3060) variant is the simple fact that it is one of the best packages at around Rs 1 lakh. Other laptops that feature an AMD Ryzen 7 5800H are usually paired with an RTX 3050 or a 3050Ti, which only has 4GB GDDR6 VRAM and limits several games from running at a high resolution. Meanwhile, most other laptops that have an RTX 3060 GPU usually feature either an Intel Core i5-11300H quad-core processor. Now, most games don't need an octa-core CPU to perform better but CPU intensive titles like Civilization VI do benefit from extra cores. And having an Octa-Core CPU does deliver more performance in the same game as compared to a quad-core chip.
It's only in the Acer Nitro 5 that you get an Octa-core processor and an RTX 3060, both fully capable of utilising each other's performance.
So the main question remains! How does the Acer Nitro 5 perform? Well, here's your answer. In terms of PC Mark 10, the laptop scored 7802, which is a decent score. Specifically, in terms of gaming and digital content creation.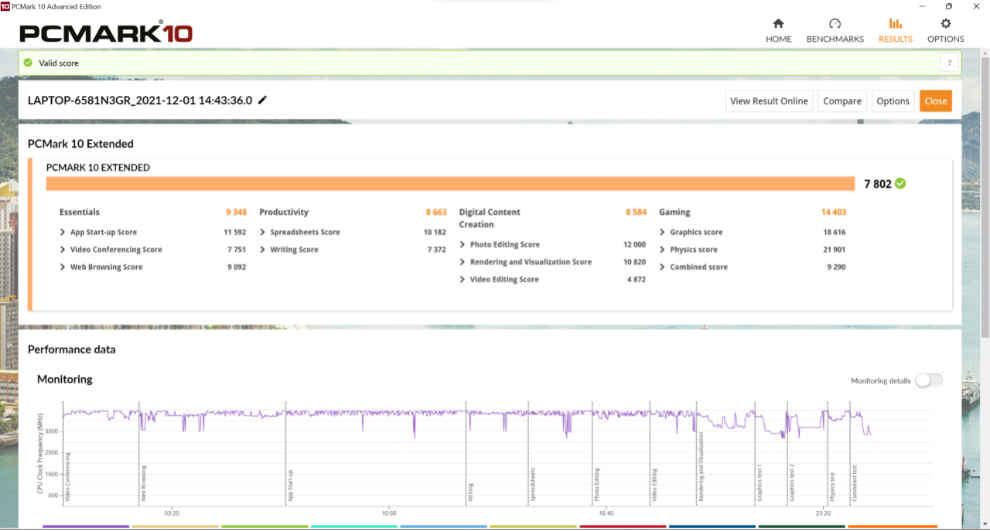 Moving on to CPU benchmarks and you can see that the laptop also scored 4798 in Cinebench R20, a pretty high score. In Cinebench R23, the laptop scored 1387 in single-core and 12427 as multi-core score. These scores mean that the laptop has a pretty good CPU score and can handle most tasks like gaming and productivity pretty easily.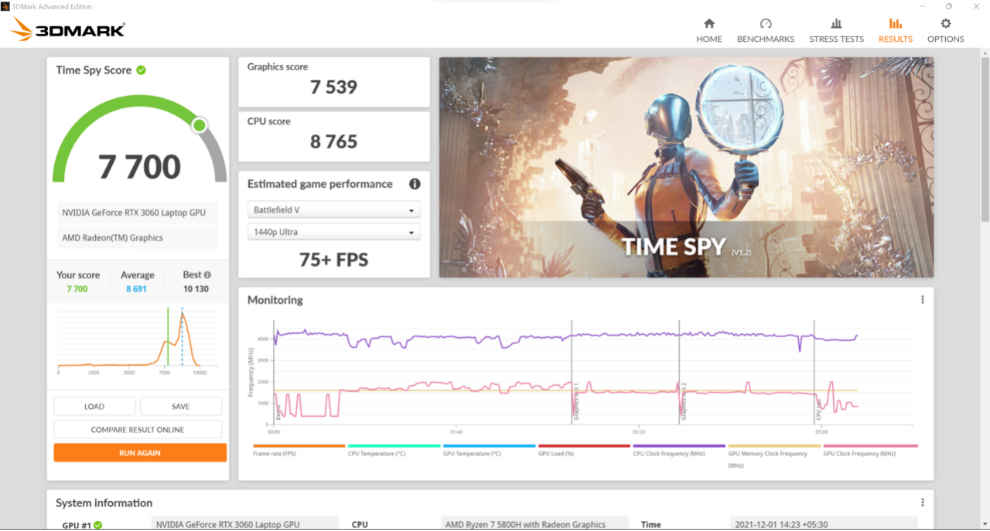 Additionally, in terms of GPU benchmarks, the laptop scored 17334 in FireStrike and 7700 in TimeSpy. These are again good numbers and mean that the GPU will perform well in most games. In terms of thermal performance as well, the laptop remained pretty cool and the maximum surface temperature of the laptop only reached 41°C, while playing Shadow of the Tomb Raider at ultra settings. However, I recorded the peak surface temperature near the keyboard, meanwhile, the W, A, S, D keys remained relatively cool, hovering around 32-34°C.
Acer Nitro 5 Display Performance Review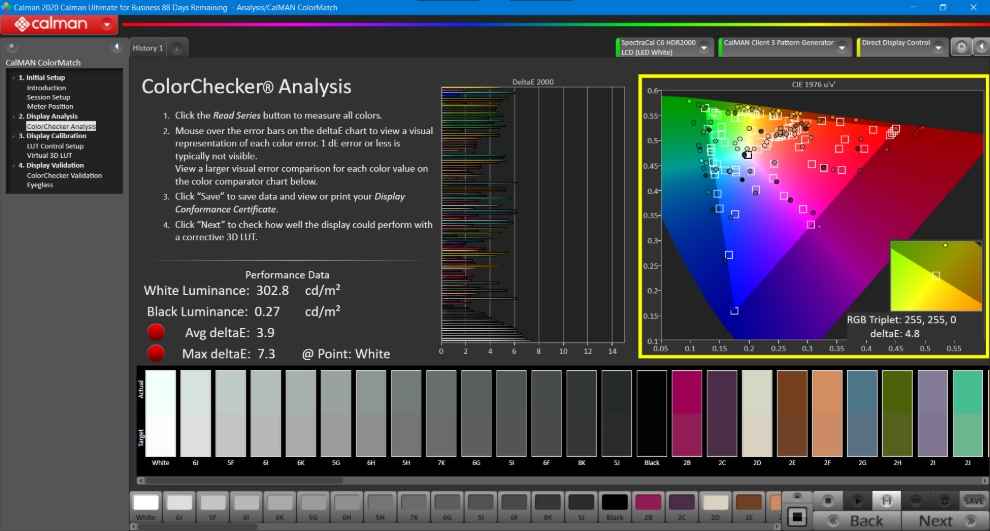 As mentioned, the Acer Nitro 5 comes with a 1440p QHD display with a 165Hz refresh rate. In our display testing, we found that the laptop has a peak brightness of 302 nits, which is decent in this price range. In terms of colour accuracy, I'd say this laptop is not very colour accurate but it is decent enough for a device primarily designed for gaming at this price point.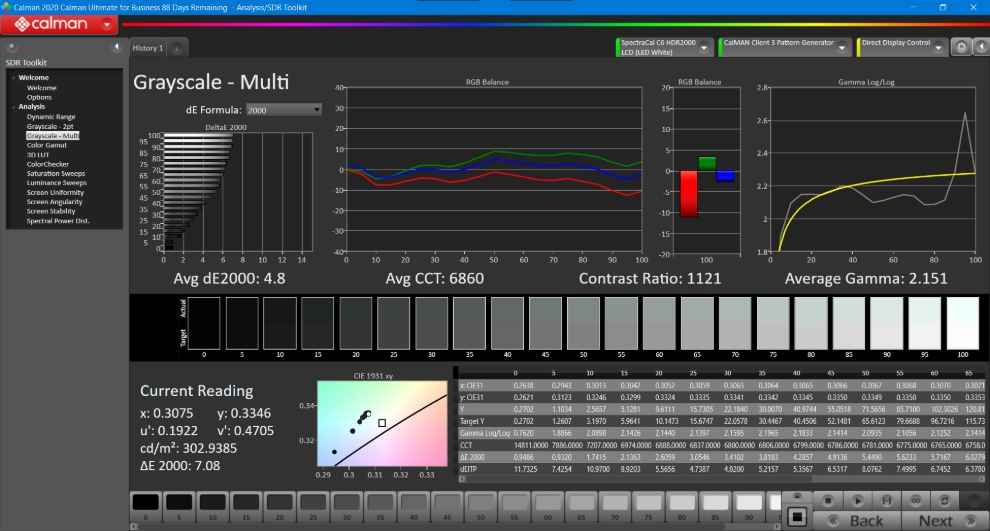 Additionally, the screen has 99.9% sRGB coverage, 94.8% DCI-P3 coverage and 98.4% Adobe RGB coverage. These kinds of numbers are pretty impressive in this price range. The colours on the screen also have a temperature of around 6860K giving the display a neutral tone as well.
Acer Nitro 5 Gaming Performance Review
The Nvidia RTX 3060 powering the Acer Nitro 5 has a maximum TGP of 95W. Now, the RTX 3060 laptop GPUs have a TGP as low as 80W, so 95-110W seems like a sweet spot for this chip. We also tested several other RTX 3060 laptops during the course of this year and here are some of them running Shadow of the Tomb Raider and Metro Exodus.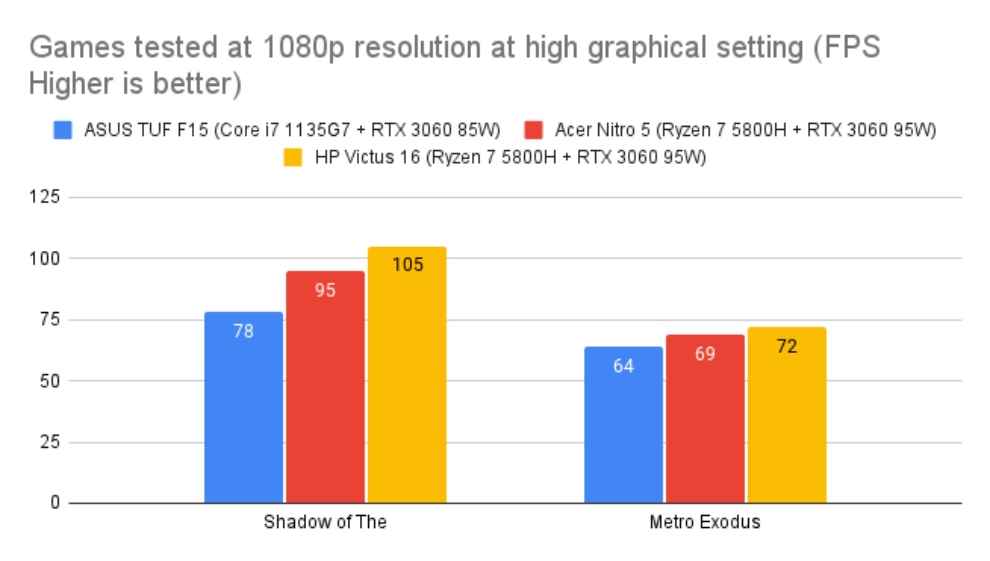 You can see the direct effect of TGP on GPU's performance and the Acer Nitro 5 seems to hit the sweet spot when it comes to value for money performance. Here are some of the other games we tested and you can also see the performance difference between an RTX 3060 and an RTX 3050 when paired with the same CPU and RAM.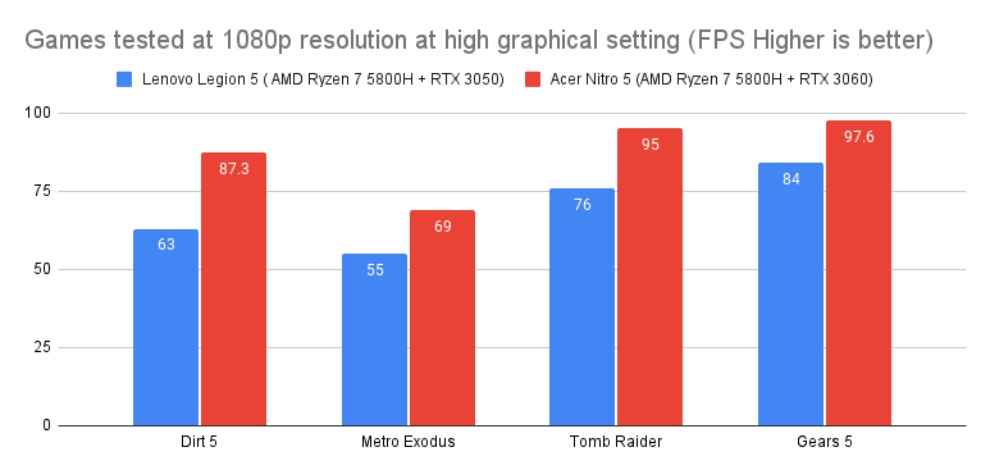 You can clearly see the difference in performance between an RTX 3050 and RTX 3060. Furthermore, you can also see how the RTX 3060 performs in games like AC: Valhalla which requires more than 4GB GDDR6 VRAM to run on a high graphical preset.
Verdict
For a laptop priced between the Rs 80 to 120k budget, the Acer Nitro 5 (Ryzen 7 5800H + RTX 3060) is one of the best devices you can get your hands on. It comes with powerful hardware that'll serve you years down the line like 16GB RAM, a quad HD 165Hz refresh rate display and a powerful CPU + GPU combination.
Most other laptops in this price range, skimp on one or the other hardware component in this price range. However, Acer Nitro 5 somehow made this combination possible and for that, it deserves a glaring recommendation from our side.
Also Read: Sooraj Balakrishnan of Acer India on how computing will look like in 2041