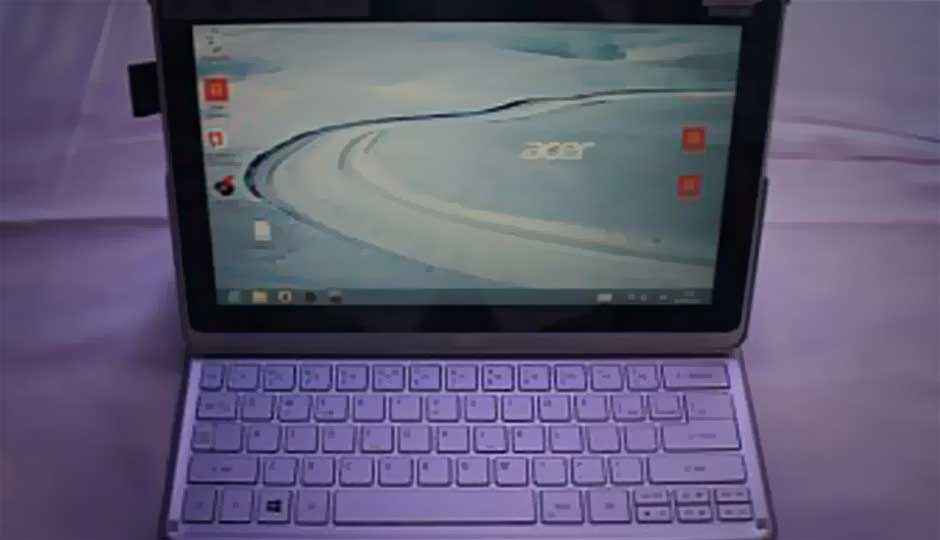 HIGHLIGHTS
At the Acer launch event, we had some hands on time with the Aspire P3. Here are our first impressions of the device.
Acer has announced a new ultrabook-tablet hybrid, running Windows 8, the Aspire P3. The device has an MRP of Rs. 54,499 but for the month of July will be available for Rs. 49,999.
In terms of specifications, the Acer Aspire P3 has a 1.5GHz Intel Core i5 processor, 4GB of RAM, a 120GB SSD, a 11.6-inch display with a 1366×768 pixel resolution, Intel Graphics HD 4000, Wi-Fi, 5MP rear camera and a 1MP front facing camera. The specifications seem pretty standard when compared to similar devices offerings in the market.
Acer is touting the Aspire P3 as an ultrabook, but put simply it is a Windows 8 tablet with a keyboard dock. The device isn't the slimmest when compared to other tablets in the market measuring 0.77-inches in thickness. It has a chiclet style keyboard that may take a bit of getting used to. There is also no palm rest on the keyboard dock and the keys are smaller than we'd like so typing on the device will take some getting used to.
The left of the Aspire P3 has a USB port and the headphones jack. The right of the P3 has the volume rocker and the power button. The bottom of the P3 has the "Windows" button. In terms if its connectivity options the device seems pretty loaded.
The user interface is the same Windows 8 UI that we have come to love on tablets as well as notebooks. The rear of the Aspire P3 has a metallic finish which feels good. The rear of the P3 has a 5MP camera but there is no flash. When the device is docked into the keyboard, it has some design elements, which are quite reminiscent of the Microsoft Surface yet different.
The Aspire P3's display can be unhinged from its keyboard dock, making it a tablet. The keyboard dock comes enclosed in a nice leather case, which adds a premium feel to it.
If you are someone who is looking for a tablet/ultrabook hybrid, then the Acer Aspire P3 may be the device for you.