Every year, desktop and notebook PCs tend to get faster and get better graphics. While improvements in both general speed and graphics are on the roadmap for 2012, the year ahead promises much more focus on power management and battery life. Notebook makers—and the chip vendors who supply them—will move toward all-day computing and compete more with tablets. In my last post, I talked about the general trends affecting PC design). This time, I'll look more at the processors themselves.
As expected, 2011 saw a major change in the architecture of the mainstream processors from both AMD and Intel. For the first time, both companies introduced processor chips that combined the features of traditional CPUs and graphics processors in a single die. Over the course of the year, this spread out to include the vast majority of PCs shipped, even though a large percentage of the higher-end models also include discrete graphics. (I'll cover the graphics roadmap in a day or two).
This coming year will continue this trend; both AMD and Intel promise better graphics in their integrated chips, or as AMD calls them, "accelerated processing units," or APUs. Both companies seem equally focused on making sure that their chips also work as the foundation for mobile PCs that draw a lot less power.
Intel's Roadmap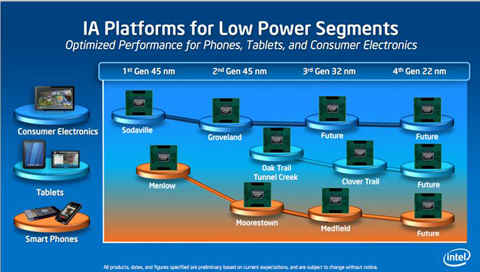 For desktop and notebook chips, Intel's big push this year will be the introduction of its first generation of 22nm process technology in its Ivy Bridge processor generation. This represents not only a shrink in processor generators, but the introduction of the company's TriGate transistor technology. In the TriGate transistor, the company replaces traditional planar technology with "3D" transistors that use a raised channel with a gate that wraps around both sides and the top. This is a version of what is generally called FinFET technology, which other chip makers aren't expected to adopt until their 14nm processes, likely three or four years later.
Intel says this new technology is expected to allow either a 37 percent increase in performance, or the same performance at a 50 percent power reduction, compared with this year's 32nm Sandy Bridge technology.
On a practical level, this may be most important Intel's "Ultrabooks." The company is aiming to work with system manufacturers to create thin notebooks with lower-voltage processors. The first of these are already out, using the existing 32nm Sandy Bridge chips, but expect to see lots more next year; Intel has said it already has 60 design wins for versions based on Ivy Bridge. For next year's Ultrabooks, the company has said it shoots to have 17-watt versions of the chips with the power of this year's 35-watt Sandy Bridge chips, plus better graphics.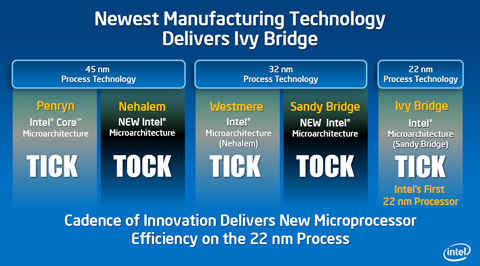 The other big change in Ivy Bridge is graphics. For the last several generations, Intel has been on what it calls a "tick/tock" cadence, alternating a "tick" (process technology shrink) one year, followed by a "tock" (new microarchitecture) the following. Ivy Bridge, then, is a "tick." Intel, however, is calling it a "tick plus," because it also contains a big improvement in graphics, in both 3D performance and media performance, as well as new capabilities such as Direct X 11 support.
As far as Ivy Bridge-based systems, under a normal pattern, we should see lots of systems based on the chip unveiled at CES, though Intel says the actual machines chips aren't slated to ship to end-users until spring.
As with the current generation, Ivy Bridge-based chips will bear the Core i3, i5, and i7 brand names. On the desktop, Core i3 stands for a dual-core/four-thread chip without "turbo mode," Core i5 is a four-core/four-thread versions with turbo, and Core i7 is a four-core/eight-thread version with turbo mode. The company also sells "extreme" versions with six cores and 12 threads but without the graphics. It just released a new version of this chip known as Sandy Bridge-E (details here and benchmarks here). Since the six-core chip just came out, I wouldn't expect a replacement until the end of next year at the earliest.
On the mobile side, standard notebooks (using standard voltage processors with a power rating in the mid-30s) will include the Core i3 with two cores and four threads but no turbo mode, Core i5 with two cores and four threads and turbo mode, and Core i7 with four cores and eight threads, with turbo. On the Ultrabook side, the company will offer 17-watt versions of the Core i5 as well as a dual-core/four-thread Core i7 with more cache and a higher frequency.
The current Sandy Bridge design seems to be migrating into some of Intel's lower-performance Pentium brands. It is likely that, over time, we'll see Ivy Bridge-based Pentiums and even Celerons, though perhaps not next year.
For 2013, Intel has talked about even more aggressively focusing on power. That year, the company is slated to introduce its "Haswell" microarchitecture. It will change its standard design point from around 35 watts to around 17 watts in an effort to improve performance per watt throughout the whole line.
Intel has said it expects Ultrabooks will make up 40 percent of consumer notebooks by 2015. It hopes that under Haswell, it will use 20 times less power than today's chips in "connected standby" mode, allowing all-day use or the ability to update email and social feeds in the background for up to ten days.
Intel also has its Atom processors, aimed at lower-power, lower performance devices. Atom has now become segmented into multiple different processors. In the netbook market, currently most of Intel's designs are based on the 45nm Pine Trail platform, sold under the Atom N moniker for netbooks and Atom D for desktops or "nettops." The newer Oak Trail processor, sold under Atom Z670, is aimed at tablets as well as netbooks. Intel is close to shipping its next generation 32nm netbook chip platform known as Cedar Trail (theoretically, by the end of 2011). This should offer faster performance, better graphics, and more multimedia features, as well as better power management. Next year, should see the release of both Clover Trail, a 32nm Atom platform aimed more directly at Windows 8 tablets, and Medfield, aimed at Android-based tablets and phones.
AMD's Roadmap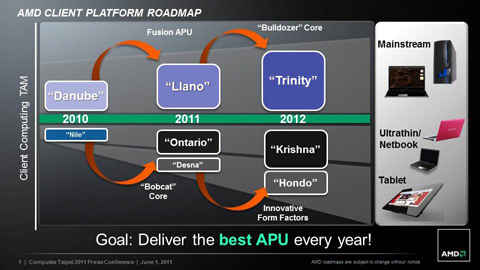 AMD's plans for 2012 are somewhat less clear. The company last updated its public roadmap this summer and has said it plans a significant update at its February 2 Financial Analyst Day. The company, however, has shared some details on its next major steps in mainstream computing.
AMD's main processor is currently called Llano and sold as the AMD Fusion A-series, including variants, with two, thee, and four cores. All of these are what AMD calls "accelerated processor units" or APUs, meaning they include graphics. Indeed, in most tests, they have outperformed Intel's Sandy Bridge integrated graphics in graphics tests, although lag behind in CPU-oriented tests. These chips have also have more advanced graphics features, such as Direct X 11 graphics support, and work better with discrete graphics based on AMD's Radeon graphics line. The A4 series are dual-core chips, A6 includes both three- and four-core variants, and the A8 label is used on faster quad-core versions. These are available in a range of notebook and desktop designs.
The high-end of AMD's processor line, sold as FX, is based on a chip called Zambezi, but known mostly for its new processor architecture, Bulldozer. Bulldozer in turn is based on modules that combine two integer "cores" with a single floating point and other components. This allows AMD to offer versions with a two-module, four-core version as the FX 4100; a three-module, six-core version as the FX 6100; and a four-module, eight-core version as the FX 8100 family. Like Intel's high-end Sandy Bridge E (and like most the previous generation of processors), this chip does not include integrated graphics; it's aimed at desktops that have discrete graphics chips.
Both the A-series and FX chips are manufactured by Globalfoundries on its 32nm process.
The big change we know about for 2012 involves an update to the Bulldozer core to a revision, known as Piledriver, and the inclusion of that core in the successor to Llano, known as Trinity. AMD says Trinity will be out in the first half of 2012. This is expected to have improved CPU performance and most likely enhanced graphics as well, as Trinity faces off against Ivy Bridge in the mainstream parts of the desktop and notebook market.
AMD has also had success this year with a series of processors aimed at lower-power notebooks (and also used in some low-power desktops), sold under the Fusion E- and C-series monikers. These products are known as Zacate (for 18 watt parts, sold as the E-series) and Ontario (for 9-watt versions sold as the C-series) and use a platform called Brazos. They are based on simpler core design known as Bobcat—more akin to Intel's Atom —but also include integrated graphics. They are available in both single- and dual-core variants. While they aren't as powerful as the company's A-series processors, they have been quite competitive in notebooks designed to compete with machines based on the Atom or lower-end Sandy Bridge chips, in part because of the combination of decent graphics and good battery life.
AMD also has a lower power version of this, known as the Z-series, which uses only 6 watts of power and is aimed at tablets. All of these chips are manufactured by TSMC on its 40nm process.
For 2012, AMD had talked about replacing Ontario and Zacate with new variants known as Krishna and Wichita, but the status of those products is uncertain.
Copyright © 2010 Ziff Davis Publishing Holdings Inc.