Over the past couple of years, we have seen a massive influx in battle royale games. What started as a fresh concept, got so popular amongst the masses that it eventually turned into a trend. To the point where almost every existing shooter game started milking it, by forcefully shoving it down everyone's throats with their pre-established gameplay mechanics. Although every new battle royale game feels different initially, it all boils down to the same base principle. You amongst 99 other players drop onto a deserted island, search for scarce equipment and take part in highly skilful gunfights to be the last man standing. Over time, this genre has gotten stale, owing to its emotionless, repetitive gameplay. Not to mention how increasingly tedious and stressful each play session gets. Enter, a new competitor - Fall Guys: Ultimate Knockout from Devolver Digital. A fresh take on the battle royale concept which knocks guns and explosives straight out of the ballpark. And replaces it with insane obstacle courses and humanoid jelly beans instead. Plus, it sets the bar for an even playing field for all age groups alike. As for whether this fun twist translates to an improved battle royale experience, keep reading!
Fall Guys: Gameplay
Drawing inspiration from the popular Japanese game show - Takeshi's Castle, Fall Guys sets its simple premise. A total of 60 players or in this case, jelly beans are thrown into a colourful arena surrounded by a pool of pink slime. From there, you take part in numerous funky minigames involving gigantic seesaws, oversized free-falling fruits and whirling windmills that fling you into the rosy abyss to name just a few. One complete game session consists of 5 elimination rounds. Of which, the final round pits the last remaining chosen elite against one another to compete for the "Crown".
At the moment, Fall Guys offers a collection of 25 fun and creative game modes. Most of which are solo games, while some require you to work as a team to meet a specific objective. At the early stages of the game, there is this mode called Door Dash. Where you see hordes of contestants scurrying across the colourful floorboards to run headfirst into a series of doors. Some of which are real, while others are fake. Other times, you might be chasing after an opposing team in an attempt to either grab their golden fox tails or to jinx them. Or, you could partake in an egg hunting game, tip-toe your way through disappearing tiles and even play a game of football! And this is all adding onto the numerous other joyful modes the game provides. The content that you see right now is only the tip of the iceberg, as the developers have assured for more to come.
As mentioned earlier, Fall Guys does not discriminate when it comes down to age. You cannot expect your 5-year-old sibling or your parents to play something too complicated. So, the controls have been kept as basic as possible. Other than the standard movement controls, all you need to play the game is only three buttons - jump, dash, and grab. As straightforward as the controls sounds, its execution is not so easy. The thing is, the characters in this game have this, sort of bizarre ragdoll physics, akin to the popular party game - Gang Beasts. So, even the slightest error in manoeuvre or just bumping into another player will set you off balance, causing you to tumble down. Next thing you know, you are getting trampled on by a bunch of squeaky little jelly beans into a wobbly mass. Moving across balance beams and slimy floors will require your utmost attention. While jumping onto platforms and dashing through incoming obstacles demands high levels of agility. But then again, they are not necessarily consistent. Which is the fun part. Sometimes, making a mistake might boop you into the path of victory. You never know. And that is the beauty of this game!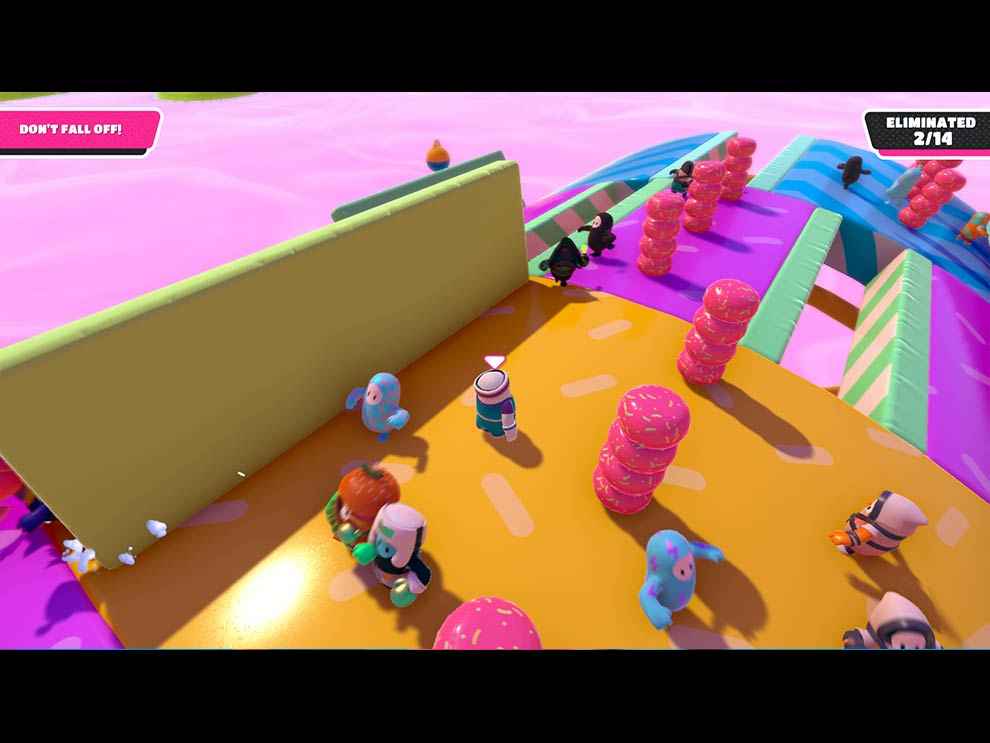 Another cool thing about this game is that it offers no room for toxicity. The game does not come with any in-built chat or communication system whatsoever. Which is a rare sight to see in an online multiplayer game. That being said, it is not devoid of griefing, as there are no set regulations. The grabbing mechanic is an essential tool for gameplay. But, you might encounter some players who use it for boo-boo reasons. Such as pushing you into obstacles and limiting movement, which is pretty infuriating. On a good note, grabbing them back lets you share a hug with them. Surprisingly, it is an unlockable achievement! The game's initial launch did get some flak due to its server and connection issues. But, it was only inevitable considering the fact that about 2 million people decided to jump in at the same time. We know this because we had played the game during its beta period as well and had faced no such issues at the time. Adding on, at the current state, the game is rampant with cheaters. Oftentimes, you might encounter one jelly bean that speedily sprints past everyone else like The Flash. Or one that floats atop the map and glides their way through to the finish line. Thankfully, the developers have listened to the complaints and have promised to get it fixed as soon as possible.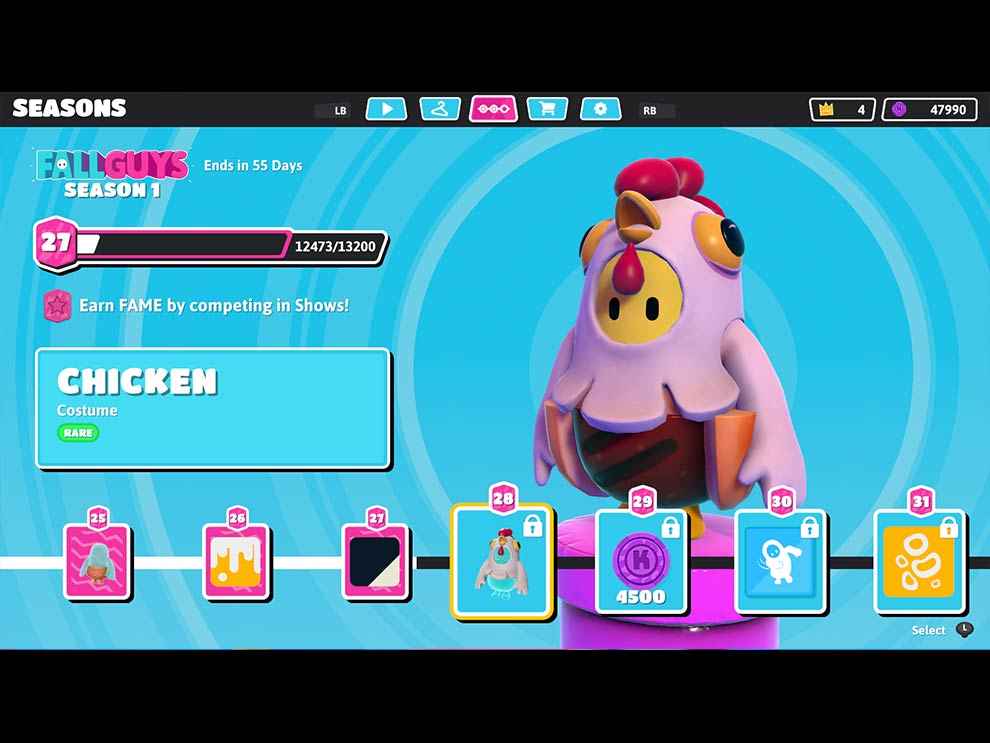 Fall Guys' selling point lies in its amusing gameplay and dazzling visuals. But, being an online multiplayer game, it does branch into the microtransaction territory. Just like every other battle royale out there, this one is no stranger to the battle pass system. Here, the access is free (at least for the first season) and every item is purely cosmetic. Competing in matches earns you "Fame" or XP, which unlocks new items at every level. You also receive a set of in-game currency called Kudos, using which you can purchase limited-time cosmetics from the shop. You can dress up your character in a variety of skins including an annoying pigeon, a delicious hotdog or even a furry if you are into that stuff. Competing and winning, on the other hand, earns you "Crowns", which you can either spend to buy some premium legendary skins and items. Or keep them as trophies in your showcase to flaunt your sheer dominance.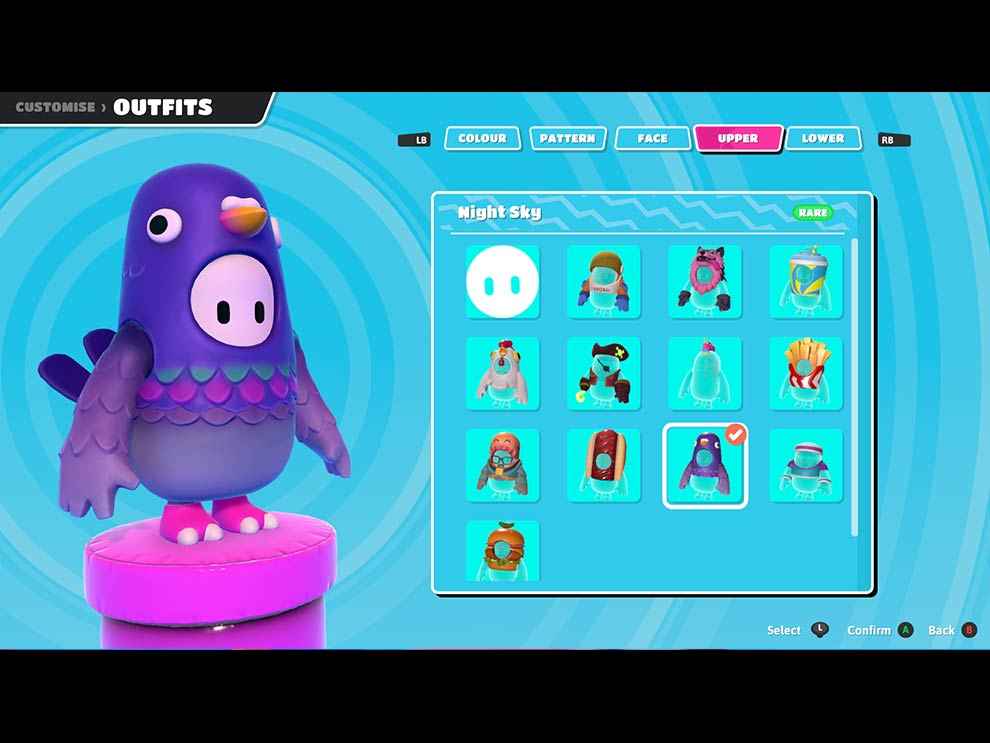 Fall Guys: Graphics and Audio
Right from the moment you hit the start button, the game manages to pull you into its wild and lively atmosphere. It instantly gives off a jolly and child-friendly aura that does not feel overbearing in the slightest. The characters, obstacles and the environment are all brightly coloured and look vibrant. The lighting in this game looks spectacular as well, giving off beautiful reflections that compliment some of the heavily textured areas. As cute as the jelly beans look by default, their facial expressions feel a bit bland. Luckily, the wearable skins have some of the most creative, aesthetically pleasing and "weirdly funny" designs that help alleviate the issue. Since the game is not supposed to be taken seriously in the first place, it adds to the immersion.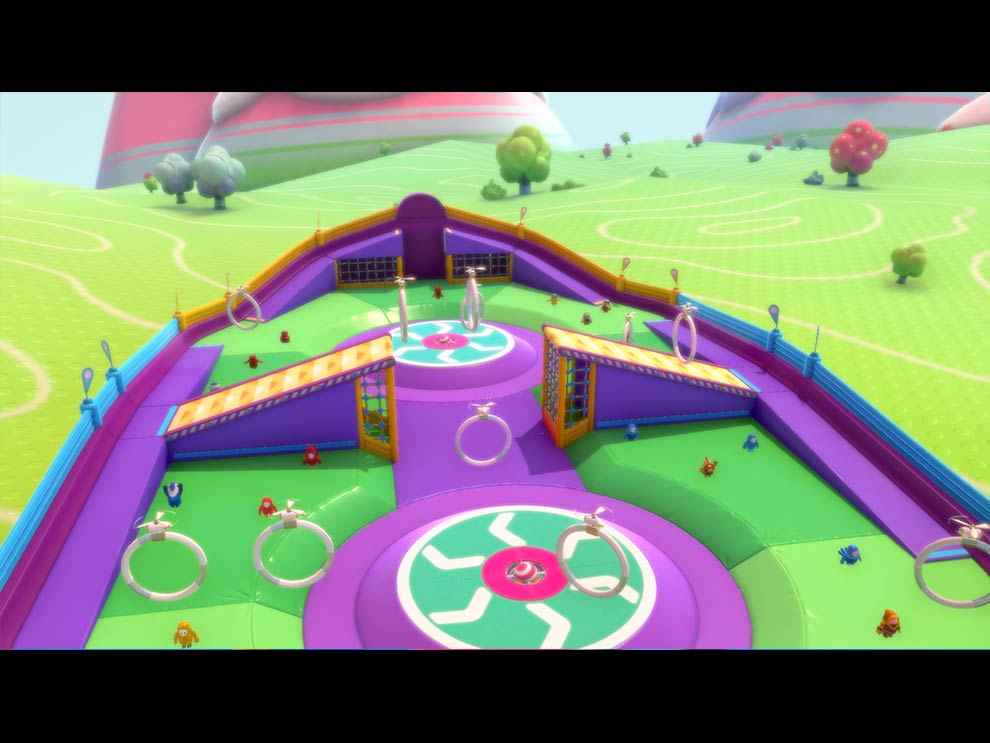 The best way to describe the music in this game would be - jumpy. It is loaded with a set of distinct energetic soundtracks that gets you hyped, right from the get-go. At times, you will hear this sort of cute anime-type music that is sure to lift your mood and force you to either mouth along or bop your head to its beats. Adding onto the music is the squeaky chew-toy-like character sound effect which feels playful and serves as a relaxant for moments of frustration.
Fall Guys: The verdict
In conclusion, Devolver Digital's chaotic take at a battle royale game manages to provide a hilarious and stupidly fun experience. It is a pure mayhem simulator that anyone can pick up with ease and have a good time. The game is a perfect mishmash of delight and annoyance. Where winning feels extremely rewarding, and the frustration from losing is short-lived. Other than the minor hiccups in regards to the servers and hackers which is guaranteed to be fixed eventually, Fall Guys: Ultimate Knockout proves to be a worthy multiplayer title with an even stronger future potential. Hell, we could possibly even be looking at the Game of the Year!
SKOAR! - 9.5/10
MOAR!
Developer: Mediatonic
Publisher: Devolver Digital
Platforms: Microsoft Windows, PlayStation 4
Played on: Microsoft Windows
Price: INR 529