If you are an avid gamer, novice or professional, chances are that you are staring at your screen for a considerable number of hours every day. Therefore, picking the best panel that you can stare at for hours at end, as well as the one that gives you the optimal performance while gaming, is extremely important. Gamers are familiar with the fact that monitors or panels are available in a variety of screen sizes and resolutions and they also offer different refresh rates, response time, colour reproduction and contrast ratio. It is important to understand the nuances, however basic, of panel technology in order for you to make the right choice.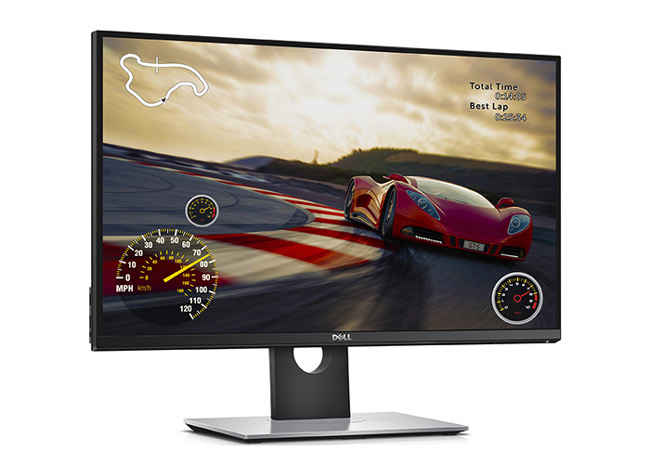 Low response time and a good refresh rate are desired by competitive gamers in their panels
There are two features that a panel intended for gaming must possess for it to deliver excellent performance – first being a high refresh rate (typically 144Hz) and secondly, and possibly most importantly, the lowest possible response times. However, with video games implementing mind-boggling graphics in recent years, factors such as good colour reproduction, contrast ratio and viewing angles are also becoming sought-after amenities in a gaming panel. The contrast ratio is also important because we may need to spot our enemies in a plethora of terrains and against different backgrounds. However, the general consensus, for good measure, is that the refresh rate and response time are crucial elements that have a direct impact on competitive performance.
TN (Twisted Nematic)
TN (Twisted Nematic) display or panel is the most commonly manufactured and distributed LCD monitor or panel type in the market today. Built with a nematic liquid crystal that sits comfortably between a pair of polarised glass sheets, the TN panel is affordable and offers excellent response times making it ideal for competitive gaming. TN panels are excessively common in the market to a point where if a panel does not clearly mention its type, you can almost always safely assume that it is a TN panel.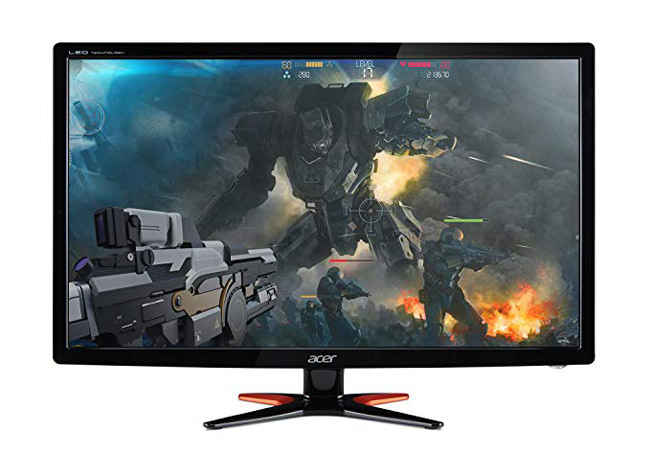 The Acer GN246HL offers a rapid response time of 1ms
These panels are abundantly commonplace, especially in gaming, since they boast low manufacturing costs leading to a low cost overall. TN displays sport extraordinary response rates in comparison to their VA and IPS counterparts since the pixels change rapidly leading to faster image production. The market is overflowing with top-notch TN panels with high refresh rates of 144Hz or higher. A few great examples from 2018 include the Acer GN246HL, the ASUS VG248QE, the BenQ Zowie XL2540, the Samsung UH750 and countless others.
VA (Vertical Alignment)
A VA (Vertical Alignment) panel is a type of LCD panel that utilises liquid crystals and electric currents, boasting a manufacturing process that is quite similar to TN panels. However, there are a set of improvements that elevate the quality of the visuals produced by these panels. However, the improvements made to VA panels definitely hinder the response times of these panels when compared to the good ol' TN panels. The response times usually deteriorate by a few milliseconds when compared to TN displays. They sport a low level of responsiveness when its pixels transition from one state to another. This may cause slight blurring when gaming.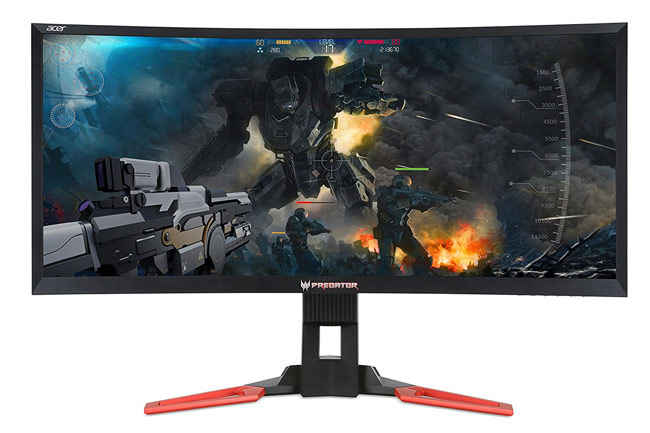 The Acer Predator Z35 (VN panel) sports a response time of 4ms but great contrast ratios and good colour reproduction
VA panels are categorised into MVA and PVA panels. Collectively, they boast greater contrast ratios and deeper blacks than that of their TN and IPS counterparts. This is achieved because of the ability of VA panels of being able to block light from the backlight when not required. VA panels also provide better colour reproduction and viewing angles when compared to TN displays but fall short of their IPS counterparts. More advanced VA panels today, even fix the response rate issue by using a superior pixel overdrive feature. Cost wise, VA panels are at par with IPS panels but are significantly higher priced than TN panels. A few capable VN panels include the BenQ EX3501R, the Samsung C27HG70 and the Acer Predator Z35.
IPS (In-Plane Switching)
Manufactured to enhance the image quality exhibited by TN panels, IPS (In-Plane Switching) panels have a number of selling points in their arsenal including consistency in performance, great colour reproduction and accuracy and superior viewing angles. IPS panels are exceptional when it comes to retaining the uniqueness and distinctiveness of each colour shade despite their position on the monitor. However, they do have their own set of drawbacks, especially when it comes to catering to gamers' needs.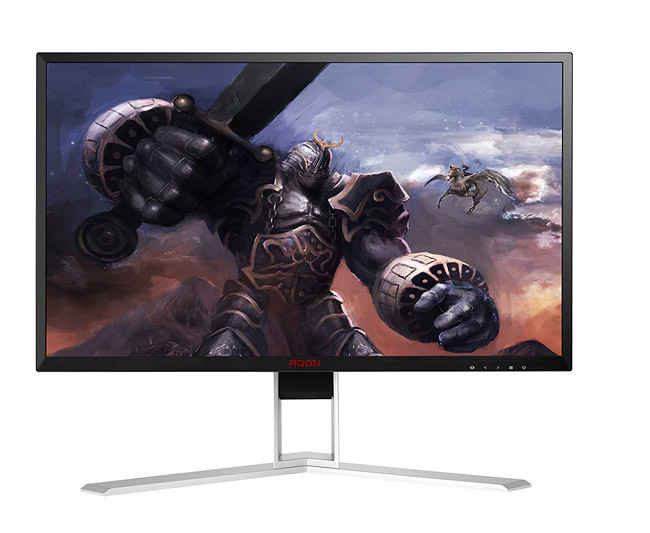 The AOC AGON AG271UG is a 4K IPS panel sporting great colour accuracy
The IPS panels lag behind when it comes to refresh rates and response times when compared to TN panels. While their response times are pretty much on par with VA panels, the refresh rates are typically much lower. They also fall short of producing better blacks, even though they do ample justice to all other colours across the spectrum. Additionally, IPS panels are usually exorbitantly priced when compared to TN and even some VA panels. Some examples of IPS panels are the Acer XR342CK, the AOC AGON AG271UG and the HP VH240a.
Choosing the best panel for you
Choosing the right panel for your gaming needs and style can sometimes feel like a Herculean task given the wide range of options available in the market, each sporting their own unique selling point. If you are a novice video gamer, there is no right or wrong decision, since all of these are probably capable of handling gaming at a more casual level.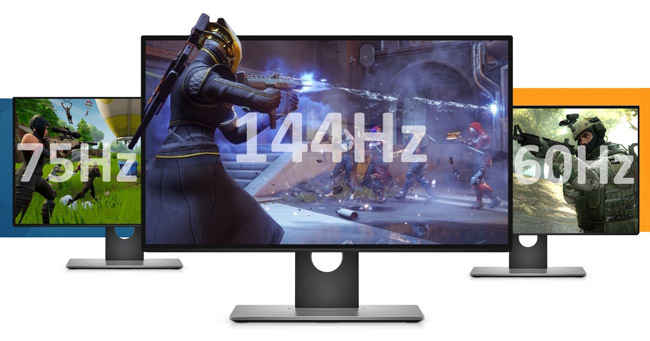 The choice between panels for gaming is based on the type of gamer you are
However, the tides turn when it comes to competitive or professional gaming since the minute differences each panel sports can essentially be the variance point between winning and losing. Winning or losing aside, the pros and cons of each panel translate to completely distinct user experiences. The aspects you value most as a gamer should be taken into consideration when choosing a panel that will be like the Robin to your Batman.
Across the wide assortment of gamers across the world, competitive and professional gamers often tend to favour TN displays. The reason for this is that TN panels are inherently the best suited for competitive gaming since they boast ridiculously fast response times (in 2018, mostly 1ms) and great refresh rates (144 Hz or above). This translates in smooth gameplay and images rendering astonishingly fast. When every split second is relied upon in the dynamic world of gaming, you want to make sure you have the best of the best (or the fastest of the fast). IPS panels take time to process images and therefore have a response time typically between 4ms to 8ms, which is usually better than or at par with VA panels.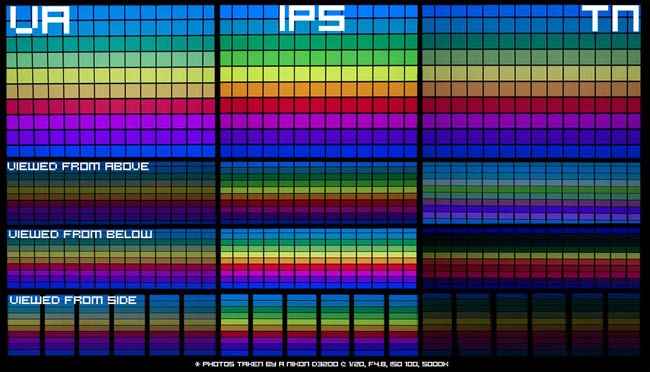 Viewing angles comparison between TN, VA and IPS panels
Despite this, some gamers tend to deflect to VA or IPS panels because of a few reasons. Firstly, TN panels have poor viewing angles and proffer an ugly shift in colours when viewed from different angles. IPS boast the widest range of viewing angles with VA coming in at second. Colour reproduction and accuracy are infinitely better on VA and IPS panels as well. Therefore, more casual gamers who really want to enjoy the graphics and visuals in video games may tend to lean towards these capable alternatives to TN panels. Usually, IPS monitors are highly recommended for content creation, image editing, graphics designing and video production.
Contrast ratios are where the otherwise neglected, usually dubbed as 'the in-between panel', VA display shines. Even though TN panels outperform IPS displays when it comes to better contrasts (producing better blacks), the VA panels nearly double the TN displays' capabilities in this aspect. Therefore, if your game is predominantly dark-themed or sports dark scenes, VA panels are your best bet to ensure good visibility.


VA panels offer the best contrast
From a budgetary standpoint, TN panels absolutely crush their competition by offering a great experience for gamers in terms of response times and refresh rates, along with good contrast and acceptable colour reproduction. All of this for a fraction of the price compared to IPS displays and lower than VA monitors as well.
OLED Panels
OLED technology has been available for quite a while now, but it has only recently begun to appear in the more mainstream television and monitor markets. However, their use, especially in gaming panels is quite limited, primarily due to the exorbitant costs. OLED panels stand out when it comes to contrast since they display the most authentic blacks by simply turning off the corresponding pixels. VA panels, that reign most superior in this domain among LCD monitors, still cannot compare to the contrast provided by OLED panels.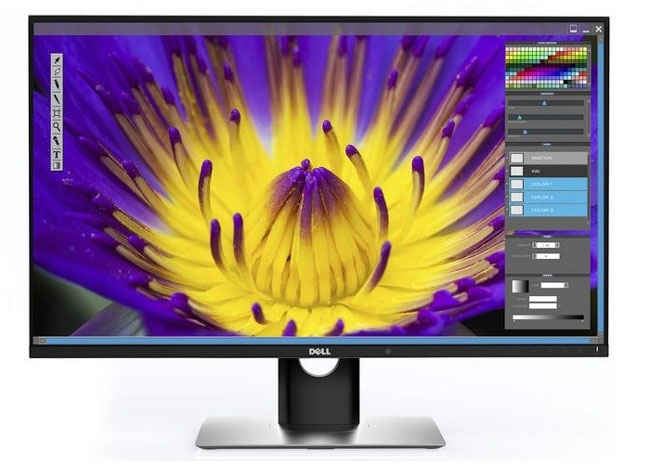 The Dell UP3017Q is an OLED panel was taken off Dell's website, unfortunately.
Additionally, OLED panels sport excellent viewing angles and colour reproduction. The viewing angles are great since there is very little space behind the screen where light can diffract. IPS, as well as VA to some extent, come almost at par with OLED's viewing angles and colour reproduction though. OLED panels also exhibit excellent response times but fall short in offering the highest refresh rates. It is also noteworthy that OLED panels are very expensive since the technology is comparatively newer and more cutting-edge.
We recommend going with LCD panels over OLED panels for gaming since they are ridiculously expensive and rare at this point in time. Also, a high-quality LCD panel is more than capable of delivering stunning gaming experiences at a much lower price point. It would make more sense to invest in an OLED gaming panel when the technology is more common, has worked out all its kinks, is easily available and is cheaper.
You can refer to this table to quickly assess what kind of panel would be best suited for your gaming style and requirements.
| | | | | |
| --- | --- | --- | --- | --- |
| | TN | VA | IPS | OLED |
| Response Time | Fast (typically 1ms in 2018, can range from 1ms to 4ms) | Slowest (may sometimes be in the double digits) | Slower than TN (4ms to 8ms, typically) | Fastest (can go as low as 0.1ms) |
| Viewing Angles | Poor viewing angles | Viewing angles are better than TN | Widest or the best viewing angles (in LCDs) | Best viewing angles |
| Colour reproduction and accuracy | Worst of the lot | Better control and precision | Great colour reproduction and accuracy | Great colour reproduction and accuracy |
| Contrast | Better than IPS panels? contrast | Best contrast amongst LCD panels | Worst contrast ratio | Best contrast |
| Price | Cheapest | Expensive | Very expensive | Most expensive (and rarer in the market as well) |
| Refresh rate | Highest (typically 144Hz or higher) | Middle ground (sometimes offers 144Hz as well) | Lowest (usually about 60Hz or slightly more) | Low (usually below 90Hz) |
| Game types | FPS games | Strategy (avoid fast-paced games) | Strategy (with excellent visuals) | Strategy (with excellent visuals) |
Conclusion
The decision between these panels, almost equally matched in their pros and cons, can be aggravating. However, the seemingly simple solution to this is understanding your priorities as a gamer. Ask yourself the question, what do you value the most when you are gaming?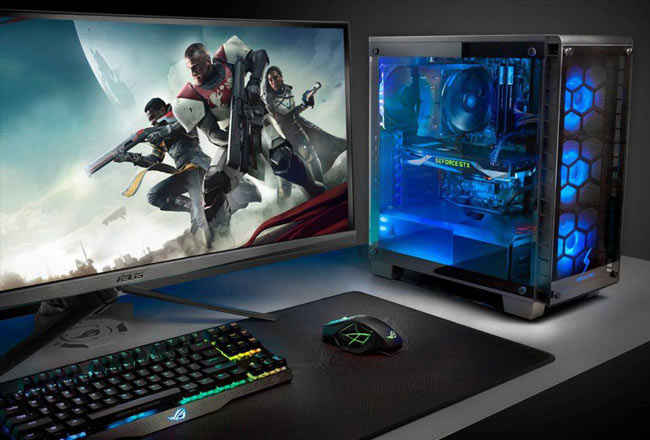 The best panel choice for you is purely based on your gaming needs
Is it speed and responsiveness? Then the obvious answer is a TN panel. Are you a professional or competitive gamer? TN panels are the way to go yet again. If you identify as more of a casual gamer, you could go for VA panels that try to bridge the gap between TN and IPS displays, offering great refresh rates and image quality. However, if you feel like the look that exudes grandeur or gore, in accordance with the game, is something that you need to experience, go with IPS panels. It is capable of handling casual gaming well and offers you the best possible image quality.
Did we make your decision of buying the best panel for your gaming style a tiny bit easier? Let us know what you thought about the article and also which gaming panel you have chosen. Write to us at editor@digit.in.