The bomb's ticking away, you have your crosshair positioned at the entry point. You spot your enemy enter and pull an inhuman flick with your scoped weapon; eliminating them and winning the round for your team. Of course, you have exceptional reaction time and skills, but winning that round wouldn't have been possible if your gaming mouse fell short on accuracy. While buying a gaming mouse, it's always better to prioritise the sensor and shape, especially if you're going to play FPS games, rather than drooling over RGB lighting.
Hence, we procured several gaming mice and compared them to find out which one could strike a balance between accuracy, durability, and features.
We go through a number of variables and tests to determine the performance and other aspects. To learn how exactly these parameters are evaluated, we recommend you to read how we test mice before continuing.
THE COMPETITION
Our search came down to 15 of the most popular gaming mice in the market across a wide price bracket. This comparison will act as a guide that you can return back to whenever you've made up your mind to buy your next gaming mouse. Apart from the specifications and scores, the pros and cons of each mouse have been added to make it easier for you to decide on your next mouse.
ASUS Cerberus
The Cerberus is an entry level gaming mouse from ASUS. At this price range, you can't expect high sensor accuracy. In fact, we observed the tracking and malfunction speed was pretty low (around 1m/s). Once the mouse crossed the tracking speed, the sensor failed to register further and only started detecting again after it dropped below the threshold. The mouse used to spin out whenever a hard flick was given, something what we experience in mice at lower price ranges. We couldn't test acceleration due to the low malfunction speed, but we didn't experience any acceleration in the lower speed range. At lower speeds, the mouse had great accuracy. The shortcoming of the sensor to read data at higher speeds should practically concern only those gamers who play in low CPI levels. The comparatively high lift-off distance will make aiming difficult for gamers who're used to lifting the mice while flicking. It has an ambidextrous design, offering a comfortable grip for both claw and palm grip.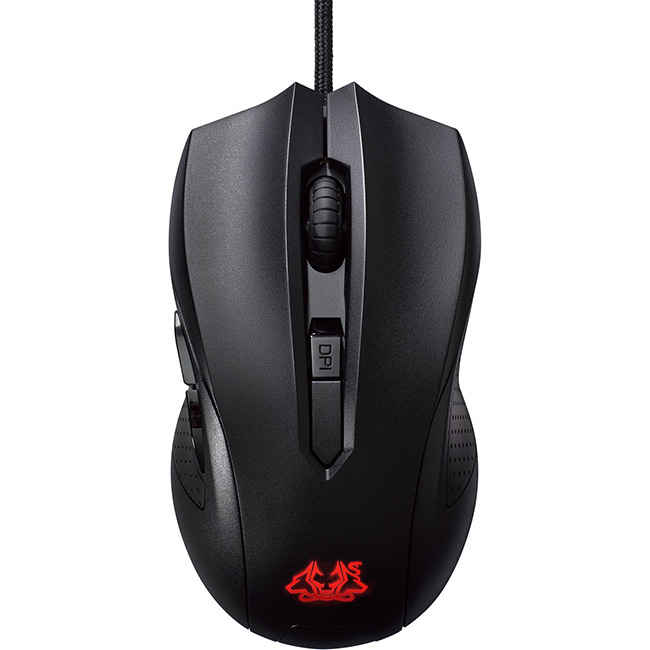 Cooler Master MasterMouse Lite S, S and Pro L
The Lite S is a comfortable mouse for people with small hands. It has a nice matte finish and on first glance, it looks and feels like a premium mouse. But don't expect much of an impressive gaming experience since the mouse does perform poorly at higher speeds. This is a concern for low CPI level players only. This mouse didn't spin out while flicking as compared to the Cerberus, and we were able to aim and take down enemies. The Lite S is a great mouse at this price and in terms of accuracy, the 3509 sensor is definitely better than the Cerberus's A5050. The cable attachment location is quite low on all the three variants but because of the MasterMouse S's textured and grooved cable, a noticeable amount of drag will hinder with your gameplay. This wasn't the case with the other two mice, where one of them has a braided cable whereas the other has a flexible plastic cable. For the maximum advertised DPI of 7200, we found the maximum and true CPI to be around 6600. The Pro L is the high-end mouse in their lineup, the focus being on using a close to perfect sensor, the 3360, and the ability to switch the body design between palm and claw grip with removable parts.
Gamdias Zeus P1 RGB
The Zeus P1 is the brightest RGB mouse we've had in our test labs and it surely looks brilliant. The RGB light ring reminds us of the Razer Mamba but here, there are two zones of the lighting around the mouse. The switches have low key travel and the feedback is minimal, making it our favourite for button spamming. The PTFE feet are too thin resulting in the middle portion of the mouse touching the mouse pad. Hence, it suffered slight skips, leading to further inaccuracies. A hard plastic surface would be better rather than soft surfaces. The scroll wheel is placed noticeably higher and is highly responsive. The steady slope throughout the body makes it perfect for palm grip, although a groove at the right and left click would have been more comfortable.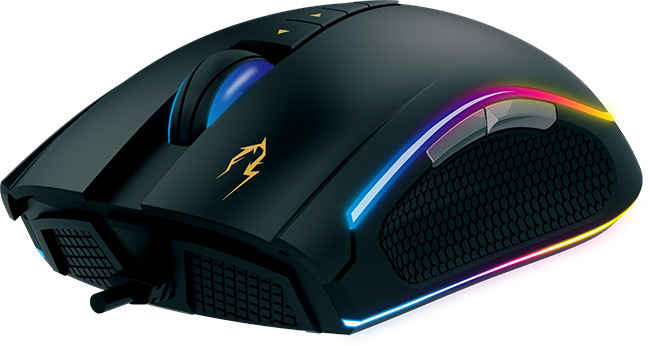 Gigabyte XM300
The XM300 is another ergonomic mouse with ridges on both sides which makes holding the mouse quite comfortable. The CPI levels aren't true, so we had to recalibrate them for testing, ending up at 950, 1800 and 3600. White plastic surfaces take a toll on the mouse's ability to track, dropping smoothness drastically. The unit we had received skipped a step in the scroll wheel. This could either be a defective unit or it wears out sooner than expected. The on-board 3988 sensor is quite accurate and stable at higher speeds, and considering the price being under 3k, it's worthy of buying.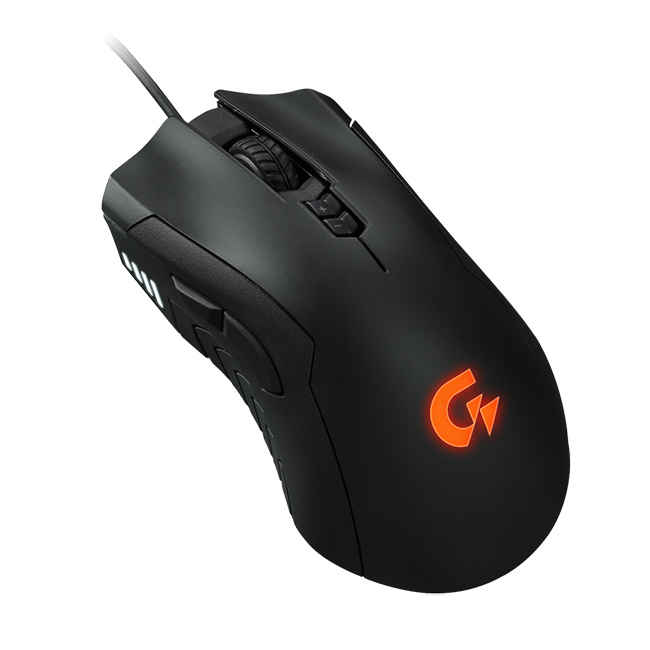 G.Skill MX780
While the MX780 does impress us with its alien-ish design, sturdy build quality, and multiple lighting zones, it fails on sensor accuracy. In fact, in our comparison test, the MX780 won both on features and build quality, so kudos to G.Skill for picking the right features and materials. We found the advertised DPI levels to be inaccurate and had to recalibrate them using their software to attain true CPI levels before testing. The mouse functions the most accurate on a white plastic surface whereas the Avago 9800 laser sensor drops accuracy drastically on rough mouse pads like the Razer Goliathus Control edition. The CPI levels had to be recalibrated one more time just for the Goliathus mouse pad. Hence, if you're planning on getting this mouse, we would recommend you against using rough and soft mouse pads. The highest supported DPI level mentioned is 8200, but our CPI calculation came out to be around 7800 on a white plastic surface. The A9800 sensor suffers irregular acceleration, sometimes positive while sometimes negative. Apart from the sensor inaccuracy, the mouse comes with an exhaustive set of features in its software to customise the RGB light zones and easily assign macros, becoming the best looking RGB mouse. The build quality is amazing with rubber coating, textured at the finger grips, held together with a metal frame inside, and giving you options of replaceable side skirts.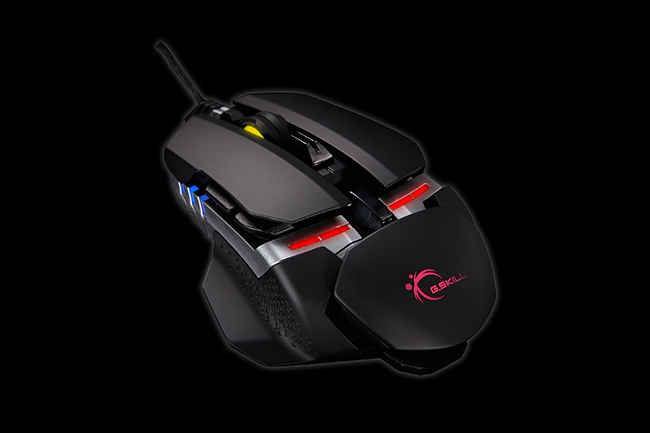 Logitech Proteus Core G502
The most popular mouse in this comparison and a flag bearer in overall accuracy, comfort, build quality, features and productivity, the G502 is a dream gaming mouse for many. Continuing the legacy of the G–series, the G502's main attraction is the exclusive sensor – the legendary 3366. But it comes at a price and weight, the latter being stressed because it's comparatively heavier at around 120 g. The infinite scroll wheel is a wonderful feature that we found ourselves using. Currently, the Spectrum version (RGB) is available as well, selling at around the same cost. You know what to do.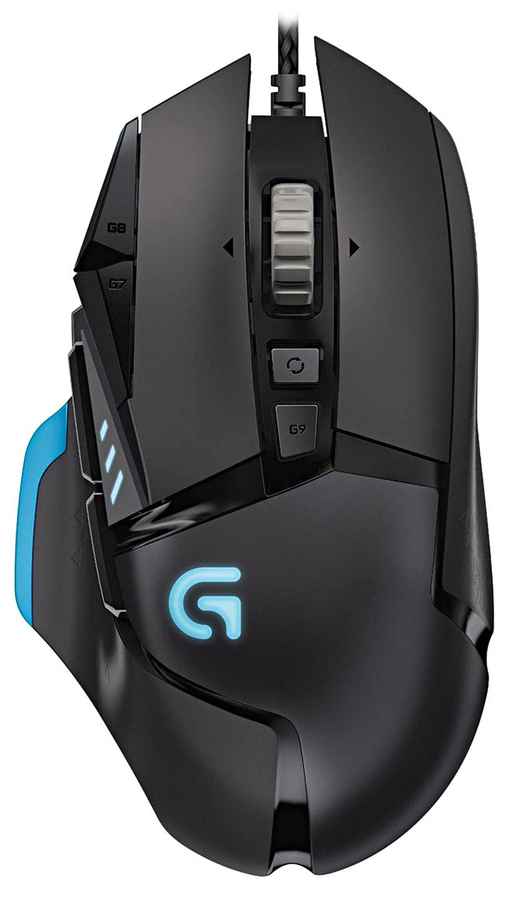 Razer Death Adder Elite
Razer continues its tradition of improving the venerable Death Adder every year, this time in the form of the Elite. It features the same iconic design with better texture on the side buttons, a better sensor which is highly accurate, and finally, custom manufactured switches with Omron with a durability of 50 million clicks. The mouse is perfect for claw grip and the wide feet ensure the necessary amount of friction is obtained. Our only qualm is with the limited features in the buggy software. Other than that, it's close to a perfect mouse, and only time will tell about its durability.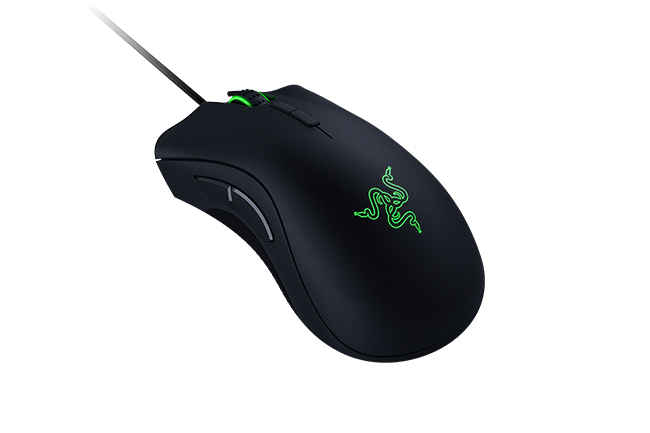 SteelSeries Rival 100 and 300
RGB lighting is present in almost every mice in this comparison, and other than indicating DPI, none of them have necessary functionality. SteelSeries has the best implementation with GameSense where your actions and state in a game affects the lights on your mouse. This feature works well and we tried it out in CS: GO. Speaking about the mice, the 100 is a great budget option for a small gaming mouse with limited control to the DPI settings in the software whereas the 300 is a better option, meant for bigger hands and has a better sensor. They are available in different colours and accents.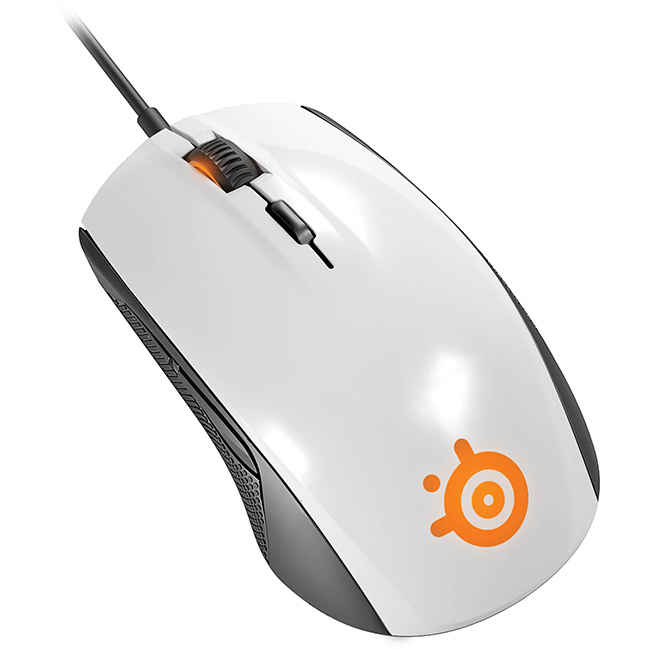 Tt eSports Ventus Z
The Ventus Z brings back the meshed design we had seen on the Level 10 M Advanced RGB. Although, the mesh didn't offer any functionality, other than just aesthetics, in the latter because of its useless location. But in the Ventus Z, the lower palm area sports the mesh that lets your palm breathe during intense gaming sessions. The Avago 9500 is more accurate on a solid coloured surface but the acceleration can be as frustrating as seen on the MX780. But if you're a high CPI player, you don't need to worry. The Ventus Z also acts as a great productivity mouse because of the extra buttons that can be assigned macros using the software. Few of the buttons have poor tactile feedback, but it's totally subjective on your part. The software does a great job of giving you granular control on what each key press will do, giving you a list of predefined actions.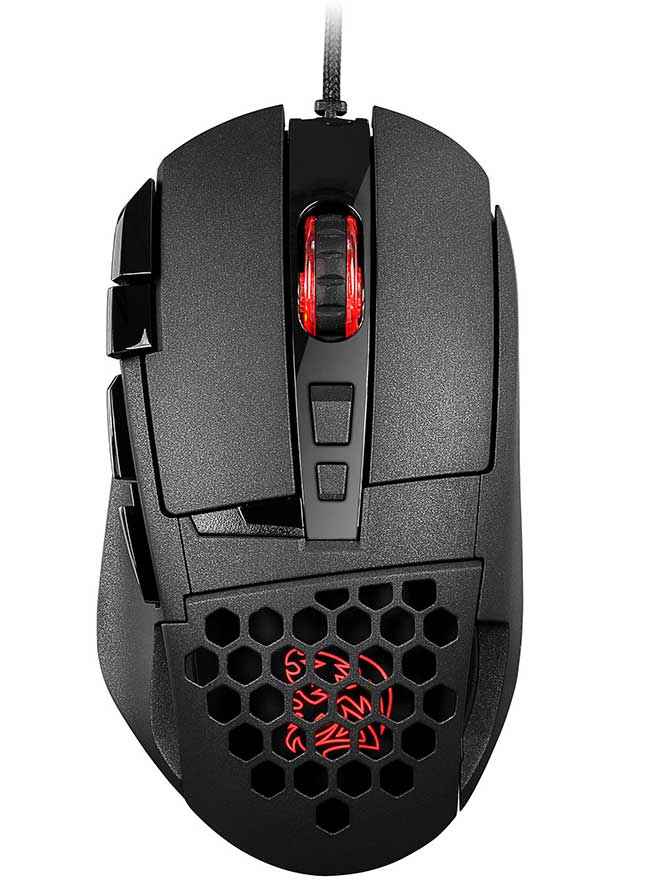 Zowie FK2, EC2-A, and ZA11
Zowie's lineup of mice are so exhaustive that no matter what size hands or grip preference you have, they'll surely have a variant for you. Players who love ambidextrous mice will feel at home with the FK2. It's built for gamers with smaller hands, but if you have bigger hands, you should check out the FK1 or FK1+. Out of the three that we considered in the comparison, we loved the ergonomic design of the EC2-A and how it perfectly took the shape of our hands. The maximum DPI is advertised as 3,200 but we verified from our MouseTester and Enotus tests and found the true CPI to be around 3000 on FK2. The ZA11 didn't have any CPI difference as reported in the other two mice and had close values out of the box. Because of the prominent bump at the middle, the extra height makes the mouse comfortable for palm grip users. All of them use the 3310H sensor which is highly accurate and have zero to negligible acceleration. But do note, the 3310H hates white surfaces, failing to track at all and works best on black cloth mouse pads. Speaking of the differences, the FK and ZA series are ambidextrous and low-profile, while the EC series is ergonomic (right-handed users). If you're the kind of person who doesn't care about additional – and mostly useless features – but only care about comfort and accuracy in a mouse and are looking for competitive gaming, Zowie has them all.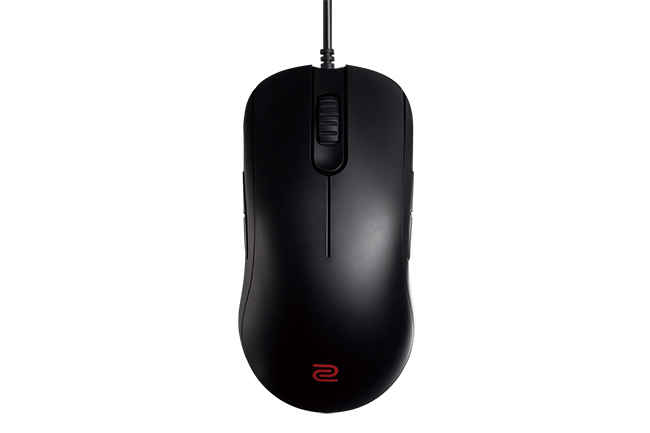 | | | | | | | | |
| --- | --- | --- | --- | --- | --- | --- | --- |
| Mouse | Sensor Module | Switch Modules | Ambi- dextrous | Size LxWxH (mm) | Weight | Max. DPI | Price |
| ASUS Cerberus | A5050 (Optical led) | Yusya | Y | 124.86 x 68.72 x 40.11 | 155 | 2500 | 1,500 |
| Cooler Master - Master Mouse Lite S | PixArt 3509 (Optical) | Omron D2FC-F-7N | Y | 117 x 63 x 38 | 86 | 2000 | 1,500 |
| Cooler Master - Master Mouse S | PixArt 3330 (Optical) | Omron D2FC-F-7N | Y | 117 x 63.5 x 38 | 89 | 7200 | 2,500 |
| Cooler Master - Master Mouse Pro L | Avago 3360 (Optical) | Omron D2FC-F-7N | Y | 130 x 67.8 x 38 | 127 | 12000 | 5,000 |
| Gamdias Zeus P1 RGB | PMW 3336 (Optical IR) | Huano | N | 127.26 x 72.45 x 40.85 | 125 | 12000 | 5,999 |
| Gigabyte XM300 | Pixart 3988 (Optical) | Omron D2FC-F-7N | N | 130 x 60 x 43 | 101 | 6400 | 2,990 |
| G.Skill MX780 | Avago ADNS 9800 (Laser) | Omron D2FC-F-7N | Y | 130 x 70 x 38 | 120 | 8200 | 5,429 |
| Logitech Proteus Core G502 | PixArt 3366 (Optical IR) | Omron D2FC-F-7N | N | 132 x 75 x 40 | 121 | 12000 | 5,495 |
| Razer Death Adder Elite | PMW 3389- T3QU (Optical IR) | Omron D2FC-F-K-RZ | N | 127 x 73 x 43 | 96 | 16000 | 5,999 |
| Steelseries Rival 100 | PixArt 3059 (Optical IR) | Steelseries switches | Y | 120.6 x 67.13 x 40 | 92 | 4000 | 2,799 |
| Steelseries Rival 300 | Pixart PMW 3310 (Optical) | Steelseries switches | N | 133 x 70 x 46 | 105 | 6500 | 4,399 |
| TT eSports Ventus Z | Avago 9500 (Laser) | Omron | N | 139 x 71.5 x 39.29 | 130 | 11000 | 4,200 |
| Zowie EC2-A | PMW 3310H (Optical) | Huano | N | 120 x 64 x 40 | 93 | 3200 | 5,622 |
| Zowie FK2 | PMW 3310H (Optical) | Huano | Y | 124 x 64 x 36 | 85 | 3200 | 5,166 |
| Zowie ZA11 | PMW 3310H (Optical) | Huano | N | 128 x 6 x 40 | 90 | 3200 | 5,116 |
VERDICT
Best performer
Steelseries Rival 300
The comparison included several accurate sensors including the PMW3360, PMW3366, PMW3310 and PMW3310H. It would have been unfair to select the best just based on the accuracy of the sensor while putting less importance on the collective performance over different surfaces. Throughout the testing, we observed in real world tests how the surface could drastically affect the mouse's performance with something as minor as a colour patch on the mouse pad. The Rival 300 consistently performed well in terms of precision on rapid movements and performance on different surfaces. We reported CPI level discrepancies on almost every mice but out of the box, but the 300 had an accurate value of 800 set at the default level. Although the Zowie FK2 won in sensor accuracy and stability test, the Rival 300 bagged the first place title in overall performance.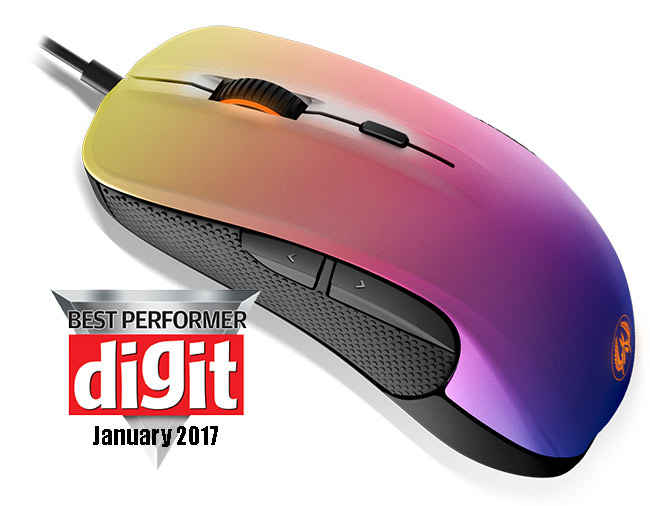 Value for money
ASUS Cerberus
It wasn't a surprise for the Cerberus to win the value for money award. We've already mentioned that it's an entry-level gaming mouse. The MasterMouse Lite S falls short by a whisker. It also sports a gaming look which would certainly look good sitting on your desk. But the inaccuracy and malfunction anomaly that we observed during our tests at moderately high speeds, keeps us sceptical about recommending the mouse for gaming, especially for FPS games. However, you'll only need to worry about accuracy if you're a low CPI player. If your FPS gaming doesn't involve much hand movement but mostly twists in your wrist, you could be happy with the Cerberus. Otherwise, you should go for the MasterMouse Lite S at a slightly higher price.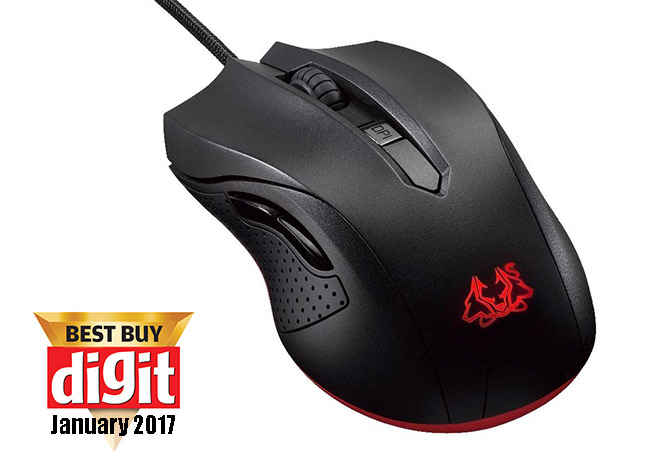 Editor's Pick
Logitech Proteus Core G502
At the test labs, we were rooting for the G502 to win the comparison hands down. It still remains our favourite gaming mouse because of everything it delivers. Holding the mouse is a treat. The palm bump perfectly aligns with our hands every time, and each time it's hard to believe that this is a universal design. Having used only small and lightweight mice, the G502 does feel heavy, but some of us were able to adapt thanks to the adjustable weights.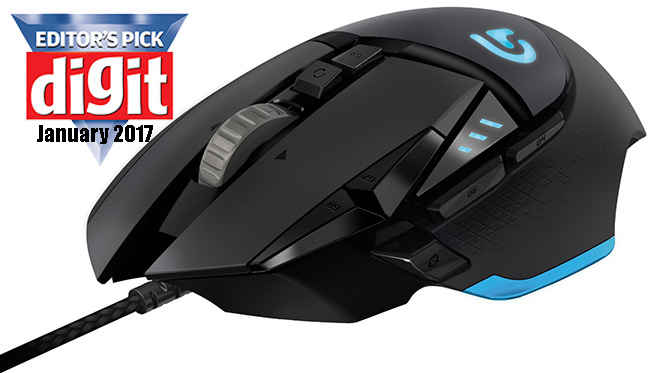 We are all for ergonomic mice, so if it wasn't the G502, it would have either been the Zowie EC2-A or the Death Adder Elite. With so many mice lying around, we got the opportunity to experiment with different grips and discover how it affected the gameplay. After having tested so many mice at a stretch, we've been reassured that the shape, comfort, and accuracy of gaming mice will trump any of the RGB voodoo being advertised to sell these gaming mice. Don't be fooled. Until then, happy fragging.
This article was first published in January 2017 issue of Digit magazine. To read Digit's articles first, subscribe here or download the Digit e-magazine app for Android and iOS. You could also buy Digit's previous issues here.