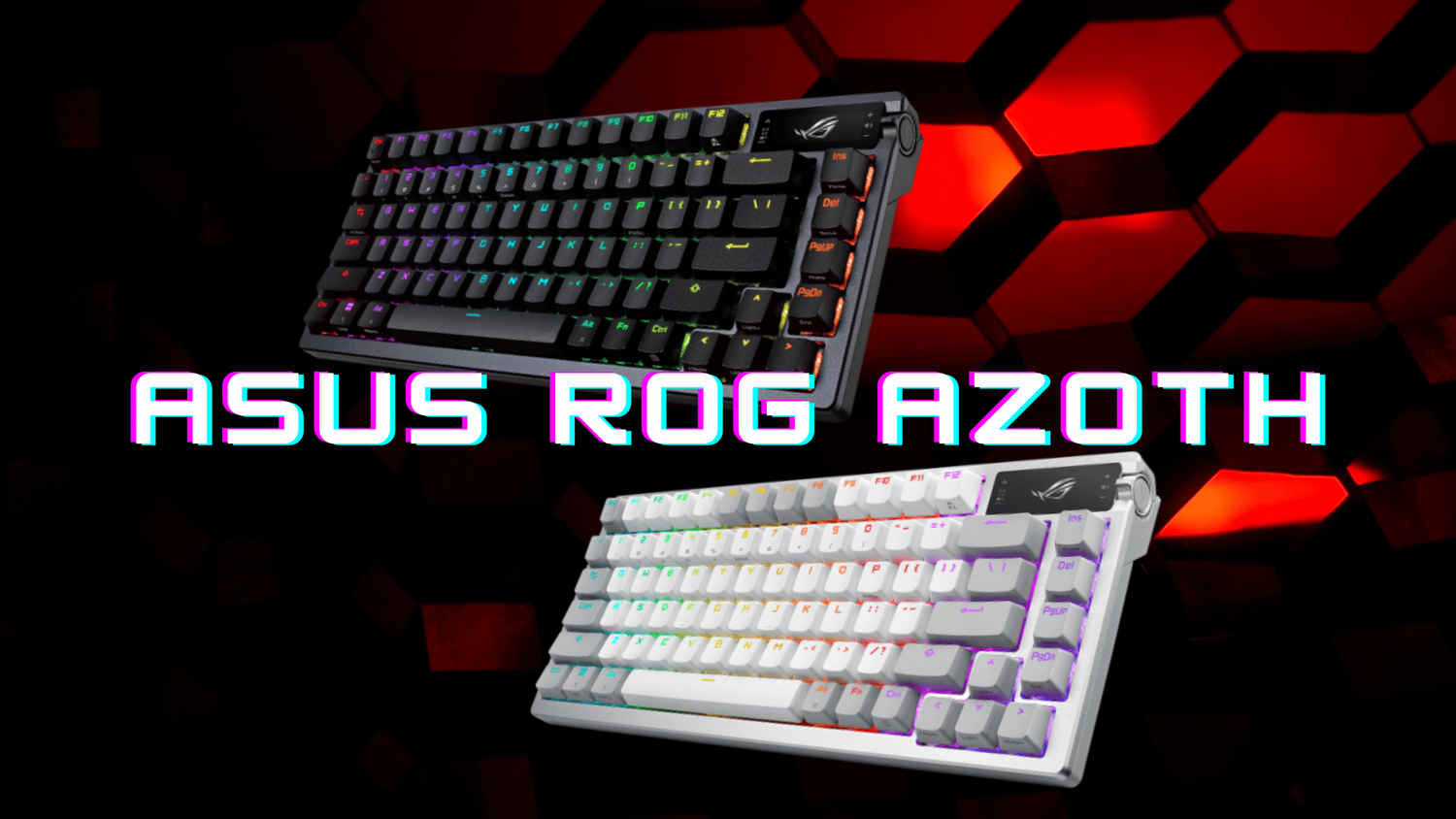 The ASUS ROG Azoth is certainly a standout gaming keyboard in the market right now, with a unique blend of features and exceptional build quality. In this review, we take a deeper look into this premium wireless gaming keyboard. We'll explore its design, key switches, connectivity options, OLED display, customisation features, software, and more. Without further ado, let's dive in!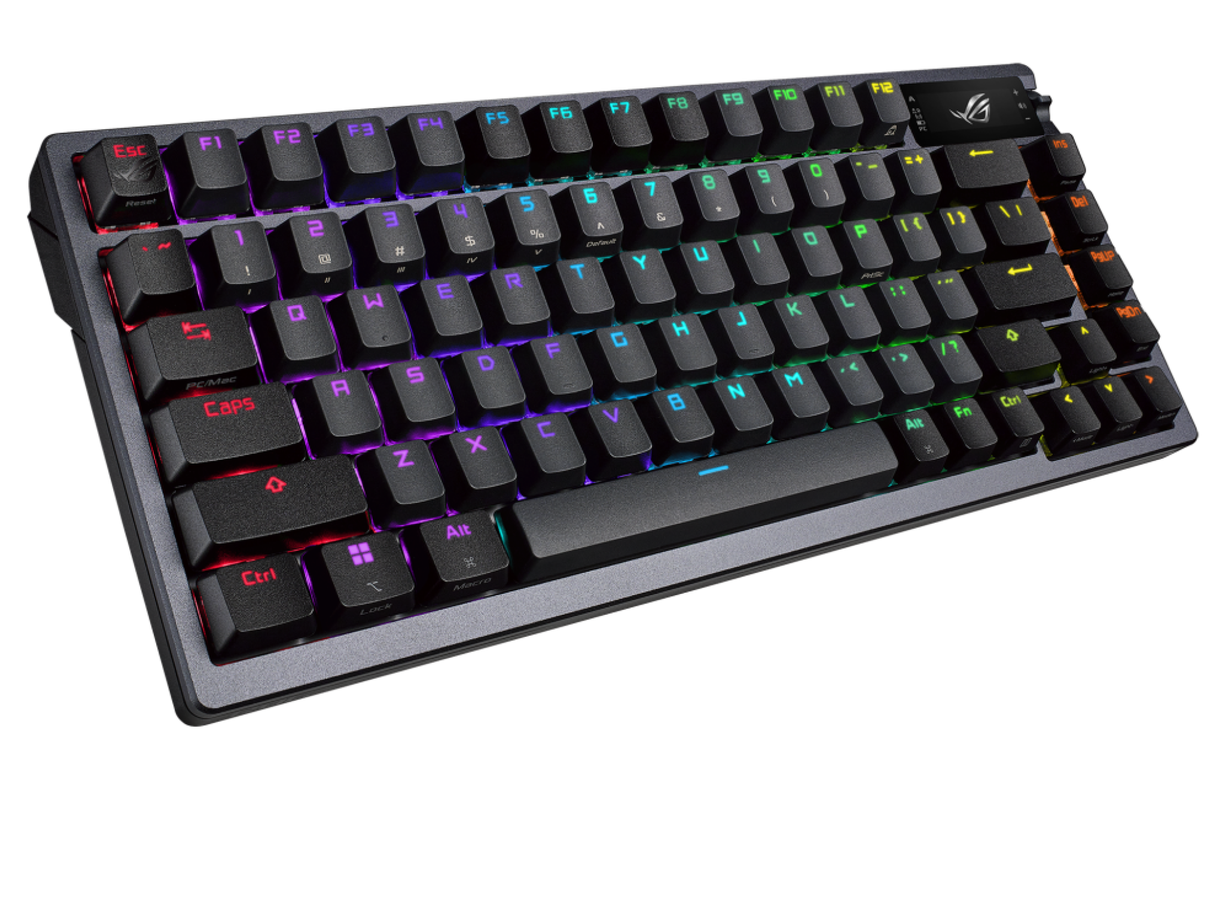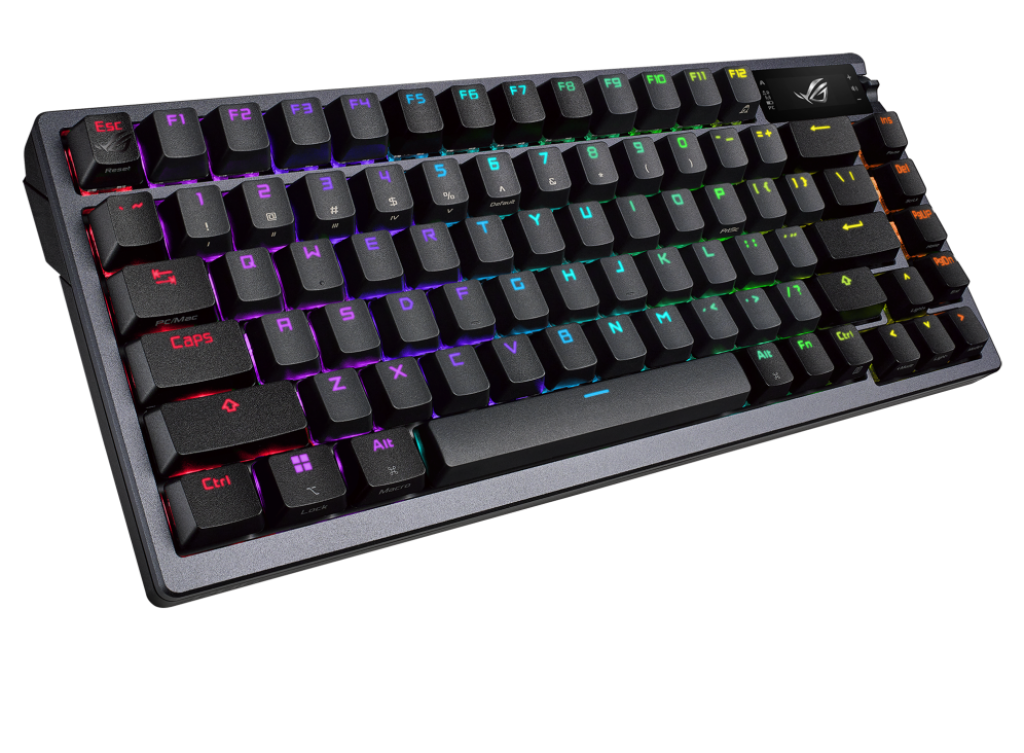 ASUS ROG Azoth Build and Design
The first thing you'll notice about the ROG Azoth once it's out of the box and in your hands is the design and robust construction. It's a wireless gaming keyboard, which makes it an excellent choice for those seeking a clutter-free gaming setup. It features a 75 percent form factor, which has been gaining a lot of traction with gamers of late. Compact gaming keyboards are great for gamers who require more desk space for unrestricted mouse movement, especially competitive FPS gamers.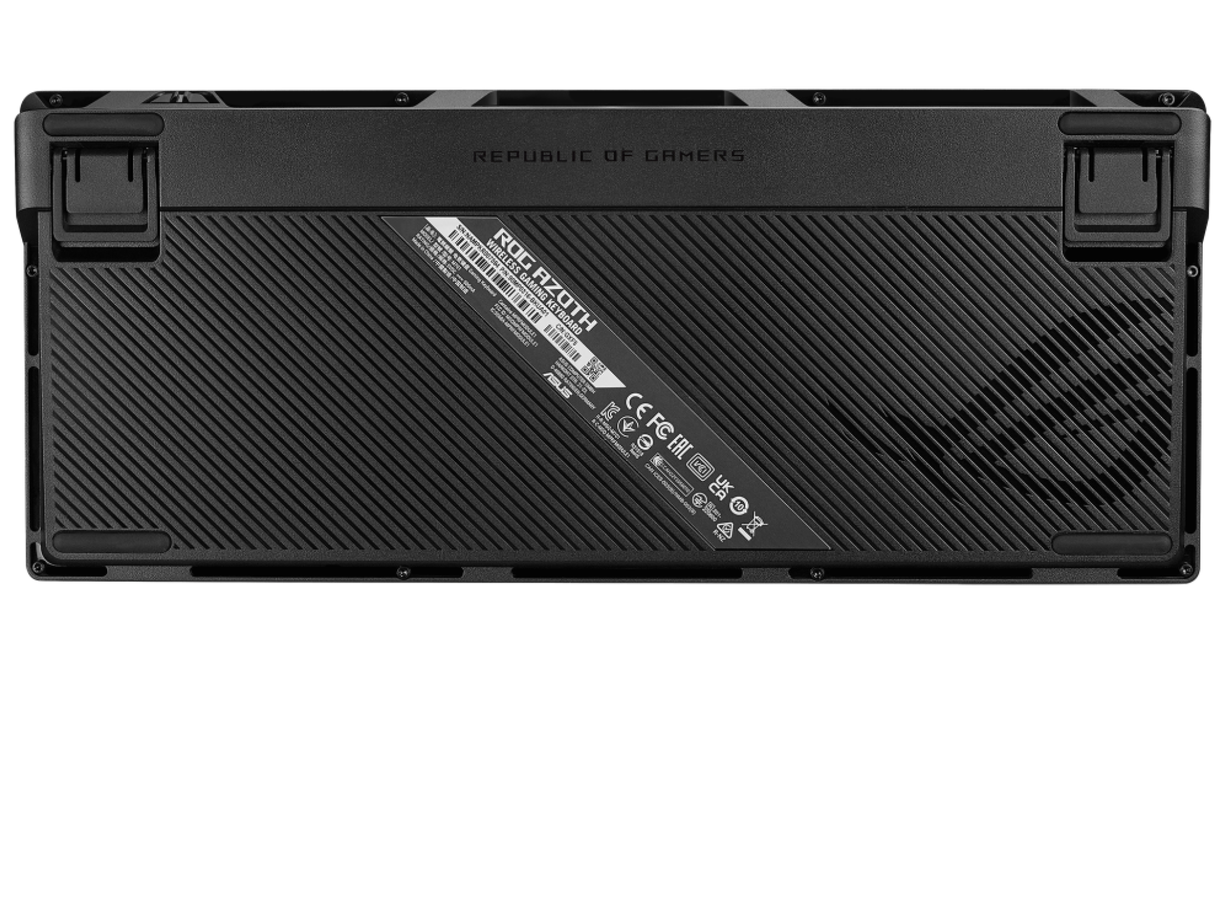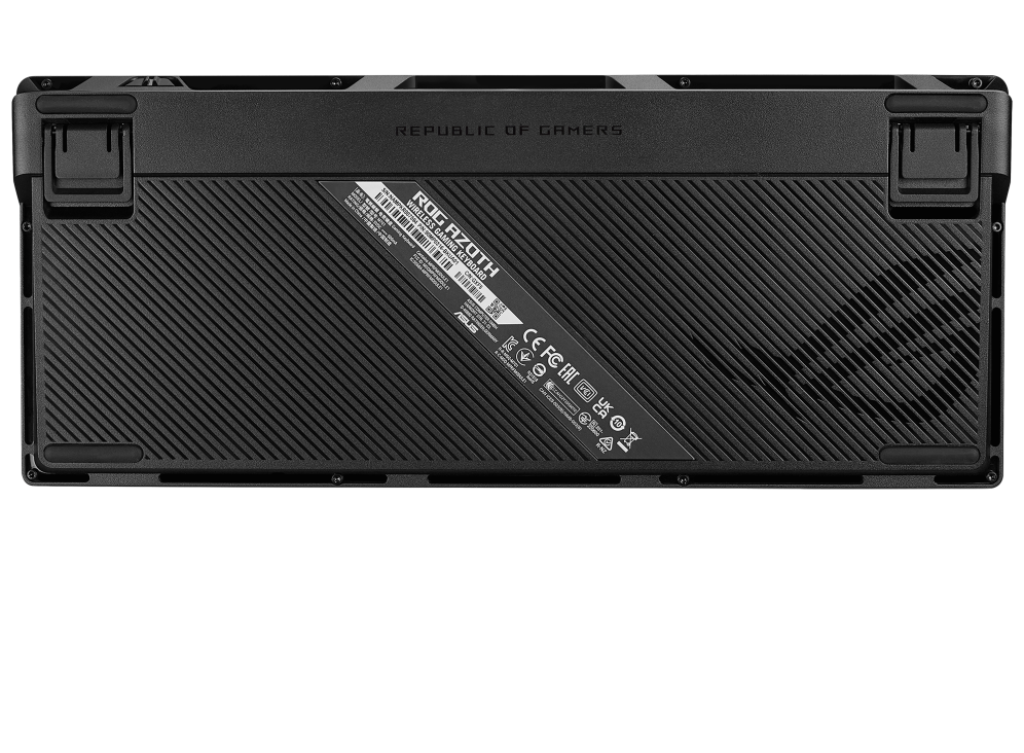 The Azoth features a metal top plate, with a sleek gunmetal grey finish. Not only does the top plate give the keyboard a very premium feel, it also enhances its durability. You can have your rage gaming sessions without fear.
The Azoth comes with dual-tone doubleshot PBT keycaps which are known to be long lasting. Doubleshot keycaps also ensure that the legends on the keycaps won't fade or wear off over extended use.
ASUS ROG Azoth Key Switches and Typing Experience
The ASUS ROG Azoth comes with pre-lubed ROG NX switches. Our review unit came with NX Red switches, which are linear are don't have a tactile bump. I'm not going to lie, the typing experience on this keyboard was pretty fantastic. These switches offer a very polished and stable feel. Response time and actuation also feel great; I had zero complaints while both gaming and typing.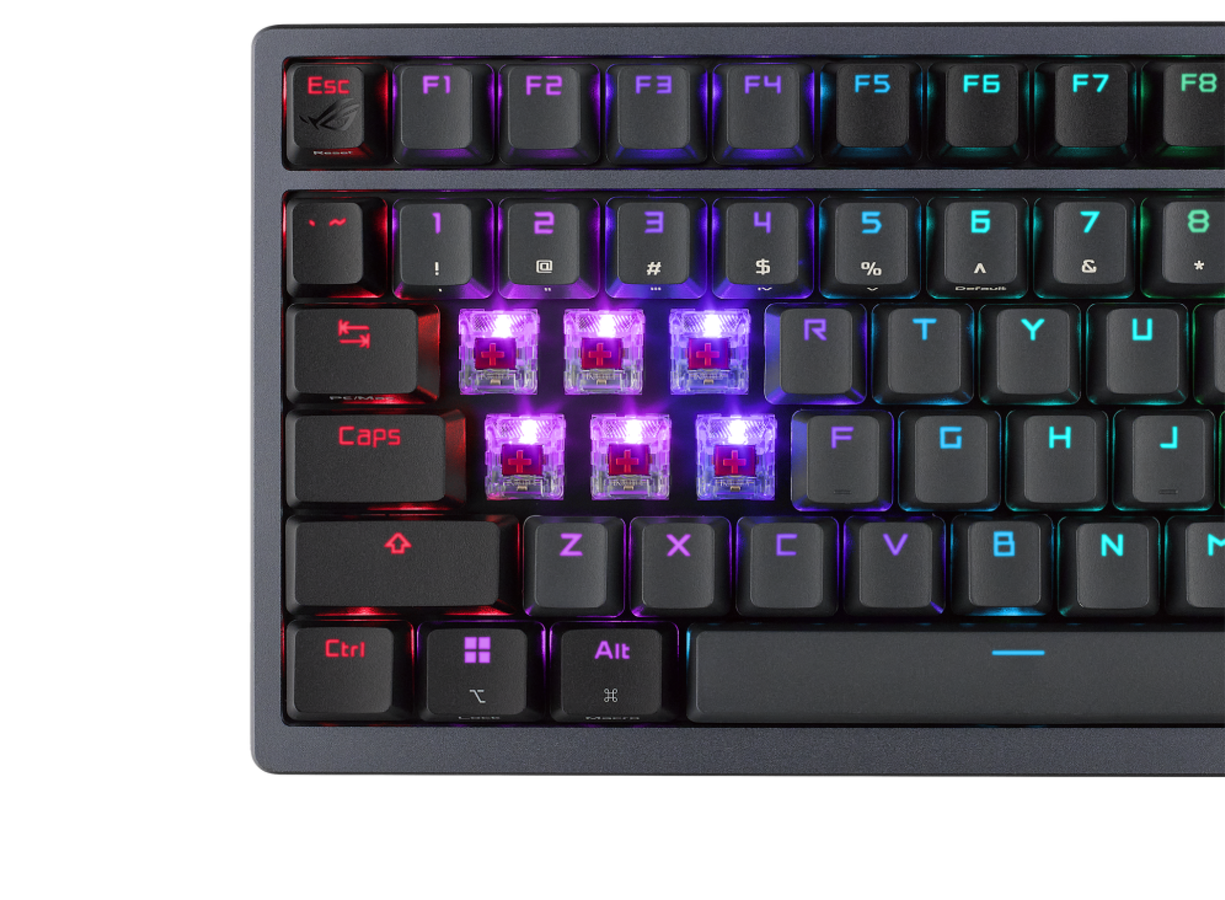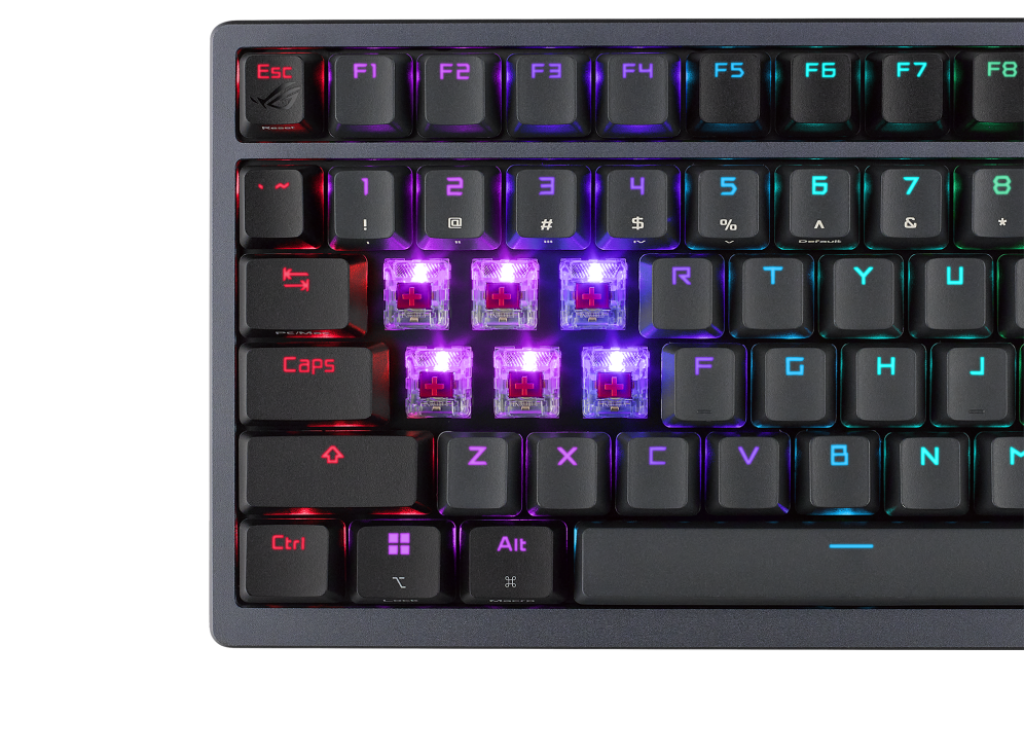 Other than that, you also have NX Snow, NX Storm, NX Blue, and NX Brown switches. The keyboard is designed to be fully customisable, including swappable switches. You can replace the switches with your preference.
Connectivity and Battery Life
The ASUS ROG Azoth supports USB 2.0 wired, 2.4GHz ROG SpeedNova wireless, and Bluetooth connectivity.
With Bluetooth, you can pair to and switch between up to three devices at a time. This flexibility is particularly valuable for those who toggle between multiple devices, such as a gaming PC, a tablet, or a smartphone.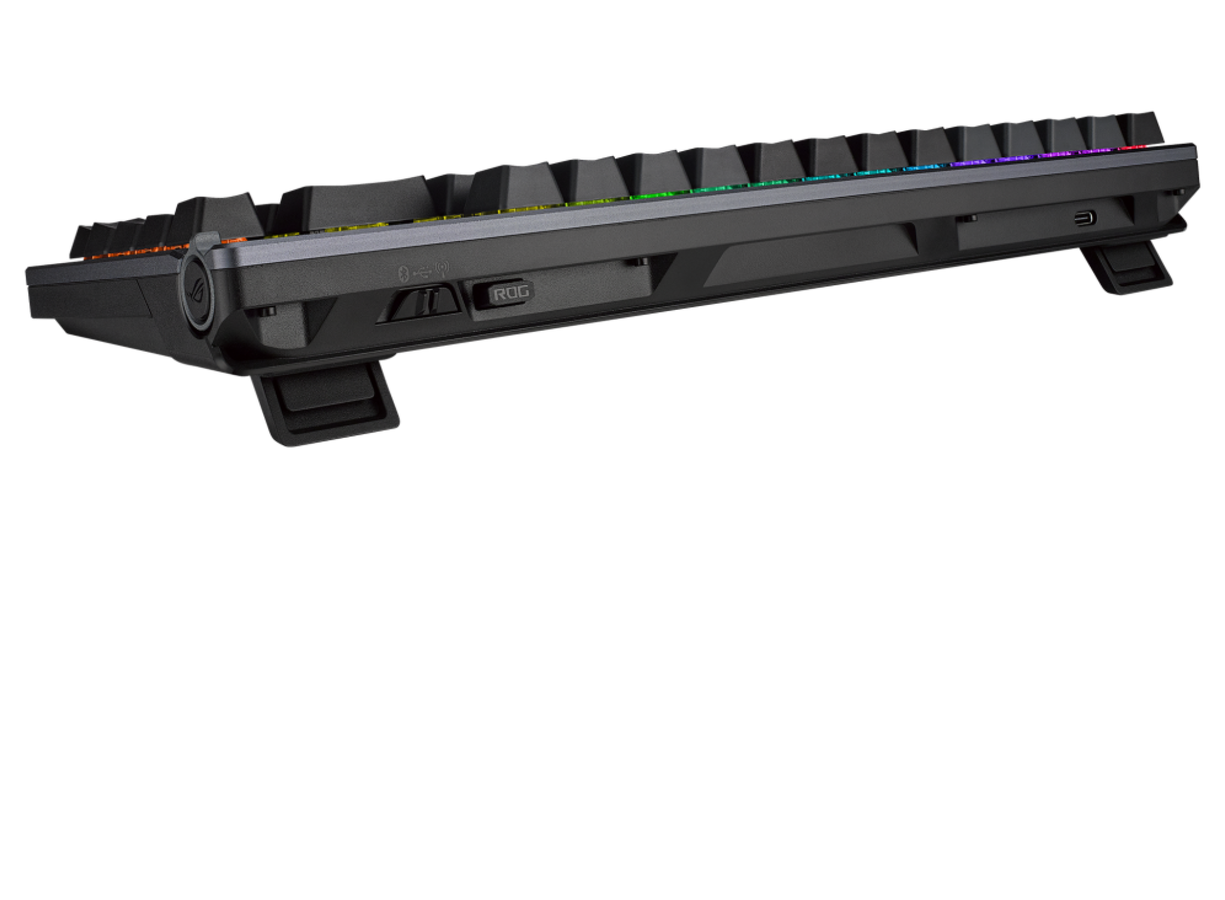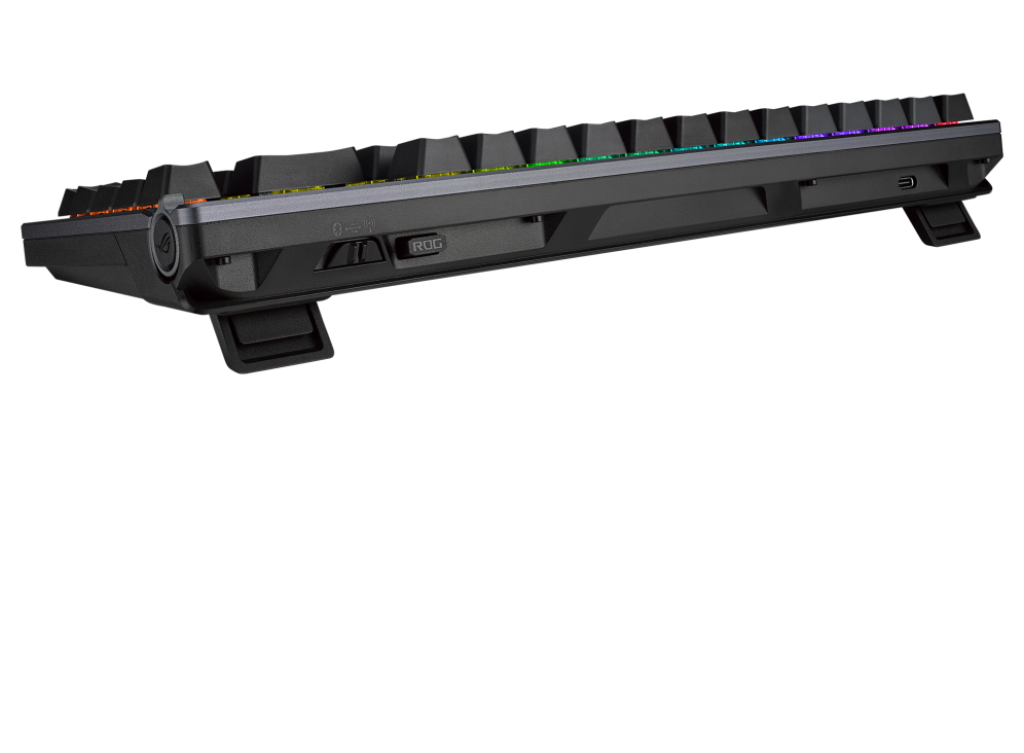 Then you have the 2.4GHz ROG SpeedNova wireless technology. Here's the kicker, if you're using this keyboard with the OLED screen turned off, and the RGB lighting off, you can get a whopping 2,000+ hours of battery life on this keyboard while using 2.4GHz. That is not a typo. 2000 hours. That is pretty nuts. You could safely go months without needing to charge this keyboard.
OLED Display and Controls
The OLED display is a bit of a gimmick. Is it necessary? I don't think so. Is it cool? Definitely. There are some benefits to the display though, for instance, you can use the screen to keep an eye on system statistics, monitor in-game performance, and even adjust settings without needing to navigate through software menus.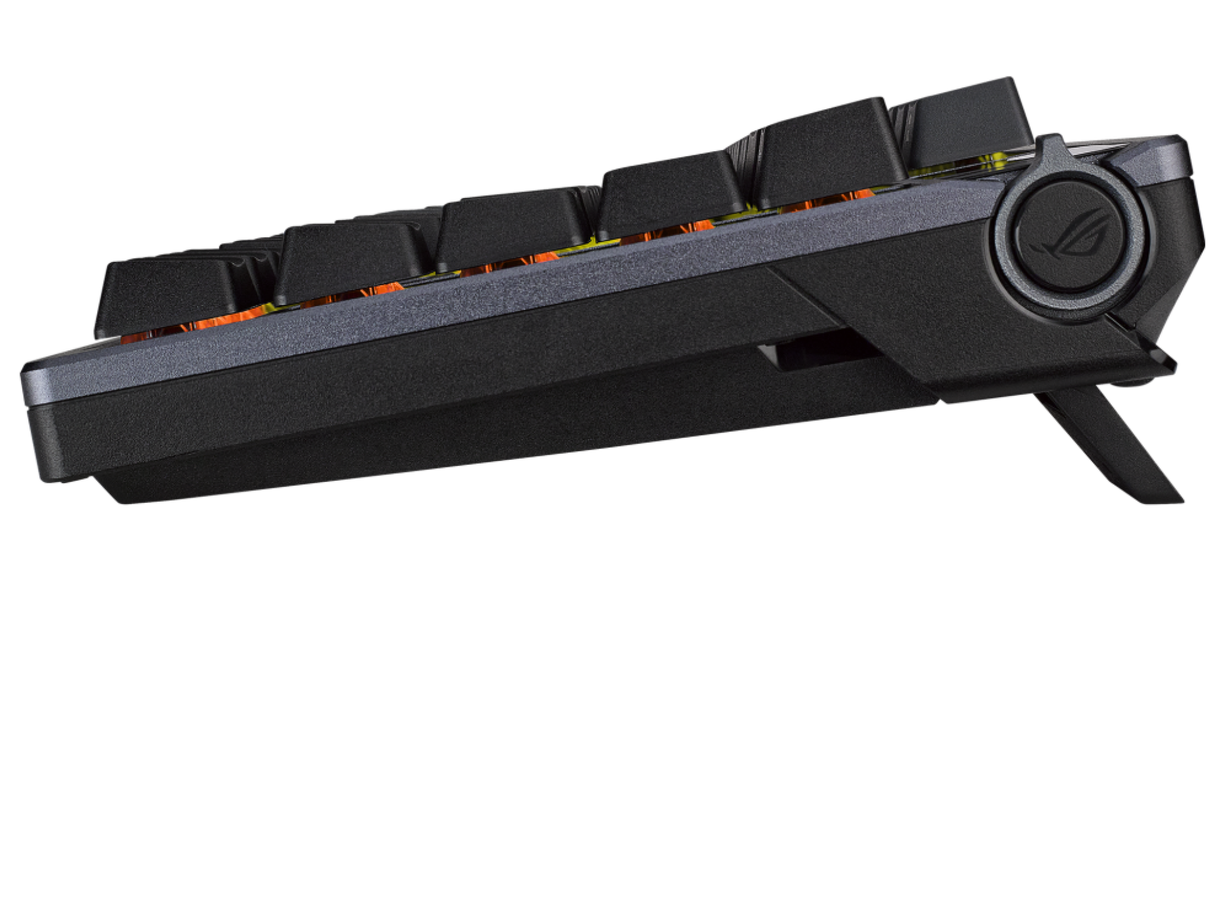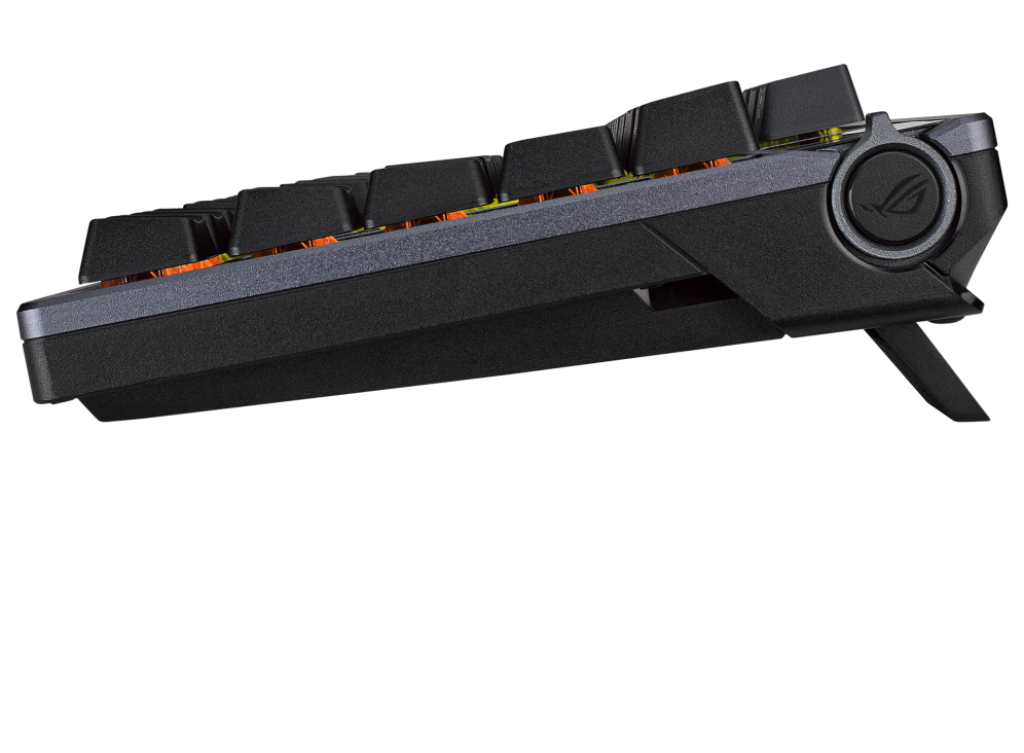 Beside the display, the Azoth is equipped with a built-in three-way knob. By default, you can use this to adjust volume controls and mute unmute. It can also be used to navigate the OLED display. This could be anything from adjusting RGB lighting effects, changing profiles, or modifying macros.
More than just the keyboard
The ASUS ROG Azoth comes with a switch lube kit inside the box. This kit includes the Krytox GPL-205-GD0 lubricant, a valuable tool for users looking to venture into the realm of keyboard DIY. Lubing switches can improve their performance, reduce friction, and minimize keystroke noise. Furthermore, ASUS hasn't limited modifications to ASUS-specific parts, users who prefer MX Switches should have no compatibility issues either.
ASUS has even included a sort of starter tool kit for keyboard tweakers. This kit equips users with the essential tools and accessories required for keyboard modifications, switch replacements, and keycap upgrades.
ASUS ROG Azoth Software
The only downside to the ASUS ROG Azoth is the software support. Being an ROG product, understandably the keyboard uses Armoury Crate. There's certainly no shortage of customisation options however, it's not at all intuitive. Navigating through the software is a pain and not at all user-friendly in my opinion.
ASUS ROG Azoth: The Verdict
The ASUS ROG Azoth is a pretty fantastic keyboard. It's got all the frills, and exceptional customisability and personalisation, all of which are marred only by the poor software experience. The OLED, while a bit of a gimmick to me, certainly has its uses, and the entire package comes at quite a premium price. Rs 23,000 for a keyboard is no joke. That said, I still wouldn't say it's not worth the investment, especially if you're into DIY mechanical keyboards or are simply looking for what is potentially the best DIY 75 percent mechanical keyboard in the market right now.