The Airborne Kingdom – a vast cornucopia of propellers, fans, and minarets, sailing through the skies as it casts an ever growing shadow on the lands below; the very same lands that fuel its growth. While that sounds rather gloomy the way we've put it, the game is everything but. Read on for the complete review!
Airborne Kingdom Story
Most city-builders will throw you into the game, give you a bunch of tutorials on how you can get started, and then leave you to it. This is not exactly the case with Airborne Kingdom, where you have a final goal that you're required to achieve to "win" (or end) the game. The gist of the story is that there used to be an Airborne Kingdom that brought prosperity to the lands and connected all the kingdoms on the land. However, one day the kingdom went poof and over aeons it was just thought to be a legend. During this time, the kingdoms lost their connections to each other; all that connected them now was the existence of a prophecy that told of the return of the Airborne Kingdom, which would once again bring prosperity.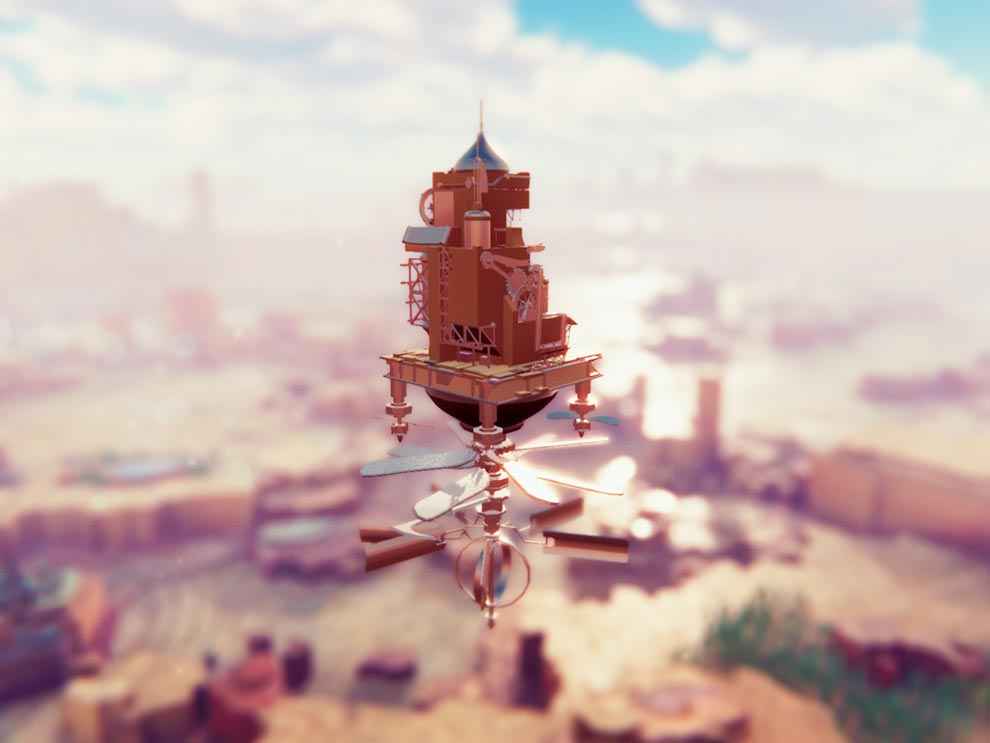 As prophesied, the tech to restart the Airborne kingdom was found again, and this time, you're in the pilot seat. You have to ensure that the Airborne Kingdom prospers (and remains flying), all while also finding and connecting all the kingdoms.
Airborne Kingdom Gameplay
At its core, Airborne Kingdom has all the elements one would expect from a city-builder. You've got your bare necessities à la food and water, in addition to resources such as wood, clay and quartz which you can gather. These resources will be used to make construction material like bricks, glass and cloth. In order to actually gather these materials from the land, you'll need to build a hangar. Once you have a hangar, you'll be able to see little airplanes making their way down to the resource and then heading back. And did we mention the whole kingdom is mobile? You're basically flying around gathering up resources as you pass overhead.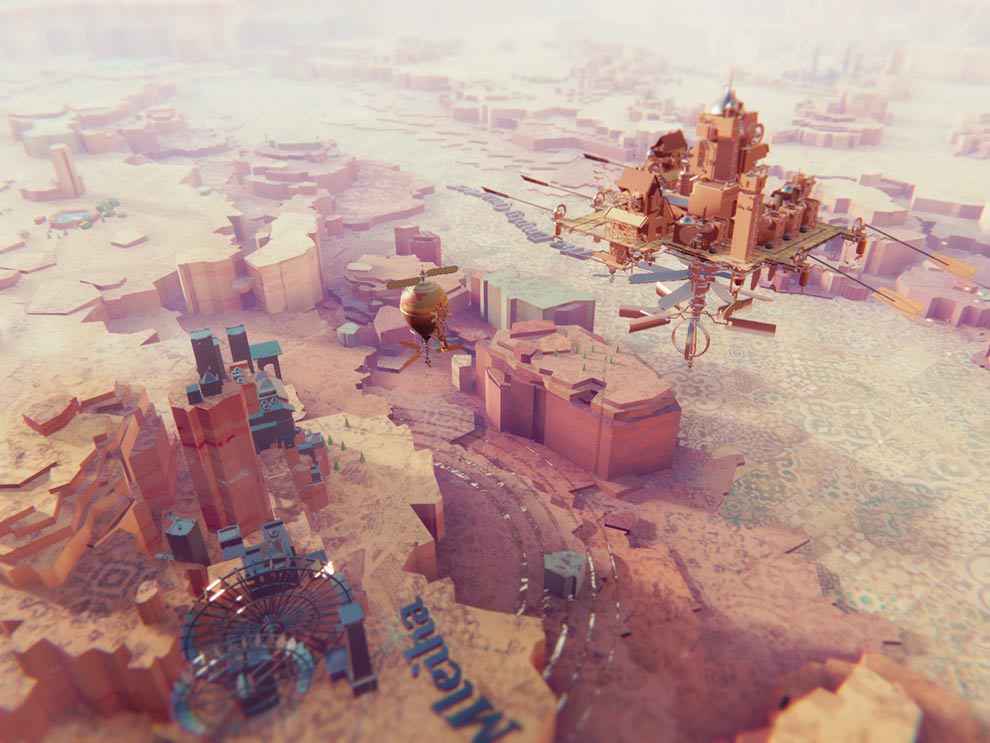 Coming to building, unlike building on land, in the sky, everything has to be connected to the town centre. This is done with paths, which are essentially the glue that keeps your kingdom together. Every structure you can build has to be connected to a path.
In terms of the buildings themselves, they're divided into categories such as resources, storage, desires, and buildings that help keep the entire kingdom airborne. These include stuff like lifts and propellers. Storage buildings include warehouses, food silos and water tanks. And of course, let's not forget housing. In addition to the above, there's also Academies. These unlock your ability to do research and improve your buildings and utilities. Resource buildings are essentially buildings that process raw material and turn them into usable construction material.
Relics are another resource that you have to keep an eye out for. You will come across ancient ruins as you fly around, explore these for relics, which can be used as a currency to purchase blueprints for buildings to add to your airborne kingdom.
In the wee stages of your kingdom, your people don't want for much, they're happy as long they have enough food, water and housing. However, as the population grows, they'll start becoming more picky, asking for things like lighting, buildings of faith, and general beautification of the kingdom. In order to actually grow your population though, you'll need to visit settlements peppered across the land and look for willing recruits. The recruits will join depending on the overall happiness of the people in the kingdom. Additionally, visiting any of the major cities or kingdoms that you're supposed to convince to join your cause and completing their quest will also give you a boost in population. Of course, more population will mean more consumption of food, water etc. Similarly, as your kingdom grows in size and weight, and you start employing more buildings to keep it airborne, your coal consumption will also go up.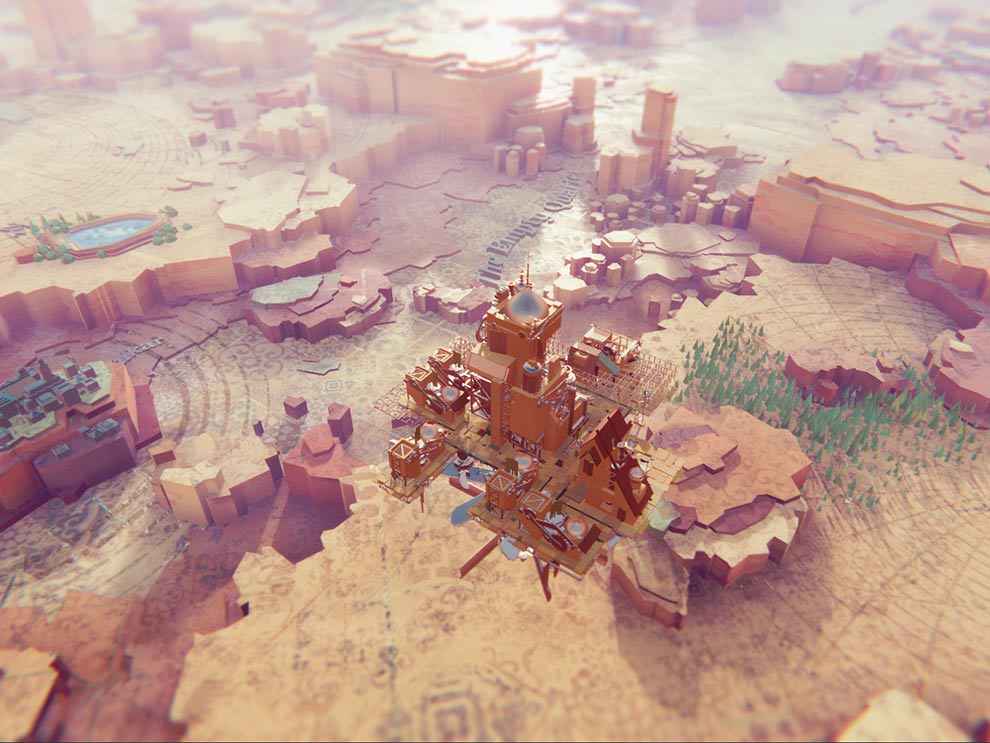 The quests that you're required to complete are very easy, ranging from simple fetch quests to simply providing them with some materials that you most likely already have. Once you finish the quest, you also need to build them a skyport to finalise the deal. Once they're onboard, they'll provide you with +1 of a material every in-game hour. These kingdoms and cities are also the places where you actually use those relics we talked about above to purchase blueprints.
Over time, as you acquire more blueprints and finish more research in your academy, it is possible to become almost completely self-sufficient in the sky.
Airborne Kingdom Exploration

The world below is divided into three different biomes, with each biome having four major kingdoms for a grand total of twelve. As you make your way towards a new biome, you get a little prompt telling you what to expect, so you might prepare before heading there. For instance, the archipelago biome has plenty of cotton, but coal is scarce, while the mountain biome is rich in ores and minerals, but food and water is rare. You start in the desert biome, which has an even spread of resources.
Managing tilt, lift and speed
We finally come to the most interesting aspect of the Airborne Kingdom, the airborne aspect of it. You're certainly free to shape the kingdom however you see fit, however, you need to keep some things in mind. Build too much on one side of the kingdom and it'll tilt, tilt too much and well... we needn't say more. So you need to balance it out, building on the other side as well. You have to do this while keeping in mind that the housing area can't be close to the refinery buildings, since that upsets your citizens. You also have to keep in mind that some buildings, like propellers can only be built towards the front of the kingdom, while structures like wings, and oars can only be built on the sides. As you build more structures in your kingdom, it gets heavy, so you'll need to build structures that generate lift to offset this. This includes stuff like wings and fans. Weight also causes your kingdom's overall movement speed to suffer, which you can alleviate by building structures like propellers and oars. Even these structures differ and have their uses based on the situation, with some offering less lift or speed, but being much cheaper to build. On the flipside, the more expensive structures, which while they do consume a lot more fuel, need not be manned, saving you a few citizens who you might use for other tasks.
Airborne Kingdom Verdict
It's easy to get engrossed in Airborne Kingdom, as you try to manage your growing kingdom in the sky. The limitation of building in the sky is more of a challenge than a hindrance, and offers a new perspective that we haven't seen in city-builders for a while. Factors like lift, tilt and speed in addition to a mobile kingdom add a new layer to city-building gameplay that keeps things interesting throughout the game.
SKOAR! - 7.5/10
MOAR!
Developer: The Wandering Band LLC
Publisher: The Wandering Band LLC
Platforms: Microsoft Windows, Macintosh operating systems
Played on: Microsoft Windows
Price: INR 754 (EGS)
We played a review copy of Airborne Kingdom.