The ICC World T20 cricket tournament is about to kick off. The Formula 1 season has begun. The Barclays Premier League, and the leagues in other countries are reaching their climax. So is the UEFA Champions League. The FIFA World Cup kicks off this summer. And all this, when you don't even consider the smattering of other sports, and the hard work those sports persons also put in. For any true sports fan, this is pretty much an extravaganza. Better enjoyed in High Definition.
Whom would this guide help...?
If you are considering buying or switching a DTH connection, this guide that we have put together should give you a better idea of who offers what. If you are already using a DTH connection, this guide may be helpful for you in finding the lowest price package combination to get all the sports channels. Chances are, you may be paying more right now, because of the confusing packages.
Why you should upgrade to an HD connection
Walk into an electronics showroom, and the chances of you finding a CRT TV are next to nil. While we don't like being forced into trends, this is perhaps the most honest indicator that flat panel TVs are the way forward. With the flat panel HD TVs (HD Ready and Full HD - though they aren't being sold with such clear admittance up front, anymore) being the default choice, chances are that you will want HD content on the TV more often than not. With the HD set top boxes for most DTH operators being priced competitively, again, chances are that you will prefer those over the Standard Definition offerings. Particularly so, if you are watching TV on a big screen that is bigger than 32-inches. The difference between SD and HD channels is very visible, and the inferior experience of a non-HD channels and broadcast is more than apparent. If you have invested in a flat panel television, it is time you feed it the correct content as well.
HD channels are the future, without doubt
The popularity of HD channels can be measured by the fact that the popular Hindi General Entertainment Channels (GEC) are all being offered in HD versions. Same goes for most Hindi Movie channels and English movie channels. If you remember, we looked at the package comparisons of the Hindi and English GEC and movie HD channels recently, and helped you pick the best operator and package.
Also Read: Best DTH for HD movie and entertainment channels, in English and Hindi.
For sports fans, particularly in this part of the world, cricket or football available in HD makes most weekends fun! And that is what we want to help you with - not miss any sports action. Just because the salesperson at the shop-floor convinced you about one DTH and now you realize that your favorite sports channels isn't available on the platform; shouldn't keep you away from enjoying all this sports action in high quality.
Here, we will help you figure out which DTH operator stands where in terms of the HD channel offerings for the very critical sports channels. The idea being, to help you pick the best operator, considering the channels you watch quite often. The dual motive of guiding you about which channels are offered on which platform, and how much it will cost you. We have tried to look at the lowest possible subscription cost for each channel, and in some cases, a bouquet of channels. And in the end, we have a total cost number, in case you wish to subscribe to all channels in this genre.
Sports HD channels availability: The rest, and Dish TV
The leading sports networks in India have launched HD versions of their channels. Star TV, Zee TV and Sony have HD channels showing cricket, football, motor-racing, tennis etc., 24 hours a day. In total, currently there are 4 main HD channels where you get almost all the Live sports action from across the world - Star Sports HD1, Star Sports HD2, Ten HD and Sony Six HD.
If you remember, Star Sports HD1 and Star Sports HD2 are the re-branded identities of the channels we knew earlier as ESPN HD and Star Cricket HD.
From this simple table, it is easy to identify that most DTH operators do not want to mess around with the fairly vocal sports fans, by depriving them of the chance to watch their favorite teams or players in action. Well, all except Dish TV. Because of issues well documented, Dish TV still hasn't come around to sealing a deal with Star TV for the two Star Sports HD channels. This does put it at a serious disadvantage, and in our comparison, pretty much out of the reckoning.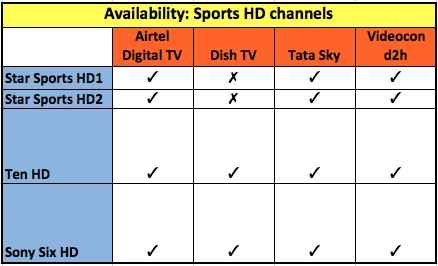 Pricing and packages: The complicated and the simple...
Dish TV: With two critical channels missing, we really cannot recommend Dish TV to any sports fan. No matter how much you may try to convince us that you will be happy with just Ten HD and Sony Six HD. Since Dish TV is out of the running for our recommendation, it is now left to Airtel Digital TV, Tata Sky HD and Videocon d2h to take the battle forward.
Tata Sky: And for some reason, Tata Sky's pricing of the sports channels is considerably more expensive than Airtel Digital TV and Videocon d2h. Considering all the package combinations after some mind boggling calculations (just to get the best package details for you, yes!), we identified that the lowest price combination for each channel. To get the two sports channels, you need to pay Rs 410, and this is how the package mix stacks up - Dhamaal Mix Pack @ Rs 220 HD Access Fees @ Rs 125 Combo Star Sports Pack @ Rs 65. To get Ten HD, add Rs 85 to this cost, which will offer the three SD channels - Ten Sports, Ten Cricket and Ten Action, and makes you eligible for Ten HD because you are already paying the HD Access Fees. For the upcoming IPL and FIFA World Cup action, subscribe to Sony Six for Rs 37 more, and get Sony Six HD as well. The total cost of getting all these channels comes out to a whopping Rs 532. We have often praised Tata Sky for the superior hardware, user interface and service experience offered with the services, but this massive difference compared to the rivals isn't justified, no matter how you look at it.
Videocon d2h: In the English and Hindi GEC and Movie HD channel comparison as well, we had noted that Videocon d2h always prefers a rather simple pricing structure for its channels. And that good point carries on here as well. As the name suggests, the Gold Sports HD base pack includes all four HD channels in question here. And this will set you back by Rs 341 per month. Not a bad deal at all, if you can get past the shoddy hardware and the painful UI.
WINNER!: Airtel Digital TV HD
For Rs 319 per month (Value Sports @ Rs 220 Sports HD top-up @ Rs 99), Airtel Digital TV offers all four HD channels. And the most cost effective, among all the DTH operators compared here. Without doubt, we would strongly recommend Airtel's HD DTH service to any sports fan looking for a definitive answer. The only real niggle with the service is the irritating on-screen Airtel logo on each channel, but we do hope that Airtel makes note of that and solves the issue soon. Consider this, for the most cost effective package, for all your favorite sports.