The Saregama Carvaan is a treat for the lovers of music from the years gone by. If you have ever been a fan or known someone who is a fan of Bollywood songs from legends like Kishore Kumar, Mukesh, Lata Mangeshkar and more, the Carvaan is Saregama's offering meant exactly for that. At Rs. 5,990/-, the player packs 5000 songs and features like FM, USB and Bluetooth. Is it the perfect gifting option for your parents or anyone senior? Let's find out.
Build
The Saregama Carvaan is built to look and feel like an old transistor out and out. And unless you're nitpicking, it is hard to spot the difference. Be it the dimensions or the weight, it is built to resemble its genuine older counterparts as much as possible. That being said, the choice of material and a few elements in the build detract from the old-world feel. The body is made of a shiny plastic material which, although quite tough, is a little bit too shiny to go with the musical era that it represents. While the buttons for 'Artistes', 'Moods', 'Geetmala' and a few others retain the click that we associate with the transistor radios of our childhood and before, the rotating knobs, used for scrolling within a classification and volume adjustment, also emulate the scrolling of the older equivalents. We would've loved an old switch-type power button though, just for the sake of getting closer to that perfection.
And even for people who haven't used the older transistors that we've been referring to so far, the device is pretty interesting and a refreshing music player to use, after the smooth-to-the-touch and tap-to-go interfaces we're used to now. Along with all that, the low-res monochrome LED display, with its pixels visible up close, does a good job of being informative without breaking the retro charm.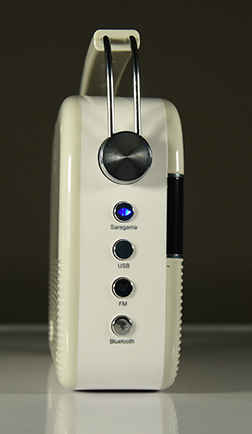 The shiny build of this particular model is a bit distracting from its old-world charm
Specifications
Dimensions: 27cm x 17 cm x 8 cm
Weight 1.5kgs
Battery backup: Approx 5 hours playtime
Audio Jack: 3.5mm
USB: 2.0
Charger: 220V 50Hz, 5V 1A (CE Standard - Indian pin plug)
Comes along with an Android device compatible charger

Features and Performance
The Carvaan is meant to appease an older audience. The device packs 5000 songs from the yesteryears, divided into classifications like 'Artists', 'Moods' and 'Geetmala', which was a very popular weekly radio countdown on Radio Ceylon, the oldest radio station in Asia. You can switch between these classifications using the rotating dial, although it does take a moment or two to register that change. You can switch between songs within the classification with navigational buttons. The volume dial is also pretty responsive.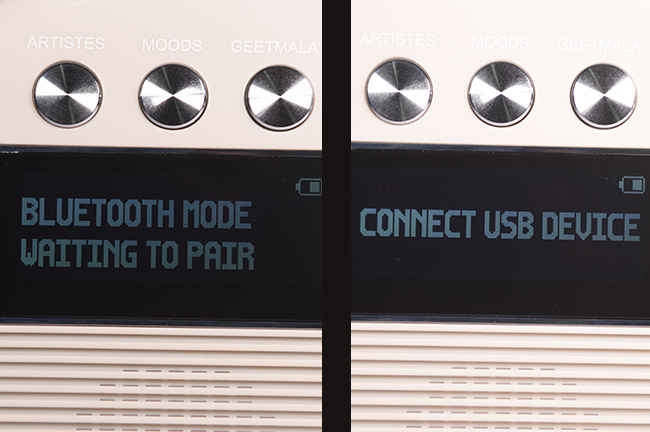 It can do more than just play retro songs
To provide additional value, the device also has other features to listen to your favourite music. For instance, when in the mood for some actual radio from the modern times, you can switch to the FM mode - although the indoor reception is a bit dicey. It can also play music from your USB drive and over Bluetooth. In those modes, do not expect your bass heavy tracks to retain the same - it is meant to mainly play retro Indian music after all, very few of which actually had proper bass in their tracks. It leaves no complaints in the volume department though, with enough loudness to reach all corners of a decent 32 ft by 16 ft room.

Overall
The Carvaan is meant as a novelty gift for the elderly and people who are into retro music of the years gone by. And it fulfils that objective as well as possible, with it very possibly becoming a standard fixture at afternoon tea time at any household that has it.