If you are one looking to purchase a mini projector, there are quite a few options to choose from. Today we have with us the Rayo i5 portable projector. It is available at a market operating price of Rs 35,000 approx. The projector has a 480p resolution, a 20,000-hour lamp life, wireless capabilities and the ability to run for nearly two hours on battery backup. Is this the projector for you to carry on the go?
Specifications at a glance
Weight: 260 grams
Display Type: WVGA
Display resolution: 854x480
Brightness: 100 ANSI
Lamp Life: 20,000 hours
Screen Size: 158-inches from 5 meters
Input: HDMI/MHL
Audio Out: 3.5mm
Built-in speakers: 0.7W x 2
Built-in battery life: upto 120 min
Wireless: Mirroring/DLNA
Build and design
Kicking things off with the build and design of the projector, it is really small and compact, slightly larger than the palm of my hands and slightly thicker than 2 slim smartphones stacked on top on one another. It is small enough to fit into your pocket which makes it extremely portable. It has a flat rectangular shape and is quite light, weighing just 260 grams. The front has the lens and all the connectivity options are at the back. The connectivity options include DC in, micro USB, HDMI out, headphones out, a switch for DLNA and wireless connectivity and a reset button. The bottom houses the intake fans that pull in air to keep the projector running cool. The right of the device has the power button, volume rocker and flash/sleep mode switch. The device also houses built-in speakers.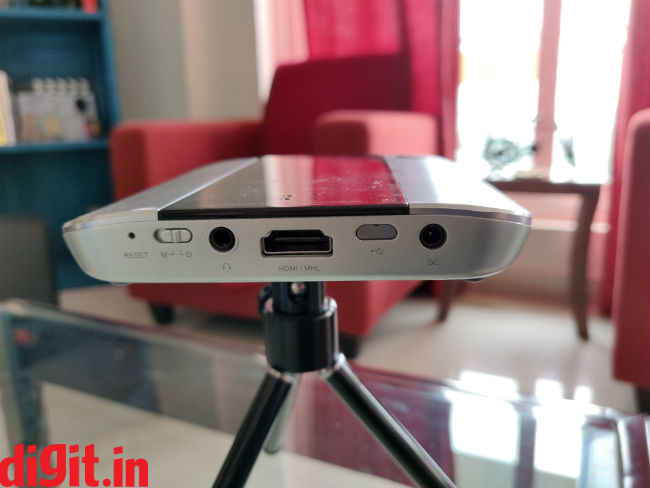 The construction of the projector is a mix of plastic and metal and for the time we spent with it, the build quality was quite good. The connectivity options are easy to reach. The top of the projector has a gunmetal finish with a thick black strip down the middle. At the bottom, the projector has 4 rubber feet which means that even if you place it on a table, there is a little gap for the fans to suck in air. The projector also comes with a small tripod in the box with adjustable height which is nice. In the box, you also get an HDMI cable along with an MHL cable and the power cable. The focus ring rests on the top right of the projector.
All-in-all, the projector is well built, serves its purpose of being portable quite well and comes with a complete accessories kit in the box.
Setup
Setting up the Rayo i5 is very simple. Screw the projector onto the tripod, connect it to your source via HDMI, connect the audio out through 3.5mm if you like and you are good to go. A good thing about the projector is that it can connect to iOS and Android devices and work as a wireless display or cast content to it.
Working it with an Android device is quite easy. On the back, switch the wireless connection mode to "M" and press the power button to turn on the projector. The device displays the standby screen for a Miracast connection. Turn on Wifi on your smartphone. Go to the mirroring option. Select the projector from the mirroring options and you are good to go.
The fact that you can mirror content from your smartphone to the projector makes it a wireless handy device on the go, but this works well only in some situations. We will talk more about this in the performance section.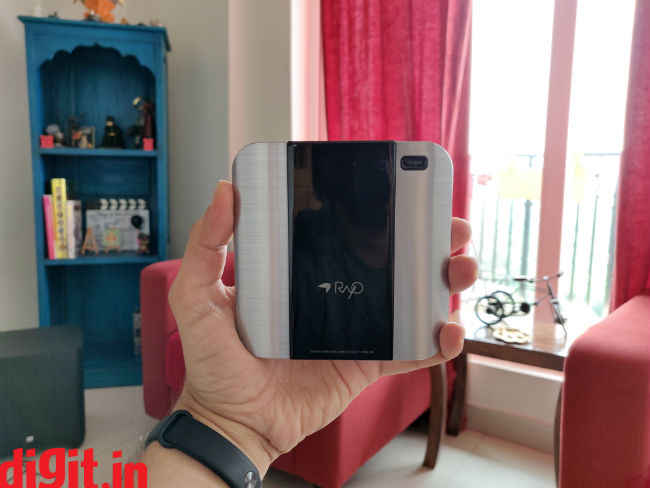 The projector is quite feature rich when it comes to the options you have. You can cast content from your iOS or Android device, mirror your smartphone display or simply connect a source through HDMI. The device also gives you battery backup making it ideal to use when you face a power cut.
Performance
When it comes to performance, there are places where the projector works well and some places where it doesn't. A good thing about the projector is that you don't need to be in a completely dark room to enjoy the occasional movie on it. Even in a slightly less lit corner of our office, we enjoyed a bunch of YouTube videos, an episode of Seinfeld and, Young Sheldon and more. Most of the sequences in these shows are in well lit situations, so you can watch them with the lights on. Shift to shows like Daredevil on Netflix which has quite a few sequences in the dark and you will need to switch off the lights and get the room as dark as possible.
The projector has a WVGA resolution of 854x480 which means that it isn't even HD. As a portable projector, this works fine and with all the people I saw content with on this projector, only a few complained about the resolution. It is safe to say that you can enjoy content up to 30-inch screen size before you really feel the compromise in resolution.
Gaming on the other hand is a different story. You can hook up your PS4 or Xbox One to it and play games, but I found the overall experience to be lacking. This is because the projector wasn't built for gaming and fast-moving action coupled with the low resolution can make content suffer a bit.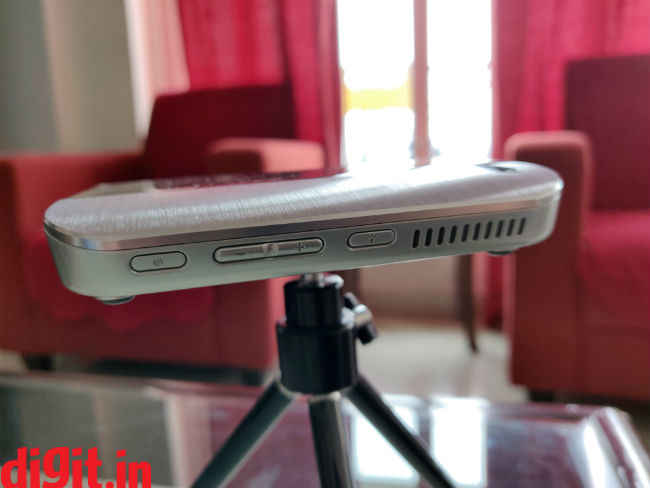 Where the projector shines is with use for business. Need to show a PPT from the comfort of your phone? No problem. If you are a sales executive or looking for a fancy pocket presentation machine, then this works well. Simply fire up slides on your phone, whip out the projector from your pocket and win the crowd.
The only downside to casting content from your phone is the frame rate. For PPTs and still images this is fine but play a video from YouTube or a streaming service and you will see a low frame rate.
When it comes to battery life, I got about 80 minutes of continuous video playback from the Amazon Fire TV Stick. The audio was routed to a Bluetooth speaker through the Fire TV stick and the projector was used as a display only. This isn't enough to get through a 90-min feature film, but you can easily get through an episode or two of your favourite TV show.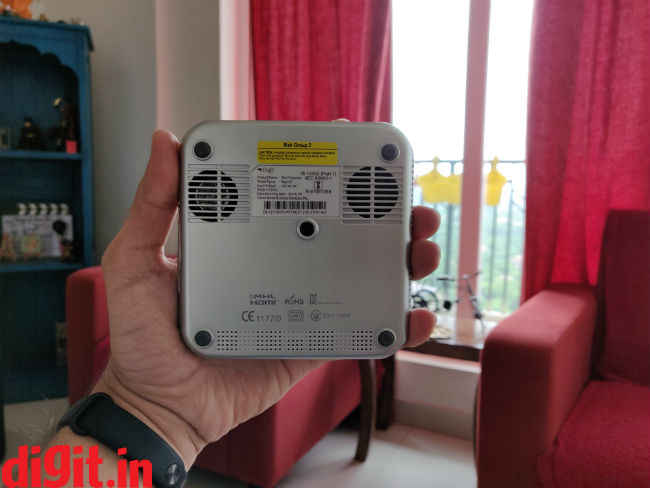 Bottom line
If you are looking for a portable projector to carry with you on the go to show presentations or connect a fire TV stick or your laptop via HDMI to consume content cos your laptop screen is too small, then yes, you can consider this as a second device. It is portable and when you connect it via HDMI content streams well. Wireless streaming suffers with framerate issues when casting and connecting via DLNA can be a hassle at times (especially with iOS 12). If you are looking for a projector to enjoy movies and games in your home theatre, then there are other options for you to consider. However, if portability is something you want and a projector that can run on battery for a while to show presentations and watch the occasional move, then yes, you can consider it.
Pros
Well built
Portable
Wireless connectivity
Battery backup
Cons
Not the crispest resolution
Casting videos resulted in drop in framerate