Premium Bluetooth speakers, priced upwards of Rs. 15,000, are always seen as luxury. The niche usually brings commendable audio quality to the table, alongside premium looks and additional features that justify the hefty price tags. While you may argue that it is always worth it to pay for good speakers that churns out warm, tight and rich audio, at such pricing, you cannot be blamed for wanting more than just the essentials.
The four speakers in question here are Boom 2 by Ultimate Ears, B&O's Beoplay A1, and Creative's Sound Blaster Roar and Roar 2, two generations of multi-functioning units that also happen to be speakers. Each brings a different characteristic for prospective buyers - the Boom 2 is geared more towards the youth, with water resistance, funky colours and sturdiness fused with solid, reliable audio performance. Bang & Olufsen have always excelled at luxury gadgets, and the Beoplay A1 brings luxury audio and design to the company's most competitively priced speaker yet. It looks gorgeous, and sounds equally good, but on the other hand, it lacks a microUSB port (in favour of USB-C) and has no water resistance of any kind.


The four speakers in question: Creative Sound Blaster Roar 2, UE Boom 2, B&O Beoplay A1, Creative Sound Blaster Roar
Creative's wondrous Roar speakers, as you would probably know by now, are ridiculously feature-packed for portable Bluetooth speakers. The second generation Sound Blaster Roar 2 retains all the features that the Roar had, which include microSD playback, native audio controls, audio recording, speakerphone, power bank capabilities, and connectivity via Bluetooth, NFC, aux-in and USB audio. You can also charge these speakers via DC-in ports supplied in box, or standard microUSB cables, based on convenience. The Sound Blaster Roar 2 improves on the Roar with a smaller, lighter body and reengineered mechanism to provide better audio quality.
It is this diversity among these four premium portable Bluetooth speakers that makes for a compelling shootout. Should your speakers solely concentrate on delivering good audio, or do you deserve a mini gadget arsenal for the dough you shell out? Find out.
FEATURES
Creative Sound Blaster Roar
The first generation Sound Blaster Roar was possibly the most feature-packed speaker when it was launched, and remains to be so even now. The speaker can be charged via a power socket and wall adapter when you're at home, and microUSB when you're on the move. You can use it as a power bank for your smartphone, too, and if your phone happens to have run out of storage, you can even plug in a microSD card and play music from there. The speaker also includes a voice recorder, an integrated speakerphone, and a button toggles the audio delivery to Tera Bass mode for heavier bass in your songs, and Roar for even greater loudness in the tracks. At over 1kg, the Sound Blaster Roar is heavier than most other portable speakers, and its battery lasts for nearly nine hours. Another useful feature of the Sound Blaster Roar is the Link Security switch, which gives you control over who gets to play the music. You can choose between private, pre-paired or anyone.
Weight: 1105 g
Battery life: 9 hours
Range (without obstacles): 48 feet
Daisy Chaining: Yes
Battery Indicator: Yes, LED
Dedicated App: Yes
Score: 65/100
Creative Sound Blaster Roar 2
The Sound Blaster Roar 2 has nearly everything that the Roar has, and combines all of it into a sleeker package. The bass drivers are redesigned to fire the low frequencies from either side of the speaker, as opposed to the down-firing bass drivers of the Roar. The sleeker build also feels of better quality, and takes about 100 grams of bulk off it. The Link Security toggle is missing from here, and you can make the speaker stand upright without affecting quality of audio delivery, thanks to the new placement of the bass drivers.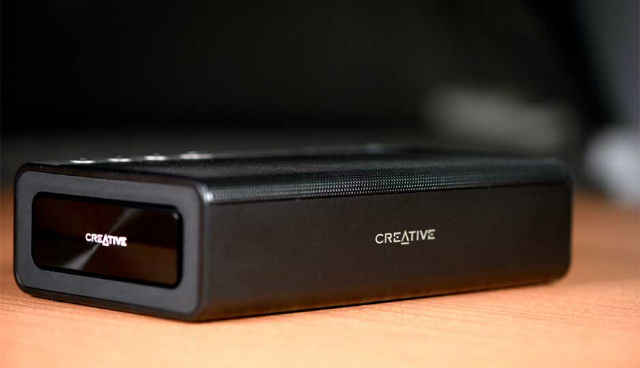 The Sound Blaster Roar 2 reduces on size and weight while keeping all features intact
The Roar 2 also gets raised plastic buttons against the rubberised buttons of the Roar. It retains identical battery life, but improves on wireless playback range by nearly 7-8 feet.
Weight: 1015 g
Battery life: 9 hours
Range (without obstacles): 55 feet
Daisy Chaining: Yes
Battery Indicator: Yes, LED
Dedicated App: Yes
Score: 67/100
Ultimate Ears Boom 2
The Boom 2, just like the Roar 2, looks identical to its predecessor, the UE Boom. It looks exactly identical, with durable threading covering its cylindrical facade and rubber inlays covering the two ends and a spinal strip that also houses the volume buttons. The UE Boom 2 covers the essentials of a portable Bluetooth speaker that the activity-oriented youth would need, including aux and Bluetooth playback support and microUSB charging, alongside delivering good audio, commendable battery life and water resistance. The array of colourful shades it is available in makes it one of the liveliest speakers ever made.
The Boom 2 also has Siri/OK Google support, and when paired to your iOS/Android smartphone, you can long press the tiny pairing button to activate the voice assistant. The device also supports multi-speaker setup where you can connect up to two UE Boom 2s in either stereo setup (each speaker acts as the Left and Right module) or with two speakers in multi-room setup.
Weight: 550 g
Battery life: 16 hours
Range (without obstacles): 48 feet
Daisy Chaining: Yes
Battery Indicator: Yes, Voice-assisted
Dedicated App: Yes
Score: 64/100
B&O Beoplay A1
The Beoplay A1 by Bang & Olufsen is not just a portable speaker. True to B&O's signature style, the Beoplay A1 is meant to be a lifestyle product with a design that oozes class, finding the perfect place on a mahogany bedside table or even when you buckle up the original leather strap to your belt. It has been designed by Danish designer Cecilie Manz, and stands out for being the most elegant and suave of the four. It is this that really defines the premium Bluetooth speaker range.
The speaker is powered by a Class D amplifier to drive tight, warm audio. It offers the best battery life in its class, offering playback of over 24 hours. The Beoplay A1, however, has the shortest wireless playback range among the four, but a range of over 35 feet should be enough for most devices to pair and keep playing. One downside here, though, is the singular USB-C port and no microSD port. It will not be an issue in a few more years when USB-C becomes the standard, but for now, you'll need to make sure you carry the in-box cable around, lest you run out of charge.
Weight: 570 g
Battery life: 24 hours
Range (without obstacles): 35 feet
Daisy Chaining: Yes
Battery Indicator: No
Dedicated App: Yes
Score: 57/100
PERFORMANCE
Creative Sound Blaster Roar
The Sound Blaster Roar is the oldest among the three, but still provides decent audio. It does not remain the best in class any longer, but the five-driver setup still provides bright audio with excellent soundstaging. The placement of the bass drivers is an issue as you can never place it upright on a desk without muting the low frequencies. There is a significant amount of distortion here, and the overall audio balance is tipped towards the highs. Trebles are more pronounced, which is slightly bettered by switching on Tera Bass. At volume levels above 70 percent, there is a lot of audible distortion in tracks, particularly if you happen to be playing metal/progressive rock/grunge. The 'Roar' mode is incredibly loud, and this one is the loudest among the four, but this mode essentially compromises on quality of audio to deliver volume.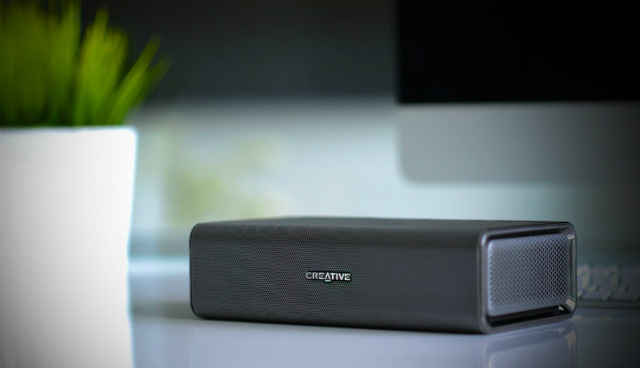 Despite still being good, the Sound Blaster Roar sounds ageing in front of the others
The Sound Blaster Roar is quite versatile when it comes to the means for playback, but in terms of hardcore audio quality, it is not among the best here.
Loudness: 9.4/10
Range: 7.8/10
Distortion: 6.5/10
Test tracks -
Skyfall by Adele: 8/10
Hey You by Pink Floyd: 8.4/10
Score: 79/100
Creative Sound Blaster Roar 2
The Roar 2 sounds much cleaner, louder, brighter and warmer than the Sound Blaster Roar, although the company claims both the speakers use the same drivers and amplifier setup to deliver audio. The Roar 2 is not only versatile with its feature set, but is good with tracks ranging from electronica to alt and metal. The redesigned layout of the drivers have led to cleaner audio and much improved bass delivery, which now sound clean and powerful. However, the audio could have packed better clarity of mids, and the bass sounds loose in comparison to the UE Boom 2 and Beoplay A1.
Tera Bass mode now somewhat overpowers tracks with bass, although Roar mode is much improved here. Tracks now sound louder alongside being less distorted, but you should not be using this mode unless you really need to blast the track across a large room with 35-40 people.
Loudness: 9.2/10
Range: 8.3/10
Distortion: 7.5/10
Test tracks -
Skyfall by Adele: 8.2/10
Hey You by Pink Floyd: 8.6/10
Score: 83/100
UE Boom 2
The UE Boom 2 sounds incredibly well-rounded for a portable Bluetooth speaker, delivering excellent balance of bass, mids and highs. The passive radiators deliver clean, tight bass which is not overpowering on the rest of the frequency range. Its cylindrical shape helps in omnidirectional audio delivery, and the level of loudness that it can reach will be a surprise to many.
The UE Boom 2's audio delivery is bright, warm and clean, with a sweetness in the audio timbre that we have come to associate with usually more expensive speakers. The only qualms that we have here is the marginal distortion that kicks in at high volumes, especially when you are playing heavy metal tracks like Judas Priest's Beyond the Realms of Death. The Boom 2 also favours the highs more in higher volume levels, and in an attempt to pronounce the mids simultaneously, ends up compromising on the tight, powerful bass delivery that forms the backbone of its commendable audio performance, at about 75-80 percent volume levels.
Loudness: 9/10
Range: 9/10
Distortion: 8.2/10
Test tracks -
Skyfall by Adele: 8.8/10
Hey You by Pink Floyd: 9.1/10
Score: 88/100
B&O Beoplay A1
The Beoplay A1 further exceeds the expectations that the UE Boom 2 already shatters. The audio performance here is exceedingly delightful, with best in class clarity of audio, pristine balance of the frequency range, and excellent bass delivery. While the low frequencies do sound a bit higher than the rest, it adds to the overall tightness of its audio delivery.
The highs are sharp and clear, the mids are very well balanced, and the Beoplay A1 does well in relaying excellent detail of audio, along with the warm and sweet timbre of audio that makes this the perfect speaker to play Beethoven's Moonlight Sonata during a rainy, pensive evening. It does equally well, when next morning, you decide to switch your playlist to Iron Maiden's Dance of Death. The highs are a tad too sharp on the Beoplay A1, but they do not sound shrill and disruptive. The overall weight of the audio makes up for the shortcomings of the Beoplay A1, making it the best performing premium Bluetooth speaker that we have tried out of late.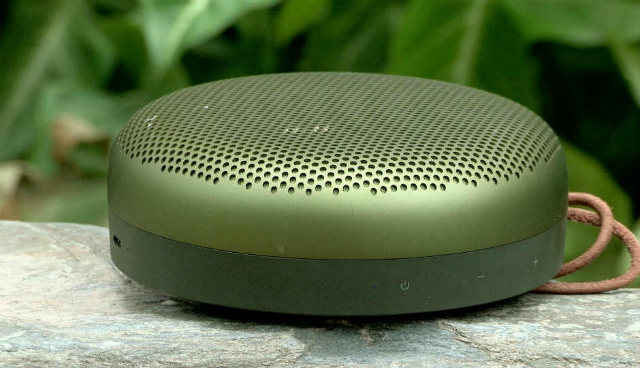 The Beoplay A1 sounds nothing short of incredible
Loudness: 8.4/10
Range: 9.2/10
Distortion: 9.5/10
Test tracks -
Skyfall by Adele: 9/10
Hey You by Pink Floyd: 9.5/10
Score: 92/100
BUILD AND DESIGN
Creative Sound Blaster Roar
The Roar looks the oldest of the lot. It is the bulkiest of the four speakers, but makes up for the lack of finesse with the design of its grilles and the neat, overall layout. It would have certainly been more appealing had the much improved Roar 2 not been right in front of us.
The Sound Blaster Roar has rubber strips on its rear ends, and placing it flat on a desk is the ideal position. The rubber strips keep the speaker in place so that it does not vibrate, but as a disadvantage, you cannot place it upright. The bottom panel houses the bass drivers, which get completely muted if you place the speaker upright. This is a design flaw, which Creative has thankfully fixed in the Roar 2. Overall, the Sound Blaster Roar has a neat layout, but not one that really strikes or appeals to you.
Score: 76/100
Creative Sound Blaster Roar 2
The Sound Blaster Roar 2 is a much-improved design, weighing 10 percent lesser in a smaller body. The buttons are shifted towards the left of the front panel, and the steel grey finish has been replaced with black livery. Unlike the Roar, the Sound Blaster Roar 2 has a plastic bottom plate, although stabilising rubber strips are missing here.
That's as much as the new design goes, and the Roar 2 still remains a neat yet ordinary-looking speaker. There is nothing really exceptional to write about, unless you happen to be a fan of speakers that resembles the good old radio transistors of olden days. The Roar 2 also feels more sturdy in terms of build, and may even withstand a drop or two.
Score: 81/100
UE Boom 2
Logitech's UE Boom 2 retains a bright, joyous playfulness about it with the bright colour combinations and a cylindrical shape which makes it easy to fit literally anywhere. It does fit anywhere, although its funky bearings make it look more at place in a messier room with a faded Stratocaster and rugged denims. The construction is solid, and the aux and microUSB ports are sealed with rubber flaps for using in swimming pools. You also get a tripod mount, should you wish to bolt it to your bike's rig on a mountain hike.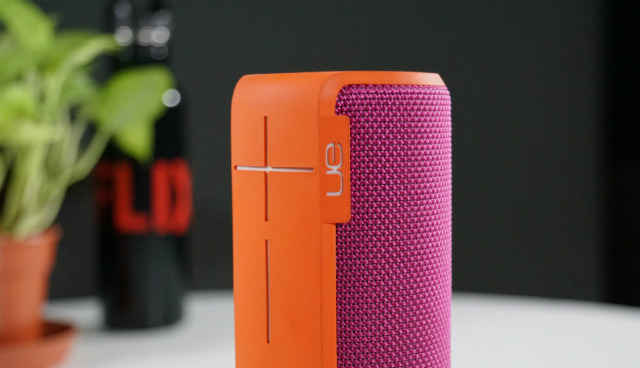 The UE Boom 2 is vibrant, waterproof and lively
The only qualm here are the buttons not being the easiest in terms of usage. The Boom 2 may also not go well if you are looking for a speaker with quiet, understated elegance. The Boom 2 is not exactly a loud design, but it isn't the most suave either.
Score: 87/100
B&O Beoplay A1
This is Bang & Olufsen's budget offering with an entry-segment luxury product, and it really shows. The Beoplay A1 looks somewhere between a beautifully glorified carrom striker and a collectible container. The minimalistic design will appeal to a wide section, and goes well with its excellent performance output. The bottom of the speaker is rubber to prevent vibration on desks, and a genuine leather strap will let you hang it on the wall. The circular design also helps in audio distribution.
The buttons, all laid in to the rubber panel, are reasonably well responsive, and there is literally no flaw to observe here. It is nearly as light as the UE Boom 2, and happens to be the only speaker among these four that use Aluminium in its build. B&O's products have always been geared towards being a lifestyle product, and that is exactly what the Beoplay A1 achieves.
Score: 94/100
HOW WE TESTED
Audio tests can never begin without playing one of the most-listened tracks, so we began with Pink Floyd's Hey You. The fretless bass by Roger Waters is an excellent test of an audio equipment's bass response, and this is what we threw at our speakers first. We followed it up with instrumentally extravagant tracks such as Michael Buble's Feeling Good and John Mayer's I don't need no doctor.
We also played Baba O'Riley by The Who, Rise by Flobots, and the usual test tracks that we use. We then tested each of the speakers' Bluetooth reception range - once in open space without any interfering obstacles in between, and then inside a home setup for real world wireless connectivity range. Audio performance also involved using the frequency sweep file of the entire sonic range, to test how well the speaker balances the audio across all frequency ranges. For battery life, we played each of the speakers continuously, with an approx. 5 percent scope for more battery stamina.
Our final round included listening to the same track on each speaker in multiple environments, such as room with open balcony, large room, enclosed living room and outdoor. This was to see how clear and powerful the speaker performs in multiple situations and how well they adapted to different environments.
THE WINNERS
Best Performer
B&O Beoplay A1
The Bang & Olufsen Beoplay A1 looks beautiful, delivers incredibly tight, warm and bright audio, maintains excellent clarity of sound, and offers a little more than 24 hours of playback if you play music at around 60 percent volume. It is what you would expect a premium portable Bluetooth speaker to be, and with the USB-C port, it may even be able to support USB playback. A multitasking button on the speaker allows you to tap it once to pair to your last-used smartphone and resume playback from the last track, and B&O states that it will gain more uses in future, with firmware updates. At Rs. 17,999, you cannot go wrong with the B&O Beoplay A1. It is the best performer of our premium portable Bluetooth speaker shootout.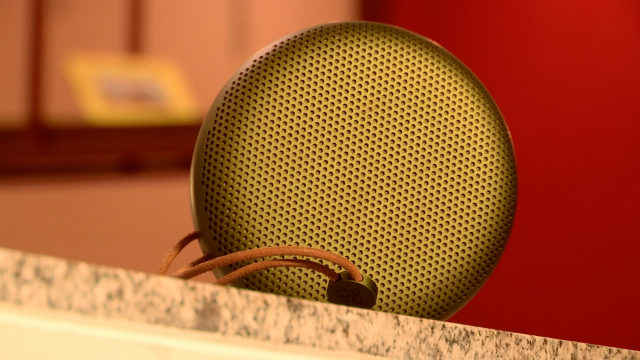 Bang & Olufsen's most affordable Bluetooth speaker takes the cake for pure audio delivery
Best Buy
UE Boom 2
The Boom 2 is very appreciable, offering excellent audio quality, a funky statement to the speaker's looks, water resistance and sturdiness that make it the value-for-money portable Bluetooth speaker to buy in this premium segment. The Boom 2 also offers nearly 50 feet of wireless connectivity, a tripod mount and nearly 16 hours of battery life, which makes it the ideal speaker to go outdoors with. At Rs. 15,990, the UE Boom 2 is the Best Buy winner of our premium portable Bluetooth speaker shootout.