Speakers have been around for almost a century now and their design for the most part – when it comes to mainstream adoption – has largely remained the same. However, modern day aesthetics and space constraints require innovation and improvement on this age old paradigm. Enter Crystal Acoustics – a Greek manufacturer of speaker systems and audio equipment that has completely changed the way we experience great audio. In this article we aim to acquaint you with five of its latest and greatest offerings. These are speakers that are designed with specific use case situations in mind and offer solutions to such as:
Great audio without drop in quality throughout your listening environment
The need for an easy to set up clutter-free speaker system
Compact space saving audio gear without compromise on quality
So without further ado, let's look at the first speaker system in this series, the Cuby5...
Cuby 5
Most speakers we come across these days focus on stereo separation. But not this one, no sir. The Cuby 5 is all about getting the same kind of sound throughout your room. With its WiSound technology you get to hear optimal tonal balance throughout your listening space – not just in a narrow 'sweet spot' like other speakers. You no longer have to worry about complex positional setups or calibration using microphones and other equipment. You don't even have to worry about being in an "on-axis" position. You just simply place the aesthetically pleasing Cuby5 in whatever spot of your choosing and experience great room-filling audio in all the locations throughout your room. WiSound has the ability to balance the direct sound you hear from your speaker and the acoustic reflections that reach your ears from the various surfaces of the room in which you listen. And even though every listening environment is unique, a WiSound speaker is designed to create an optimal balance of all the reflections in your room, the end result is now more controllable and effective than ever before. The best part is you can do all this without the unnecessary tangle and hassle of wires. How does it manage this feat? With its Bluetooth receiver connecting to your smartphone, tablet or computer is easier said than done.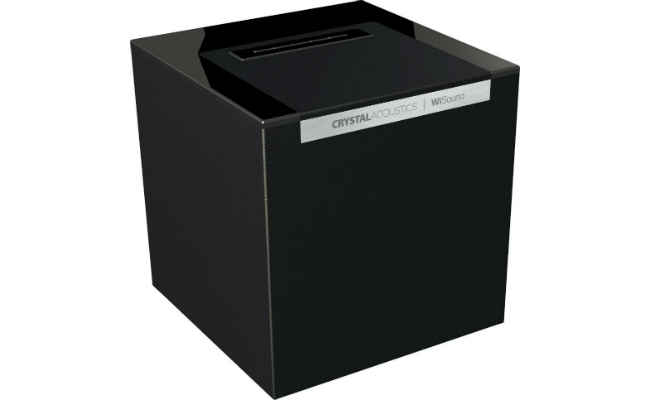 Now that you know what the speaker can deliver, let's look at some of the specifications that help in achieving its promise of great audio. One powerful 5.15 inch subwoofer is paired with not just two but 4 mid-range drivers – one pair is side firing while another is positioned to throw sound upward. All of these drivers are powered by a class D amplifier delivering a total output power of 100 W RMS - that's enough power to shake things up.
All this power is packaged in a neat little bundle the size of an 8-inch cube available in a range of seven interchangeable colours!
Cuby 7
The Cuby 7 brings to the table all the space filling goodness of WiSound but with the added benefit of having two additional tweeters in the mix. With balanced drivers firing forward, sideways and upwards, fills any room with big, vivid, natural, finely-detailed sound and re-creates the music source at its full size and natural height. Like the Cuby 5, this one is also position-agnostic i.e. every spot is the sweet-spot and you can place it anywhere in your room. The researchers at Crystal Audio have looked at the effect of driver placement on room dispersion in depth and have created a uniquely immersive, completely 360-degree audio performance for this particular speaker. This uniform dispersion enables the same quality of sound reaches your ears regardless of the where you are in relation to the speaker or your location in the room.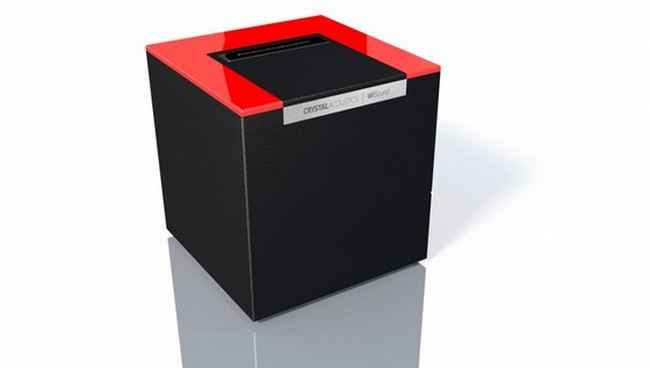 Like it's smaller sibling, the Cuby 7 has four 2-inch midrange drivers but the difference is that instead of a 5.15-inch subwoofer, the Cuby 7 packs in a 6.5-inch bass driver. In addition to this improvement it also has a pair of 3/4th-inch tweeters for delivering those crystal clear highs. All of this acoustic goodness is packaged nicely into a cube that measures just over 9-inches. Now that's small!
Teevy5
For all their might and glory TVs still lack when it comes to delivering great audio. Even today, it's rare to come across TV screens that have impressive built-in speakers. Often you have to settle for them or the only other option is to invest in a home-theatre system hooked up to your giant TV. Or is it? A sound bar is a solution that most people don't really think about but is one that is capable enough to deliver a great listening experience. The Teevy5 is not just a TV soundbar but it also functions as a normal speaker that can play music from many other sources. Equipped with the multi-room system, you will be able to enjoy your music in every room using your smartphone, tablet, computer or any other music source. The DLNA/UPNP support adds more music sources including your home server, NAS and any other DLNA/UPNP enabled device. Packing the WiSound technology, you don't need to worry about a skewed balance in sound. With its balanced directional drivers, you get fullness and not just at the sweet spot but everywhere. This is also achieved with the unique design and positioning of the drivers that tries to recreate the natural height and surrounding of the intended music source, no matter how big the room might be.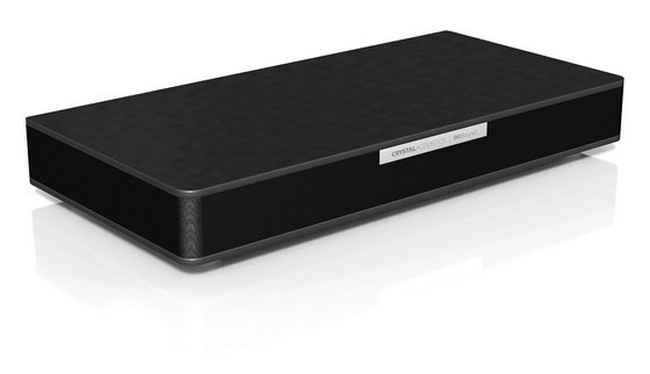 Coming to the specifications packed inside the elegant design of the Teevy5, it consists of 5 directional reference drivers, out of which one is a 5.15 inch subwoofer and the rest are four 2 inch mid-range drivers – forward and side-firing. The design of the Teevy5 lets you either place the speaker right in front of your TV or mounting it up on your wall, both giving you a bright and dynamic sound in your room. All the drivers collectively output a total power of 100 W through Class D amplifiers, so you will be able to enjoy all the thrills of your movie experience – right from the click of a pistol being cocked to Michael Bay explosions – using the Teevy5 right in your living room.
Teevy6
If bass is all important for you then the Teevy6 is waiting for you with an additional subwoofer driver over and above what you get in the Teevy5. You will enjoy the same interesting features that the Teevy5 possesses, bringing vivid and fine-detailed sound anywhere in the room. This is all thanks to the same WiSound technology which will ensure that your room doesn't have a sweet spot and offer you the same full power sound across the room. The smart placement of the additional subwoofer is capable of delivering an incredible and immersive 360-degree audio performance, that has been made possible after thorough research over the years.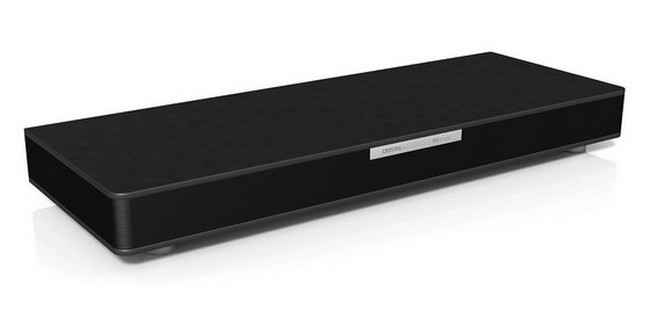 Powered by the same four 2 inch mid-range reference drivers and two 5.15 inch subwoofers, the Teevy6 is capable of offering a deeper bass level of 35 Hz, lower than the Teevy5. You will be able to connect your smartphones and tablets using Wi-Fi or Bluetooth, and also your DLNA/UPNP supported devices. All of this comes in a compact space-saving enclosure. It's the perfect way to enhance your cinematic experience.
Teevy Bar
What's the use of having a "compact" sound bar if it doesn't deliver enough bass on its own, and you are forced to add a subwoofer to the mix? Subwoofers as you know are heavy, space-consuming behemoths. The Teevy Bar from Crystal Acoustics, aims to solve this particular problem by bundling three 3-inch upward firing subwoofer drivers in its compact enclosure. The three driver bass array is capable of going as low as 48Hz to produce low impactful bass. So all those movie explosions and rumbling sounds will feel incredible to experience. Including these three bass speakers, the speaker system has a total of 7 drivers, which means 4 side and front firing mid-range drivers. Like all other speakers featured in this roundup, the Teevy Bar too comes in-built with WiSound technology.

With this technology fills the speaker is able to fill up any room with big, vivid, natural, finely-detailed sound without a specific sweet spot where it sounds the best. Instead, WiSound technology delivers the same tonal balance wherever you are in the room. The speaker system is rated at 100W RMS and therefore capable enough to deliver those decibels that you need.