Nestling smack between the budget and premium truly wireless earphones categories, the mid-range TWS segment has grown by leaps and bounds. Unfortunately, though, it is the one TWS segment that saw the least action in 2022. Most of the TWS launches oscillated between the premium and budget segments, and the ₹5-10K segment was largely barren with only a few key launches from companies such as Sony, Nothing, JBL, and a few others. This was slightly disappointing since this category saw the most innovation and also produced some of the most value-for-money devices last year. Nevertheless, what we got this year still gave us the right mix of performance and value with devices sporting ANC, fantastic microphones, good battery life, impressive sound tuning, and more. While the Digit Zero1 award winner takes it home on basis of performance alone, the Best Buy Award this time around goes to a device in this category that offered a gamut of features while still providing dependable performance. Let's find out which products took home these titles.
Digit Zero1 Award 2022 Winner: Sony WF-C500 (Buy here)
Price: ₹5,990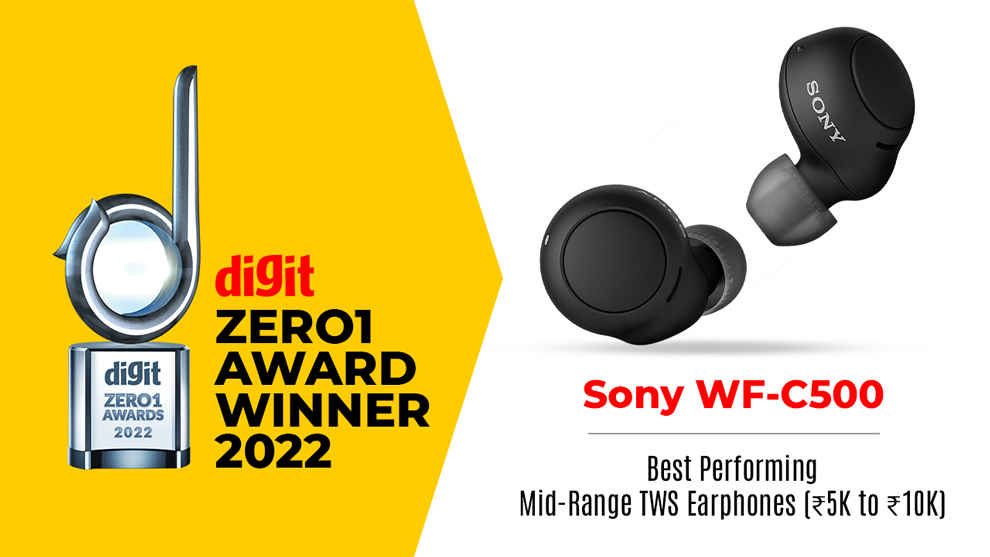 The Sony WF-C500 is Sony's most inexpensive TWS yet, priced at ₹5,990. However, its sound fidelity speaks for itself. The earphones come packing 5.8 mm drivers and support the SBC and AAC codecs. Interestingly, they also sport Sony's DSEE (Digital Sound Enhancement Engine) technology which upscales compressed audio files by restoring high-range sound that is compromised by the compression process. Turn this on, and you will hear a significant enough difference when playing lossy files. This technology coupled with Sony's prowess in sound tuning results in a pretty balanced sound profile. The bass response, in typical Sony fashion, is slightly boosted but it never enters the region of muddiness or boominess. The mids are surprisingly close to neutral resulting in a detailed representation of vocals and lead instruments. The highs see a significant boost, meaning elements such as cymbals and hi-hats are more present in the mix. Additionally, you can even use the Sony app to EQ these earphones according to your preference, making them exceedingly versatile as well. The battery life is also solid at this price point and the microphone does a good job indoors, making the Sony WF-C500 a deserving winner in this category.
Runner-up: Philips TAT4506BK (Buy here)
Price: ₹7,099
In all honesty, we were all but ready to brush aside the Philips TAT4506BK since we've heard a few earphones in this range from Philips, and typically, they've been nothing to write home about. However, the Philips TAT4506BK pleasantly surprised us with its close-to-neutral sound signature and pristine representation of the highs. The bass sounds wonderfully controlled and rich, and the highs are well-produced, but the mids aren't as pristine as the Sony WF-C500. The earphones also come with Active Noise Cancellation which is absent on the Sony WF-C500, however, it only does enough to subdue some ambient sound and doesn't really compete in the big leagues. However, the sound quality is surprisingly balanced and detailed and the battery life is quite stellar as well. Overall, we would be more than comfortable recommending the Philips TAT4506BK to anyone looking for a balanced-sounding pair of headphones under ₹10K.
Digit Best Buy Award 2022: JBL Tune 230NC (Buy here)
Price: ₹5,999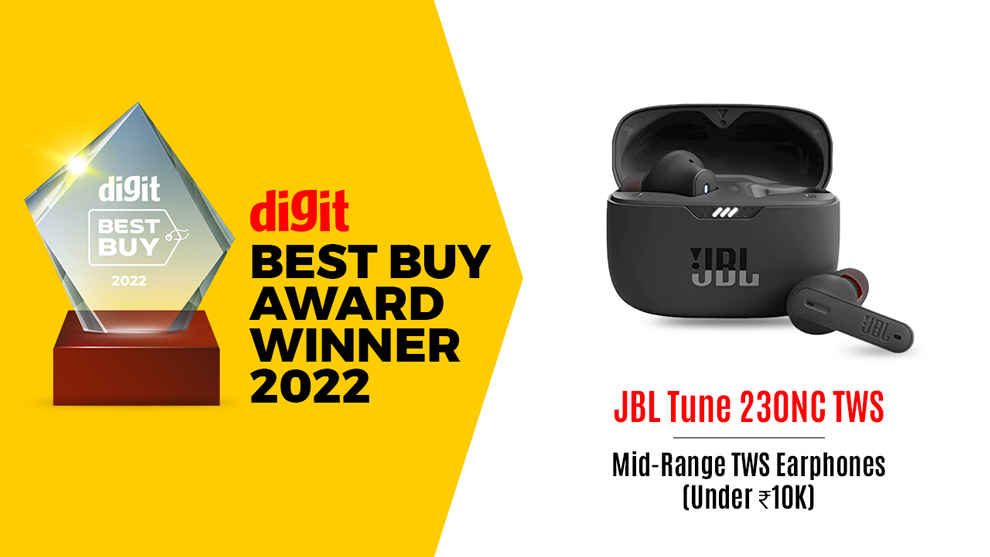 If you're looking for a feature-rich and reliable pair of truly wireless earphones under ₹6K, the JBL Tune 230NC is a solid option. The earphones come equipped with pretty solid Active Noise Cancellation significantly reduces environmental sounds such as traffic, an AC's hum, and more. Moreover, it has fantastic battery life spanning over 40 hours in total with the charging case and earbuds combined! There's also an accompanying app with customisable EQ support, so you can tweak the sound as per your preferences. Speaking of the sound, the earphones have a bass-boosted sound signature that bass lovers will enjoy. Despite the obvious bass bias, the lows don't sound dark or muddy and the mid-range is actually quite well-produced. Good sound, excellent battery life, and an array of features are why the JBL Tune 230NC confidently wins the Best Buy Award in this category!