Despite the growing popularity of truly wireless headphones, wireless on-ear or over-ear headphones have continued to be ubiquitous gadgets that cannot really be replaced. The soundstage and isolation of wireless headphones are still far superior to that of in-ear headphones. Often, the sound quality packs more of a punch and is more full-bodied due to the larger drivers that are present in these headphones. This year, we saw quite a bit of action in the wireless headphones segment, however, most upgrades were iterative; causing us to question if 2023 is finally the year we'll see the next big technological advancement in over-ear and on-ear headphones. That aside, we saw improvements in Active Noise Cancellation, better accompanying apps with more customisation options, AI-based sound and noise cancellation modes, and much more. Due to the sheer number of options in the market, it can be daunting to single out the absolute best wireless headphones; however, that's exactly why Digit Zero1 exists.
We put multiple headphones from companies such as Sony, Sennheiser, Blaupunkt, Noise, and more through our stringent set of tests and have come out with a clear winner. Read on to find out which wireless headphones snagged the 2022 Digit Zero1 Award in this competitive category. This year, we also awarded a Digit Best Buy Award for the product in this category that offered the best value proposition.
Digit Zero1 Award 2022 Winner: Sony WH-1000XM5 (Buy here)
Price: ₹34,990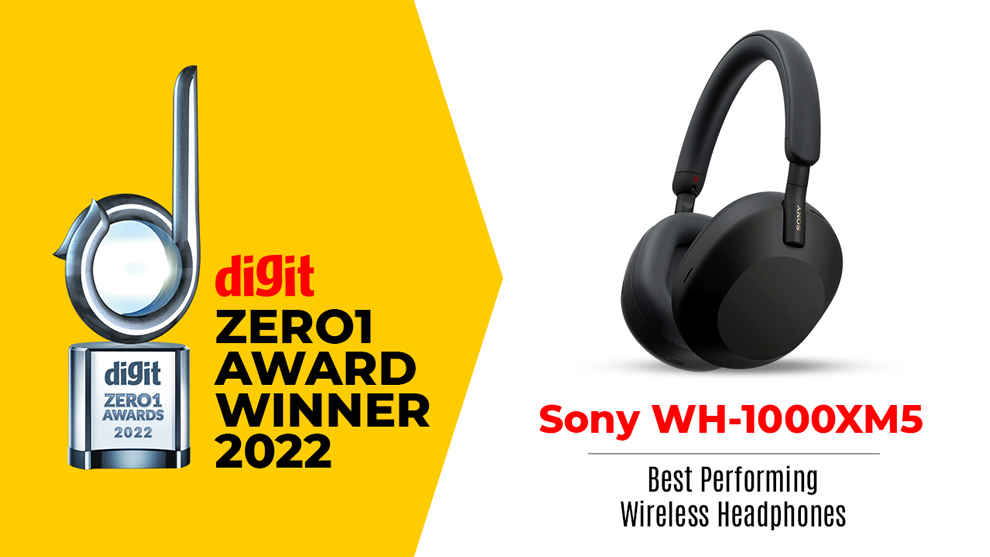 The Sony WH-1000XM5 is the undisputed winner of the Digit Zero1 Award for the best-performing wireless headphones. They are the best noise-cancelling cans in the business, without a doubt. Equipped with the V1 processor and eight onboard microphones, the Mark 5s cancels almost all frequencies of ambient noise with ease. The new 30 mm driver design makes use of a high-rigidity dome to diminish high-frequency sounds, and it works like a charm. As for the sound quality, Sony has incorporated DSEE Extreme yet again which upscales compressed files to near hi-res quality. The device also comes with LDAC support that allows the streaming of music at higher bitrates than the conventional SBC codec. With LDAC active and DSEE Extreme toggled on, the sound quality is extremely dynamic, detailed, and full-bodied. There's a slight bass bias but it isn't muddy in any way. The mids are fantastic and the vocals are delivered with unerring precision. The highs are well-produced as well with a slight peak that brings out the details in instruments such as cymbals and hi-hats. The microphones work in conjunction with an AI noise rejection algorithm for fantastic call quality as well. The battery life is decent as well, lasting over 30 hours with noise cancellation turned on. Overall, this is an exemplary pair of headphones that deliver on almost every front, and are truly deserving of this award.
Runner-up: Sennheiser Momentum 4 Wireless (Buy here)
Price: ₹34,990
Equipped with large 42 mm drivers and aptX HD and aptX Adaptive codec support, the Sennheiser Momentum 4 Wireless is a fantastic pair of wireless headphones that lost out to the Sony WH-1000XM5 by a slight margin. The headphones have class-leading battery life and last a whopping 52 hours with aptX and ANC turned on, which is fantastic. While the Active Noise Cancellation doesn't outperform the Sony WH-1000XM5, the Sennheiser Momentum 4 Wireless is still capable enough of cancelling most low-frequency, constant sounds. However, it isn't as proficient as the Sonys in cancelling human voices or high-frequency sounds such as a ceiling fan. The sound profile of these headphones is fantastic and close to neutral. There's a very slight bass emphasis but that only helps the tracks sound more full-bodied. The bass is fast attacking and the highs are exquisitely sparkly. The microphone quality is quite decent and you can easily take calls in an indoor environment.
Digit Best Buy Award 2022: Blaupunkt BH-51 ANC (Buy here)
Price: ₹2,999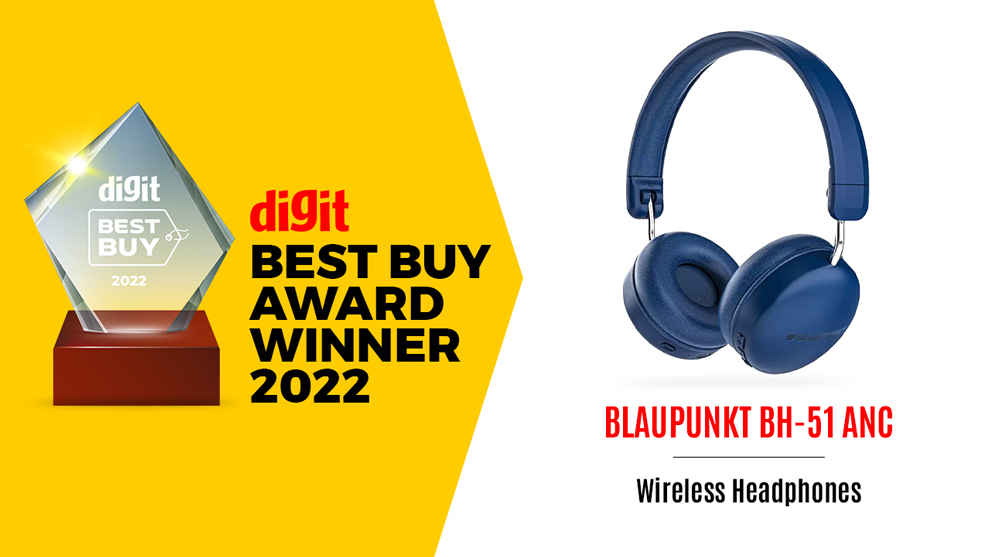 Priced at merely ₹2,999, the Blaupunkt BH-51 ANC is a value-for-money pair of wireless headphones with ANC support. While the Active Noise Cancellation performance doesn't hold a candle to the industry heavyweights, it does democratise the technology for the masses and give them a taste of what ANC feels like. The sound quality of these on-ear pair of headphones is good as well, the bass response is quite punchy, the mids are slightly underemphasised but still sound good, and the highs are sufficiently detailed. You will especially enjoy these headphones if you're a bass lover since the 40 mm drivers push out extremely punchy bass. Furthermore, you get 32 hours of battery life, a collapsible design, fast charging support, and dual connectivity, solidifying these headphones as a worthy Best Buy winner in this category.