2022 has been a fantastic year for premium truly wireless (TWS) earphones. While it's true that mid-range TWS have quickly been catching up in terms of features and general specifications, the premium ones often have an undeniable edge in terms of sonic performance. Whether this is achieved by multi-driver technologies, robust ANC working in conjunction with AI, or just the premium materials used in the construction of these earbuds, premium TWS earbuds certainly still have an edge over their mid-range and budget counterparts. However, this disparity is growing narrower every year, so, looking forward, we are anticipating novel innovations in hardware and software to keep this gap maintained. This year, we had multiple launches in this category in India from companies such as Sony, Samsung, Apple, Sennheiser, OPPO, Google, LG, and others.
All with their own strengths and weaknesses, we put these distinct devices to test and were left with one standing tall as the Digit Zero1 winner. The winner beat the other competitors in terms of pure performance. This year, we also awarded a Digit Best Buy Award for the product in this category that offered the best value proposition.
Digit Zero1 Award 2022 Winner: Samsung Galaxy Buds2 Pro (Buy here)
Price: ₹17,999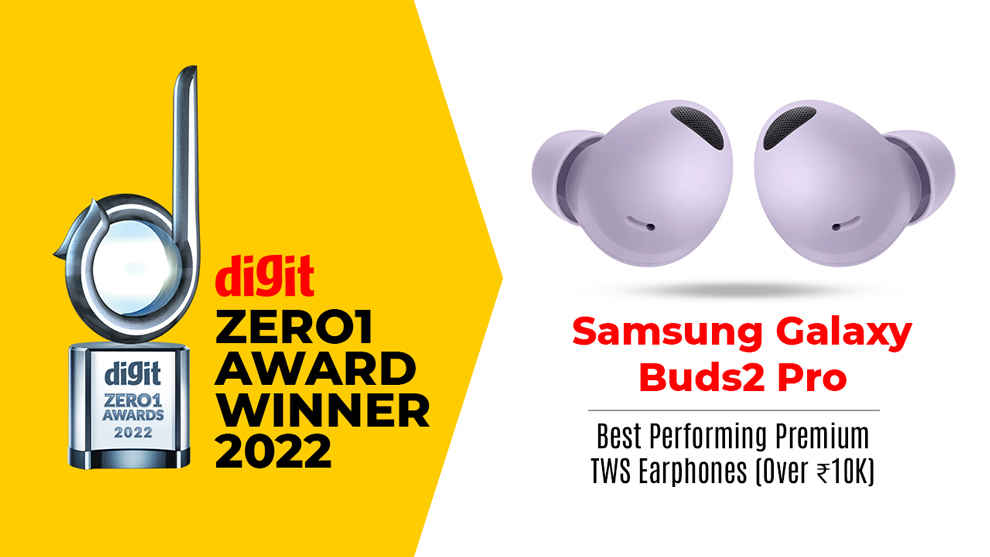 Equipped with 24-bit Hi-Fi audio support and dual coaxial drivers, the Samsung Galaxy Buds2 Pro have fantastic sonic fidelity. The dual-driver configuration consisting of a woofer and tweeter takes care of different parts of the sonic frequency response ensuring there are no overlaps. Essentially, this setup allows for detailed audio reproduction with instruments and vocals shining in their own space in the mix. The bass response is extremely balanced, the mids sound exquisitely detailed, and the highs are quite well-produced resulting in a harmonious sound signature that works well with just about any genre of music. Powered by Bluetooth v5.3, the earbuds have impressive wireless connectivity as well with no instances of lag or stutter recorded during our testing phases. The Active Noise Cancellation is also impressive enough and the three high Signal-to-Noise ratio microphones in each earbud do a great job at capturing ambient noise and cancelling them with equal and opposite waves, especially in the low-end. Overall, the Samsung Galaxy Buds2 Pro dominates the 2022 premium TWS segment when it comes to sonic purity.
Runner-up: Sony WF-1000XM4 (Buy here)
Price: ₹19,990
The Sony WF-1000X series of truly wireless earphones are universally lauded for a reason – class-leading Active Noise Cancellation. While the Samsung Galaxy Buds2 Pro beat out the Sony WF-1000XM4 and won our Digit Zero1 Award this year due to pure sound quality, the WF-1000XM4 is still, irrefutably, the best Noise Cancelling TWS of 2022 in the Indian market. These earphones not only convincingly cancel out low-end rumbles but also do a great job of cancelling out sounds such as human voices, high-speed fans, and more. That aside, they're no slouch when it comes to sound quality either. While the sound quality isn't as balanced as the Samsung Galaxy Buds2 Pro, the mids are produced with almost no error on these earbuds. The bass bias is higher here though which can cloud some of the details in other frequencies. Additionally, the microphone is slightly better on the Samsung Galaxy Buds2 Pro. Where Sony wins again apart from ANC is battery life – you get 24 hours of total listening time with ANC turned on, which is considerably better than the Samsung Galaxy Buds2 Pro's battery life.
2nd Runner-up: AirPods Pro (2nd generation) (Buy here)
Price: ₹26,900
If you're an iPhone user, the AirPods Pro (2nd generation) is an excellent choice for you. Apple has made massive improvements to the AirPods Pro (2nd generation). The earbuds come with improved Active Noise Cancellation and sound quality. It has a warm sound signature that sounds great with most popular genres of music, however, there's a noticeable bump in low-bass emphasis that can cause some tracks to sound boomy and can muddy the details in the mids. That aside, the AirPods Pro also comes with Spatial Audio with head tracking that creates an incredibly immersive experience when you listen to supported media. One area where Apple beats almost every premium TWS is Transparency Mode, which sounds the most natural compared to competitors.
Digit Best Buy Award 2022: OPPO Enco X2 (Buy here)
Price: ₹10,999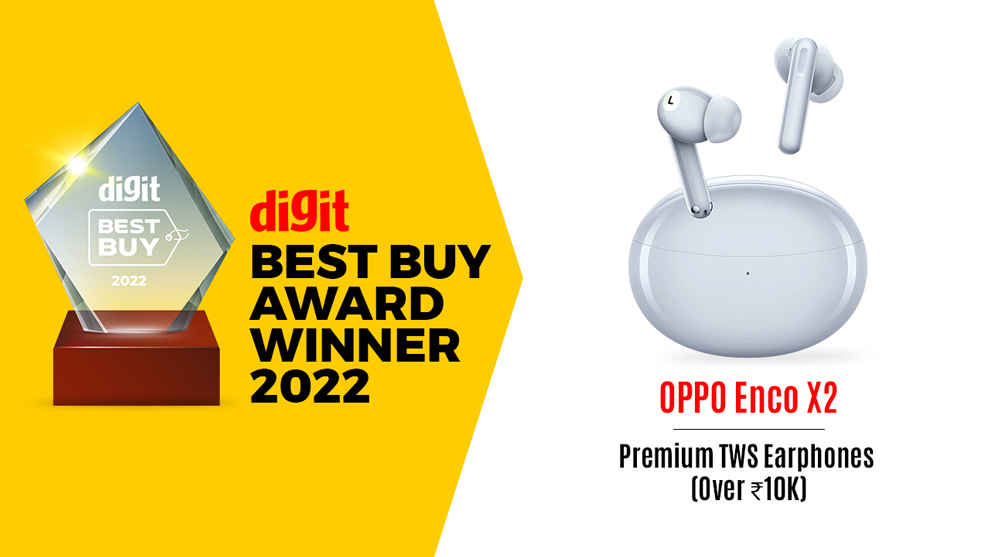 The OPPO Enco X2 builds on the partnership between OPPO and Danish audio company, Dynaudio, which started with the original Enco X. At the competitive price of ₹10,999, it comes equipped with coaxial dual drivers comprising of a dynamic driver and a planar tweeter. Planar tweeters are usually exclusively found on premium headphones and earphones, but OPPO has democratised this technology. It results in a pretty balanced sound signature with slight bass bias but oodles of detail and character. Thankfully, the bass response is not at all boomy but is quite fast-attacking and has a very short decay. Add to this an array of premium features such as Active Noise Cancellation, a versatile accompanying app, Game Mode, dual connectivity, and high-quality codec support, and you've got yourself a value-for-money TWS that's comfortably playing in the big leagues.